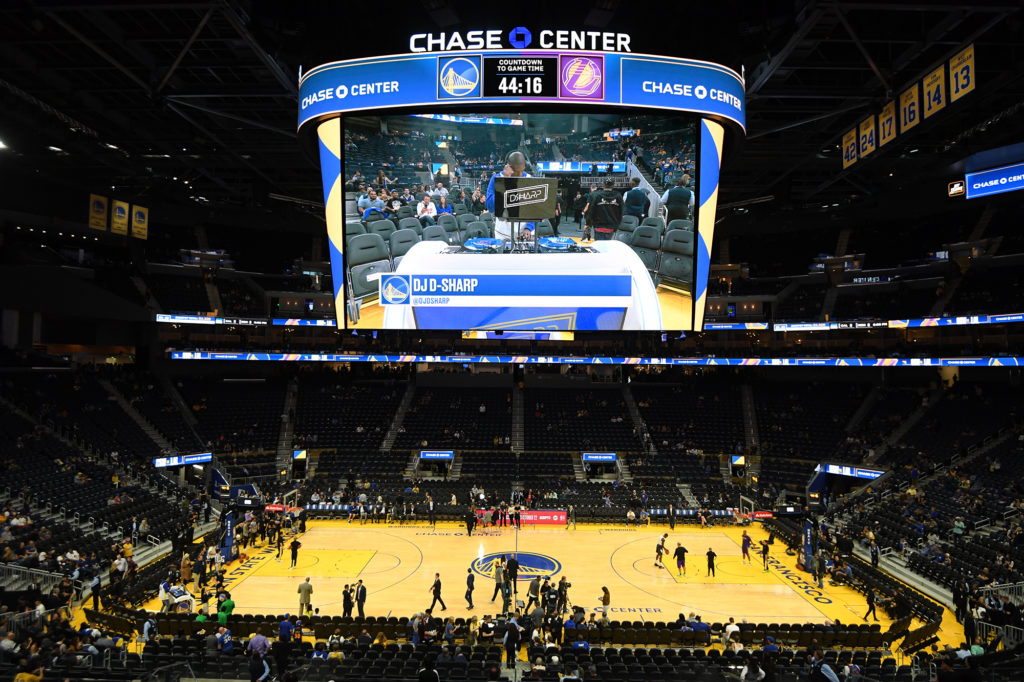 Another tech first at Chase Center: The Golden State Warriors and Samsung unveiled the largest NBA center-hung video display, one of 64 LED video displays at the new arena.
The new Warriors center-hung main videoboard adds up to 9,699 square feet of active video display, making it the largest LED center-hung video display installed in a sports arena. It's a combination of 15 displays, varying from 6.7mm pixel pitch on the main displays and upper halo ring, to 4mm pixel pitch on the underbelly displays, amassing a total of more than 26.3 million individual LEDs.
"Our fans are some of the most knowledgeable fans in sports and as we had the opportunity to build a new arena we knew our scoreboard would be key in the overall fan experience at Chase Center," said Warriors President and Chief Operating Officer Rick Welts. "In addition to having the most square footage of surface LED space in the NBA, the capabilities are endless — providing fans everything they need to follow the game including rich content, expanded stat categories, the ability to show stats for every player on the team at the same time, a real-time shot chart and much more."
Samsung and the Warriors also unveiled the first-ever full outdoor LED display in San Francisco. Fastened to the outer wall of Chase Center's west entrance, the 10mm LED video display provides a preview of the technology that can be experienced inside. The displays are built to withstand any environmental elements.
In addition to the center-hung and outdoor LED displays, Samsung LED technologies can be found throughout the venue, adding up to 53.6 million individual LED pixels.
"Samsung is committed to changing the way fans experience live events through technology," said Harry Patz, Senior Vice President and General Manager, B2B Enterprise Display Division, Samsung Electronics America. "Our product portfolio lends itself to seamless integration in a variety of industries, including sports applications, and in this case outfitting Chase Center with our displays. We are proud to partner with the Golden State Warriors, an organization that shares the same passion and commitment to delivering unforgettable experiences to their customers."
"A project of this size and scope doesn't happen overnight. It took years of planning and working side-by-side with the Warriors organization to ensure that the center-hung structure and LED video displays met all of the weight and engineering requirements to deliver an amazing experience," said Don Szczepaniak, CEO of Prismview, a Samsung Electronics Company. "From the stunning outdoor LED video displays in the Plaza, to the massive center-hung the Chase Center is a world-class venue. It was an exciting challenge for us. We are very proud and grateful to be a part of this cutting-edge new venue."
Image courtesy Golden State Warriors.
RELATED STORIES: Warriors Fete Chase Center With Ribbon-Cutting Ceremony; Warriors, Magnolia Brewing Unveil Dubs Golden Ale; Chase Center Unveiled by Golden State Warriors; Warriors, Candytopia Collaborating on Hooptopia; Chase Center Beverage Program Announced; Mark Jeffers Named Chase Center Culinary Director; Cost of Thrive City Partnership Might Reach $295M; Warriors, Ticketmaster Partnership Continuing to Chase Center; Warriors Unveil Initial Slate of Thrive City Restaurants and Retail; Warriors, Kaiser Permanente Partner on Thrive City; Kim Stone Appointed Chase Center General Manager;First Chase Center Warriors Game: Oct. 5; Inaugural Chase Center Event to Feature Metallica and San Francisco Symphony;Artists Selected for Chase Center Arts Collection; Golden State Warriors to Pitch Chase Center Hotel, Condos; Google Cloud Inks Chase Center Partnership; Local Fare to Highlight Chase Center Concessions; Warriors Host Chase Center Topping Out Ceremony; Warriors Seeing Strong Chase Center Season Ticket Sales; Chase Center Launches Call for Artists; Personnel News: Chase Center, Ontario; Vote Could Permit Chase Center Signage Plans; Chase Center Taking Shape; Chase Center Key to Warriors Financial Future; Warriors to Employ PSLs at Chase Center; Preview: Chase Center