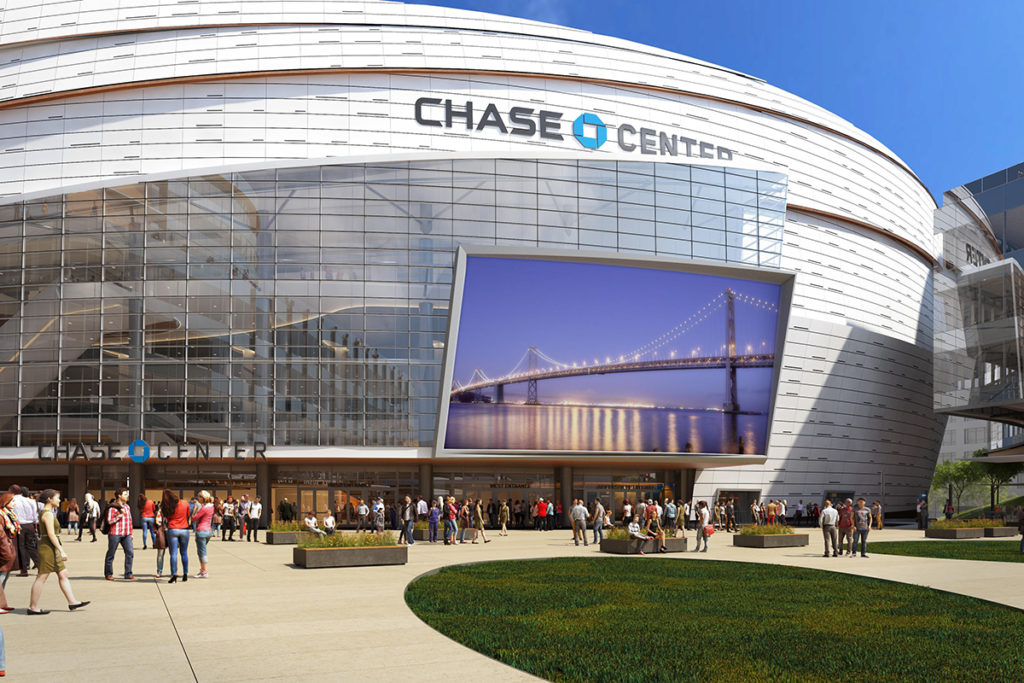 The Golden State Warriors unveiled Chase Center ahead of its upcoming opening, providing a look at the NBA's latest arena.
Located in San Francisco's Mission Bay neighborhood, the privately financed Chase Center is being completed ahead of the 2019-20 NBA season. It will anchor a surrounding sports and entertainment district named Thrive City, while featuring plenty of distinct features on the inside–including what is said to be the largest scoreboard in the NBA, as well as a concessions slate that is strongly influenced by local offerings.
It's impossible to watch this and not feel the excitement.

Here's a behind-the-scenes look at some of the interior spaces in Chase Center 🔑 pic.twitter.com/FErYxg5PoR

— Chase Center (@ChaseCenter) August 26, 2019
The Warriors conducted a media tour of Chase Center on Monday. That event gave team president Rick Welts the opportunity to tout some of the venue's key features, including an intimate design that should make fans feel close to the action. More from The Mercury News:
"We loved Oracle Arena for many reasons," Welts said. "Our ability to create great food was not one of them."
Chase Center has eight kitchens — as opposed to only at Oracle — which allows for more and better options for food service. Chase will house such "only in the Bay Area" dining options as Oakland's Bakesale Betty, San Francisco's Tacolicious, Sam's Chowder House of Half Moon Bay and more. There will also be 23 bars in the facility, the Warriors say.
Despite all that, Chase Center is actually bit smaller than Oracle — with seating a capacity of 18,000 as opposed to 19,500. The seating design is meant make fans feel that, even in the upper levels, you're never too far from the action happening on court.
"That's by thoughtful design," Welts says.
Chase Center will replace Oakland's Oracle Arena as the team's home. The first event at Chase Center will be a concert featuring Metallica and the San Francisco Symphony on September 6, with the Warriors to host the Los Angeles Lakers in their first preseason game there on October 5. Chase Center's first regular-season game will take place on October 24, when the Warriors square off against the Los Angeles Clippers.
RELATED STORIES: Warriors, Candytopia Collaborating on Hooptopia; Chase Center Beverage Program Announced; Mark Jeffers Named Chase Center Culinary Director; Cost of Thrive City Partnership Might Reach $295M; Warriors, Ticketmaster Partnership Continuing to Chase Center; Warriors Unveil Initial Slate of Thrive City Restaurants and Retail; Warriors, Kaiser Permanente Partner on Thrive City; Kim Stone Appointed Chase Center General Manager;First Chase Center Warriors Game: Oct. 5; Inaugural Chase Center Event to Feature Metallica and San Francisco Symphony;Artists Selected for Chase Center Arts Collection; Golden State Warriors to Pitch Chase Center Hotel, Condos; Google Cloud Inks Chase Center Partnership; Local Fare to Highlight Chase Center Concessions; Warriors Host Chase Center Topping Out Ceremony; Warriors Seeing Strong Chase Center Season Ticket Sales; Chase Center Launches Call for Artists; Personnel News: Chase Center, Ontario; Vote Could Permit Chase Center Signage Plans; Chase Center Taking Shape; Chase Center Key to Warriors Financial Future; Warriors to Employ PSLs at Chase Center; Preview: Chase Center