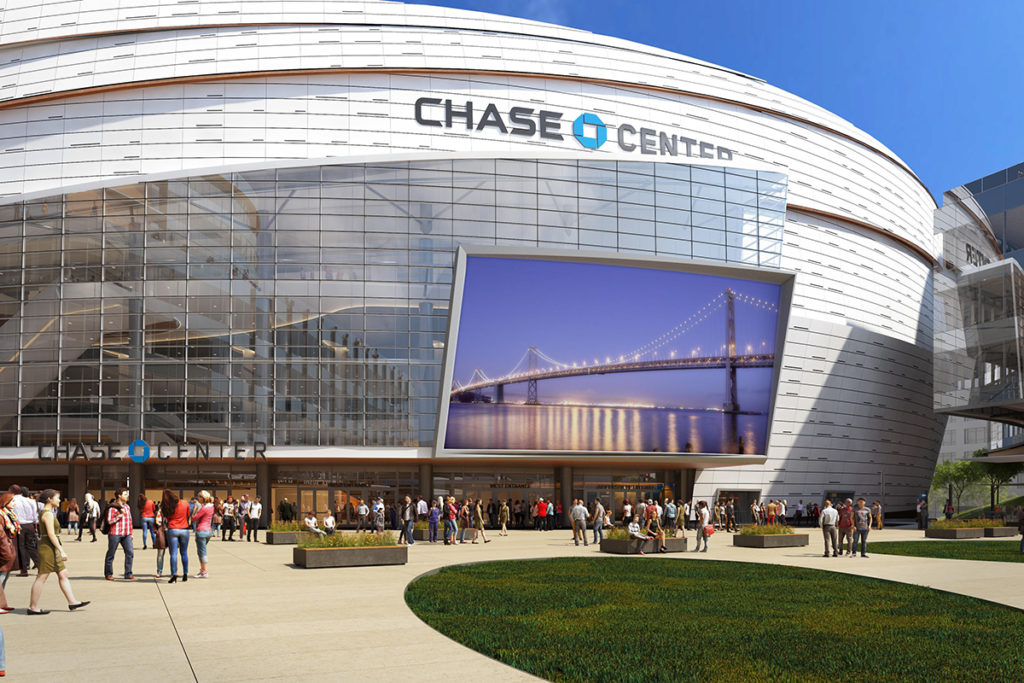 The Golden State Warriors are continuing a long-time partnership ahead of Chase Center's September opening, as the organization has extended its agreement with Ticketmaster. Ticketmaster will continue to serve as the Official Ticketing Partner and a Founding Partner of Chase Center, the Warriors' new arena being built in San Francisco's Mission bay neighborhood.
With this renewed partnership, Ticketmaster will power venue and ticketing technology of Chase Center, the Golden State Warriors, the Santa Cruz Warriors, the Warriors' G League team, and will be Proud Partners of the Warriors Esports affiliates, the Golden Guardians and Warriors Gaming Squad.
"Ticketmaster has proven time and again that they not only provide the most advanced products in the ticketing industry, but that they are experts in successfully launching technology in new venues," said Warriors Chief Revenue Officer Brandon Schneider. "They offer the most secure marketplace for our fans to buy and sell tickets, and share our laser focus on creating the best possible experience through all aspects of attending a live event."
The Warriors and Chase Center will utilize Presence, Ticketmaster's next-generation digital ticketing and access control platform, to provide a safer way for fans to buy, sell and transfer tickets and streamline venue entry. Presence will also provide the organization with increased insights into every step in the ticketing lifecycle from who first purchased the ticket to who is attending the game, enabling the creation of customized experiences for each fan.
With Presence, Chase Center will be on the path to implement Ticketmaster's newest technology, SafeTix, following the '19-20 season. SafeTix ties a unique, identifiable digital ticket to each fans' mobile phone through an encrypted barcode that automatically refreshes every few seconds. The tickets will also include NFC technology that will allow fans to enter venues through a simple "tap and go" experience at venue entrances.
"Ticketmaster is proud to serve as a founding partner of the state-of-the-art Chase Center as we extend our official ticketing and technology partnership with the Warriors," said Greg Economou, Chief Commercial Officer and Head of Sports at Ticketmaster, North America. "For a team that's consistently breaking records and making history, we're excited to power Chase Center with our latest venue technology and continue providing fans with a safer ticket buying experience with Ticketmaster Presence."
RELATED STORIES: Warriors Unveil Initial Slate of Thrive City Restaurants and Retail; Warriors, Kaiser Permanente Partner on Thrive City; Kim Stone Appointed Chase Center General Manager;First Chase Center Warriors Game: Oct. 5; Inaugural Chase Center Event to Feature Metallica and San Francisco Symphony;Artists Selected for Chase Center Arts Collection; Golden State Warriors to Pitch Chase Center Hotel, Condos; Google Cloud Inks Chase Center Partnership; Local Fare to Highlight Chase Center Concessions; Warriors Host Chase Center Topping Out Ceremony; Warriors Seeing Strong Chase Center Season Ticket Sales; Chase Center Launches Call for Artists; Personnel News: Chase Center, Ontario; Vote Could Permit Chase Center Signage Plans; Chase Center Taking Shape; Chase Center Key to Warriors Financial Future; Warriors to Employ PSLs at Chase Center; Preview: Chase Center