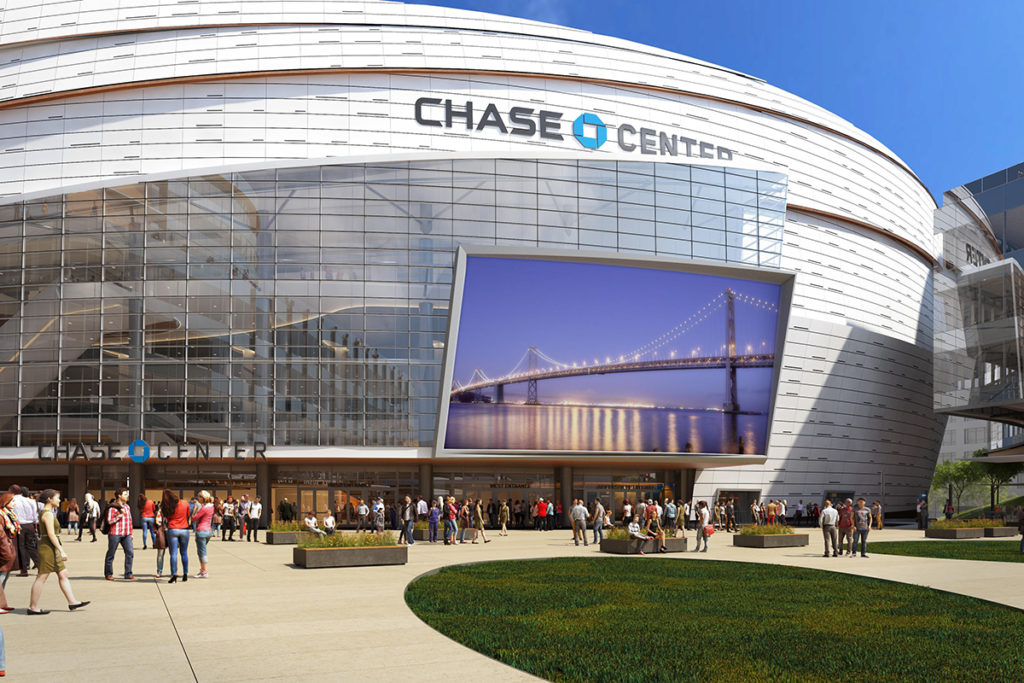 The Golden State Warriors have appointed Kim Stone as the General Manager of Chase Center, the team's upcoming home in San Francisco.
Stone, who has over two decades of experience in venue and operational management in the sports and entertainment industry, will oversee all operations as it relates to Chase Center. Stone will report to Warriors President and Chief Operating Officer Rick Welts.
"Kim's experience crosses most every aspect of the sports and entertainment industry," said Warriors President and Chief Operating Officer Rick Welts. "Chase Center will be a global destination and Kim's vision and experience in guiding a world-class venue will add to the fan experience we aspire to deliver every day."
Stone joins the Warriors and Chase Center from the Miami Heat and AmericanAirlines Arena, where she was promoted to Executive Vice President of Business Development this fall after serving 12 years at General Manager of the arena. As GM, Stone managed the strategic planning and financial management for AmericanAirlines Arena and the Miami HEAT, who hosted four consecutive NBA Finals (2011, 2012, 2013 and 2014) and consistently ranked as the #1 Arena in Florida and top 10 in the USA according to Pollstar. In addition, she was responsible for all arena operations and several business areas, including season ticket retention, business intelligence, data analytics, digital strategy and innovation, food and beverage, event production and operations and guest services.
"I view this as an opportunity of a lifetime to join an extremely talented group of individuals who are creating this incredible state-of-the art venue in San Francisco," said Stone. "Chase Center will not only serve as home of the NBA Champion Warriors, but also the biggest acts in entertainment as we aim to make this arena an international destination. Thanks to the vision of Joe Lacob, Peter Guber and Rick Welts, we hope to reimagine the event experience and create unparalleled excitement for the Bay Area and, really, the world."
As GM of AmericanAirlines Arena, Stone was responsible for overseeing the day-to-day operations of the award-winning venue, which was named the Best Arena Experience for 2016-17 by the NBA. Under her guidance, in 2014, the facility became the world's first sports and entertainment facility to achieve Leadership in Energy and Environmental Design (LEED) Gold Recertification by the U.S. Green Building Council for being an international leader in operational sustainability. In her time as General Manager, Stone oversaw more than $60 million in arena enhancements and renovations that have kept AmericanAirlines Arena among the most state-of-the-art facilities.
Stone rose through the ranks of the Miami HEAT organization during her 23-year tenure. Hired initially into the Sports Media Relations department in 1996, she spent three years in that area before leading the organization's efforts to launch the WNBA's Miami Sol in 1999 as Senior Director of Operations. Stone's responsibilities changed in 2002 when she became Chief of Staff to HEAT President, Business Operations, Eric Woolworth. Prior to joining the HEAT, Stone was the Sports Publicity Director for the University of Texas women's athletics department from 1992-94. She came to South Florida in 1990 as an assistant in the University of Miami's sports information office, where she worked with many sports, including the 1991 National Champion football squad.
Stone's accolades are varied and numerous. In 2013, Venues Today named her to their "Women of Influence" list and the Sports Business Journal has recognized her talents twice: as a "2016 Game Changer" and in June 2017 as a "Power Player In Venue Management." In the summer of 2009, the South Florida Business Journal honored Stone as part of its inaugural class of "Influential Business Women." And in 2014, Stone's alma mater, the University of North Carolina at Chapel Hill School of Journalism and Mass Communications, inducted her into their Hall of Fame.
RELATED STORIES: First Chase Center Warriors Game: Oct. 5; Inaugural Chase Center Event to Feature Metallica and San Francisco Symphony;Artists Selected for Chase Center Arts Collection; Golden State Warriors to Pitch Chase Center Hotel, Condos; Google Cloud Inks Chase Center Partnership; Local Fare to Highlight Chase Center Concessions; Warriors Host Chase Center Topping Out Ceremony; Warriors Seeing Strong Chase Center Season Ticket Sales; Chase Center Launches Call for Artists; Personnel News: Chase Center, Ontario; Vote Could Permit Chase Center Signage Plans; Chase Center Taking Shape; Chase Center Key to Warriors Financial Future; Warriors to Employ PSLs at Chase Center; Preview: Chase Center