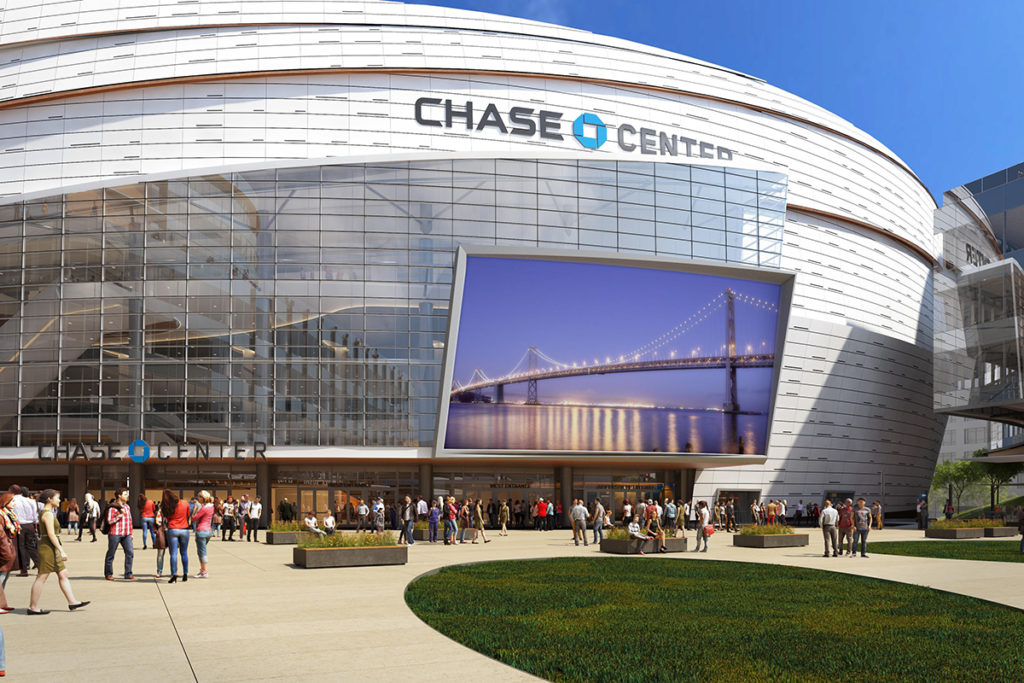 The Golden State Warriors have announced details on the Chase Center beverage program, revealing some drink options that will be featured at the upcoming arena. Chase Center is set to open in September.
The innovative program will be led by Bon Vivants Hospitality, owners of Trick Dog, the James Beard Foundation Award-nominated San Francisco cocktail bar, and BonVoyage! It will include a variety of beverage partners including Pernod Ricard, Tanduay Rum, Moët Hennessy, Anheuser-Busch, and Constellation Beer Brands, joining previously announced Pepsi Co. In addition, the Warriors and Chase Center are continuing their commitment to additional local breweries through their Taste Makers at Chase Center program.
"Chase Center will be a global destination venue, and our food and beverage program will be a major highlight for fans," said Rick Welts, Warriors President & Chief Operating Officer. "We've assembled a wide variety of partners, consultants and participants for our program, many of whom have local Bay Area ties, and we are confident that both Bon Appètit and Bon Vivants Hospitality will execute a world-class experience for fans to enjoy."
Bon Vivants Hospitality will consult and advise Bon Appètit Management Company on the creation and execution of the specialty beverage program for Chase Center.
"As life-long Warriors fans, we're excited to work with the organization to help bring this world-class arena to life," says Josh Harris, co-founder, Bon Vivants Hospitality. "The areas of focus will include showcasing Chase Center's great partners and Tastemakers, using fresh and high-quality ingredients, creativity, maximizing structural efficiency and delivering gracious hospitality."
Founded by Harris and Morgan Schick, Bon Vivants Hospitality is an award-winning firm dedicated to opening bars and restaurants defined by thoughtful sophistication and a true sense of authenticity, while expanding the philanthropic efforts so important to the original vision of The Bon Vivants. To-date, Bon Vivants Hospitality and The Bon Vivants have donated over $600,000 to nonprofit organizations that the group believes in, with nearly $90,000 of that originating from the sales of Trick Dog's theme menus and related events, in addition to a commitment of $150,000 over five years via The Bon Vivants Scholarship with ScholarMatch.
The full list of Chase Center beverage partners along with details on their presence at Chase Center at various bar, suite and hospitality spaces, includes:
Pernod Ricard will feature the following spirit offerings Absolut vodka, Absolut Elyx vodka, Jameson Irish Whiskey, Avion Tequila and Smooth Ambler Contradiction Bourbon. The various Pernod Ricard brands will have multiple bar service spaces on the main concourse and upper concourse for fans to enjoy, including 'Jameson' a bar space located in the upper concourse.
Tanduay Rum will present the 'Tanduay Rum Theater Boxes,' located above the Suite Level, in addition to multiple bar spaces for fans on the main concourse and upper concourse.
Moët Hennessy products will be sold throughout the arena and featured in the 'Hennessy Bar' on the west upper concourse.
Anheuser-Busch beer products will be sold throughout Chase Center, including Budweiser, Michelob Ultra and Elysian. The two-story 'Budweiser Legends Club', one of the largest bar spaces in Chase Center, located along the west sideline of the building, will be open to all sideline club ticket holders. There will also be two Elysian City Bistros on the upper and main concourse, and two Michelob Ultra bars on the main concourse and inside the 'Budweiser Legends Club.'
Constellation Beer Brands will be sold throughout Chase Center, including Modelo Especial. The arena will feature two prominent Modelo bar spaces: the 'Modelo Cantina,' located on the north upper concourse skybar; and the 'Modelo Bar,' located on the opposite south upper concourse.
As previously announced as a Chase Center Founding Partner, PepsiCo will have multiple 'Pepsi Hydration Station' locations throughout the arena.
In addition, the Warriors and Chase Center, in partnership with Bon Appètit Management Company and Levy, are continuing their commitment to the previously announced Taste Makers at Chase Center program by adding additional beverages created by local organizations to the program, along with their current lineup of local food providers. This program, which launched in April of 2017, blends Bay Area food and beverage experiences with top-notch restaurant partners at Chase Center. 
RELATED STORIES: Mark Jeffers Named Chase Center Culinary Director; Cost of Thrive City Partnership Might Reach $295M; Warriors, Ticketmaster Partnership Continuing to Chase Center; Warriors Unveil Initial Slate of Thrive City Restaurants and Retail; Warriors, Kaiser Permanente Partner on Thrive City; Kim Stone Appointed Chase Center General Manager;First Chase Center Warriors Game: Oct. 5; Inaugural Chase Center Event to Feature Metallica and San Francisco Symphony;Artists Selected for Chase Center Arts Collection; Golden State Warriors to Pitch Chase Center Hotel, Condos; Google Cloud Inks Chase Center Partnership; Local Fare to Highlight Chase Center Concessions; Warriors Host Chase Center Topping Out Ceremony; Warriors Seeing Strong Chase Center Season Ticket Sales; Chase Center Launches Call for Artists; Personnel News: Chase Center, Ontario; Vote Could Permit Chase Center Signage Plans; Chase Center Taking Shape; Chase Center Key to Warriors Financial Future; Warriors to Employ PSLs at Chase Center; Preview: Chase Center