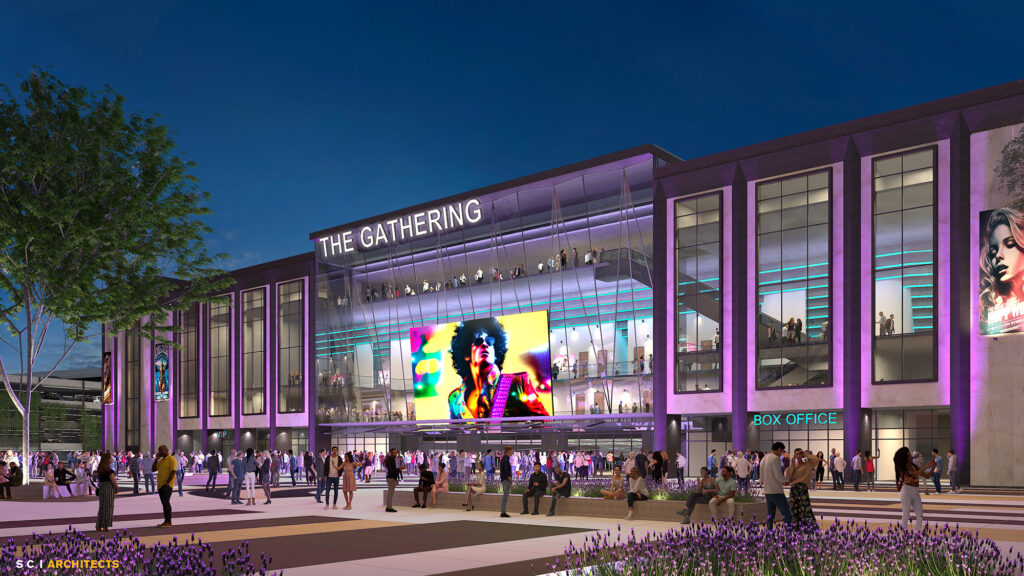 A first-time developer is pitching a new Atlanta NHL arena anchoring a $2 billion mixed-use development featuring hotels, retail, residential components pitched as being similar to The Battery in Cobb County.
The Gathering at South Forsyth could be located on 100 acres at Ronald Reagan Boulevard, McGinnis Ferry Road and Union Hill Road, in the northern part of the greater Atlanta area, in Forsyth County. Leading the development would be an 20,000-seat arena optimized for NHL hockey–the third run at an NHL team in Atlanta, following the Flames and the Threshers. Following the arena on the development calendar would be a million square feet of office space, 2,400 residential units, 500 hotel rooms, 600,000 sq. ft. of retail, a 20,000-seat arena, a 90,000 sq. ft. community center/ice rink and a 15,000 sq. ft. fire station. (You can view the specifics of the proposal in the Development of Regional Impact filing.)
In terms of scope and audience, the Gathering at South Forsyth is similar to The Battery, the mixed-use development from the Atlanta Braves that includes Truist Park. It would provide a major impact to the region, taking three years to complete the arena and sightly over a decade to implement the entire development. The project will be introduced on April 25 at the Forsyth County Commission work session at 2 p.m. The public engagement listening sessions will be scheduled for May.
The project is led by Vernon Krause of Krause Auto Group, a major dealer in the region. Krause is a long-time resident of north Georgia and has businesses throughout the region. He began scouting locations in Fulton and Cobb counties when Forsyth County Commissioner Alfred John suggested the location at the gateway to South Forsyth County.
"The community of South Forsyth holds great meaning for me. As a global entertainment hub, The Gathering at South Forsyth will provide residents, employers and visitors with the ability to see their favorite musician, experience a family-friendly ice show or eat at a James Beard-awarded restaurant without having to sit in their car for hours," said Krause via press release. "The development will include the best in advanced technology, sustainability, walkability and connectivity – all within a comfortable and accessible setting," he added. 
"The Gathering at South Forsyth will be an economic driver like no other," said Alfred John – Chairman, Forsyth County Commission. "It will enhance what our County currently offers with an added focal point for world-class events, shopping and dining, and it will generate thousands of jobs both during, and after, construction. In addition, for the first time, our students and their families will be able to celebrate milestone achievements like graduations without limitations or being forced to travel outside the County's boundaries. This best-in-class development will create a halo effect that will raise the County's visibility and provide added economic growth opportunities," he added.
The Gathering at South Forsyth development team includes Dovin Ficken LLC, legal counsel; Stafford Sports, the owner's representative; Nelson, land planning; JLL, real estate advisors; SCI Architects, arena architects, Kimley-Horn, civil engineering; and Stone Planning, economic impact research. 
Renderings courtesy Gathering at South Forsyth.