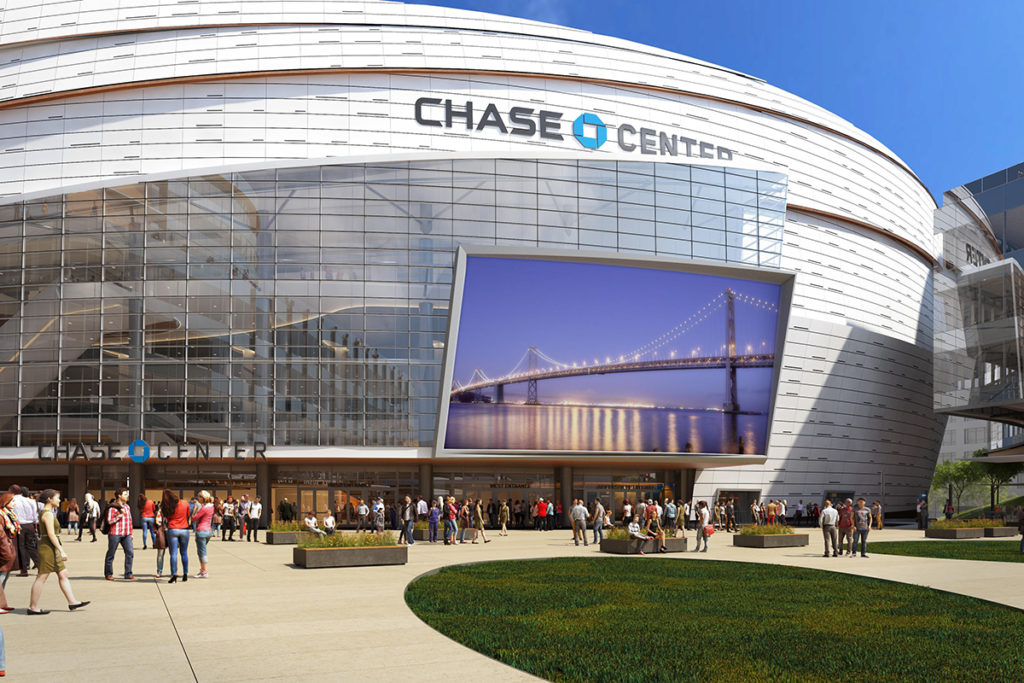 The Chase Center concessions lineup is taking shape, as the Golden State Warriors will offer up a variety of local options. 
The Warriors are gearing up for the debut of the Chase Center, which is expected to open in time for the 2019-20 season. With the arena under construction, the Warriors and the facility's concessionares are making some key decisions about its concession options.
Within the Chase Center will be a food from a variety of local eateries, thanks to the decision to bring several local and regional restaurants into the fold. That decision that will not only provide fans and event attendees with some unique menu items, but should also give more exposure to area businesses. More from the San Francisco Chronicle:
Instead of the usual arena sights like Dippin' Dots or Papa John's, all of the businesses will be small and local. Many are family owned or operated by first-time restaurateurs. The stadium-food initiative, a partnership between Bon Appetit Management Company and Levy Restaurants, also hopes to provide exposure to smaller food operations tucked away in various Bay Area neighborhoods.
The push came from the players, said Rick Welts, the Warriors' chief operating officer. DeMarcus Cousins couldn't stop talking about food during a recent Warriors organization meeting that included players and personnel, Welts said….
The Chase Center's food vendors will be led by businesses with roots in San Francisco's Bayview neighborhood, such as Boug Creole Deli, Yvonne's Southern Sweets and a quaint peanut brittle operation named Earl's Brittle. Filipino food truck Sarap Shop and viral sensation Dumpling Time, both located within a stone's throw of the arena, will also find new audiences inside its walls.
The group also includes CC Made, an artisan popcorn shop out of Berkeley; Sugar & Spun, a cotton candy outfit in San Francisco; and natural beef supplier Five Dot Ranch from Napa. Also on the list is La Cocina, the Mission-based nonprofit that helps women of color open food businesses, and Old Skool Cafe, a nonprofit supper club in San Francisco that's run by at-risk youth where Welts has hosted parties in the past.
The incorporation of local menu items into arena concessions has been something of a trend in the NBA over recent years. The renovation of Vivint Smart Home Arena that was completed last year by the Utah Jazz is an example, while the Atlanta Hawks are introducing more local options to the newly renovated State Farm Arena, and the Milwaukee Bucks are incorporating local fare at the new Fiserv Forum.
San Francisco sports fans have also become more accustomed to unique food options at their venues, as the MLB's Giants have built a successful menu over the years at AT&T Park.  Should Chase Center's construction process remain on schedule, the upcoming 2018-19 season will be the Warriors' last at Oakland's Oracle Arena.
RELATED STORIES: Warriors Host Chase Center Topping Out Ceremony; Warriors Seeing Strong Chase Center Season Ticket Sales; Chase Center Launches Call for Artists; Personnel News: Chase Center, Ontario; Vote Could Permit Chase Center Signage Plans; Chase Center Taking Shape; Chase Center Key to Warriors Financial Future; Warriors to Employ PSLs at Chase Center; Preview: Chase Center