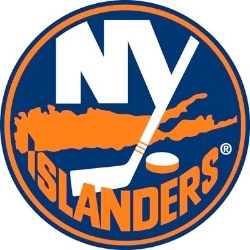 While awaiting the completion of a new arena, the New York Islanders will spend the next three seasons at the Barclays Center and Nassau Coliseum. 
In December, the Islanders' bid to construct a new arena on land at Belmont Park received formal approval. The new arena is not expected to open until 2021, a timeline that left the Islanders with a decision to make regarding their home schedules for the upcoming seasons.
Under the terms of an agreement that was announced on Monday, the Islanders will play home games at both Nassau Coliseum and Brooklyn's Barclays Center in coming years. That agreement, which takes effect next season, is expected to lead to the Islanders playing 60 home games at the Coliseum over the next three seasons. More from Newsday:
The Islanders have agreed to play 60 games, including the preseason, at the Coliseum over the next three seasons, but that could change slightly based on scheduling. The Isles will play 12 regular-season games at the Coliseum next season and 48 preseason- and regular-season games there in the following two seasons.
"If the team wants to play more than half their games here, we encourage it and welcome them back," said Yormark, CEO of Brooklyn Sports & Entertainment, which operates both Barclays Center and the county-owned Nassau Coliseum.
Yormark said they're still discussing where to play playoff games. Islanders co-owner Jon Ledecky said that will be up to the NHL.
The Islanders' first game at the Coliseum could be as early as September or October, [New York governor Andrew] Cuomo said.
Nassau Coliseum was home to the Islanders from 1972-2015, and reopened in 2017 after an extensive renovation. Since reopening, it has been under a naming rights agreement that makes it known as NYCB Live, home of the Nassau Veterans Memorial Coliseum, and now features a seating capacity of 13,900 for hockey. It is expected to receive upgrades to accommodate the Islanders on a temporary basis, though some details about that plan remain unknown.
RELATED STORIES: Report: Islanders Close to Deal for Nassau Coliseum; New York Islanders Facing Short-Term Arena Decisions; NHL Won't Rule Out Islanders Games at Nassau Coliseum; Best of 2017, #5: New York Islanders Win Belmont Park Bid; New York Islanders to Land Belmont Park Site for Arena; Report: Decision on Belmont Park Site Expected Wednesday; New York Islanders Arena Plan to be Presented Sunday; Islanders: Webster Bank Arena Upgrades Linked to Arena Pursuit; Bettman Backs New York Islanders Belmont Arena Bid; New York Islanders Debut Pracitice Facility; Still Arena New Arena; Details Revealed on New York Islanders Arena Proposal; Ledecky: Islanders Focused on Belmont Park Arena; New York Islanders Bid for Belmont Park Arena; New York Islanders Prepping for RFP on Belmont Park Site