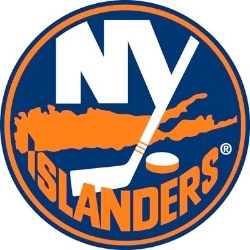 The New York Islanders are reportedly close to an agreement to play games at the Nassau Coliseum in the coming seasons, making it a temporary venue as the team awaits a new arena. 
The Islanders' bid to build a new arena at Belmont Park was recently approved but, with the 2021-22 NHL season likely being the earliest that the new arena would open, the club has been left with a decision to make regarding the next few seasons. It appears that the team is closing in on a solution, as Newsday reports that the Islanders are on the verge of an agreement to play home games at both the Nasssau Coliseum and Brooklyn's Barclays Center in the coming years.
No official announcement has been made, but the terms of the agreement are expected to call for the Islanders to play 12 games at the Coliseum next season. Provided that that arrangement goes well, the Islanders would play roughly half of their regular-season schedules at the venue over the following years. More from Newsday:
The Islanders have been negotiating with Brooklyn Sports & Entertainment, which operates both arenas, in the weeks since Gov. Andrew M. Cuomo announced the Islanders' bid to develop an arena at Belmont was selected as the winner. The Islanders and Brooklyn Sports & Entertainment have until Jan. 30 to complete the opt-out process.
NHL deputy commissioner Bill Daly deferred questions to the Islanders, who declined to comment, as did Brooklyn Sports & Entertainment.
Sources said Brooklyn Sports & Entertainment's preference is for the Islanders to play all their games in future seasons at the Coliseum, but the Islanders and the NHL have long resisted that idea.
Nassau Coliseum was home to the Islanders from 1972-2015, and reopened in 2017 after an extensive renovation. Since reopening, it has been under a naming rights agreement that makes it known as NYCB Live, home of the Nassau Veterans Memorial Coliseum, and now features a seating capacity of 13,900 for hockey, a decrease from the roughly 17,000 it seated previously.
RELATED STORIES: New York Islanders Facing Short-Term Arena Decisions; NHL Won't Rule Out Islanders Games at Nassau Coliseum; Best of 2017, #5: New York Islanders Win Belmont Park Bid; New York Islanders to Land Belmont Park Site for Arena; Report: Decision on Belmont Park Site Expected Wednesday; New York Islanders Arena Plan to be Presented Sunday; Islanders: Webster Bank Arena Upgrades Linked to Arena Pursuit; Bettman Backs New York Islanders Belmont Arena Bid; New York Islanders Debut Pracitice Facility; Still Arena New Arena; Details Revealed on New York Islanders Arena Proposal; Ledecky: Islanders Focused on Belmont Park Arena; New York Islanders Bid for Belmont Park Arena; New York Islanders Prepping for RFP on Belmont Park Site