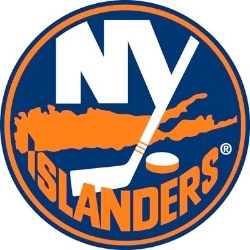 The New York Islanders are poised to move forward with a new arena at Belmont Park, as the team's bid for the site is expected to chosen as the winner. A formal announcement will take place on Wednesday. 
The Islanders and their partners–Oak View Group and Sterling Project Development–responded to a request for proposal (RFP) in September by turning in a bid for a new arena. As part of the bid, the group has proposed an 18,000-seat arena that would be constructed along with a mix of development that includes a hotel, retail, and an innovation center.
More recently, the candidates to develop the land were down to the Islanders and MLS's New York City FC, which pitched a new 26,000-seat soccer stadium as part of a larger development. The Islanders have reportedly been informed that their plan will be announced as the winning bid during a Wednesday press conference that will include New York governor Andrew Cuomo. More from Newsday:
State Sen. Todd Kaminsky (D-Long Beach), who co-hosted a hearing on the dueling proposals last week, said the development would benefit Elmont, Floral Park and the communities surrounding Belmont Park.
"Governor Cuomo, my colleagues in government, and I have worked very hard to make the best use out of Belmont," Kaminsky said in a statement. "I believe that tomorrow's announcement will benefit Long Island and the surrounding communities."
State Sen. Elaine Phillips (R-Flower Hill) said the "foundation has now been laid to make Belmont Park a reinvigorated economic engine for our region, which will strengthen the already existing racing industry, and make Nassau County a destination location."
Nassau County Executive-elect Laura Curran, a Democrat who takes office Jan. 1, said she was "excited to finally welcome the Islanders home to Nassau County, and I'd like to thank Governor Cuomo for helping make that possible. As county executive, I'll make sure we work with the local community and stakeholders to make sure the area is developed with their input."
The Islanders played at Nassau Veterans Memorial Coliseum for decades, calling the arena home from 1972-2015. Beginning with the 2015-16 NHL season, the team has spent the past several years at Brooklyn's Barclays Center, which originally opened for the NBA and has been criticized by fans and players alike as being a poor venue for hockey. The Belmont Park site has been believed to offer a few advantages for the Islanders, including a more accessible location to the team's Long Island fan base and enough room for surrounding development.
RELATED STORIES: Report: Decision on Belmont Park Site Expected Wednesday; New York Islanders Arena Plan to be Presented Sunday; Islanders: Webster Bank Arena Upgrades Linked to Arena Pursuit; Bettman Backs New York Islanders Belmont Arena Bid; New York Islanders Debut Pracitice Facility; Still Arena New Arena; Details Revealed on New York Islanders Arena Proposal; Ledecky: Islanders Focused on Belmont Park Arena; New York Islanders Bid for Belmont Park Arena; New York Islanders Prepping for RFP on Belmont Park Site