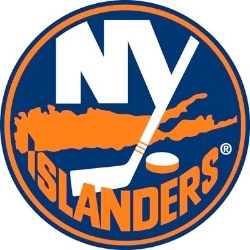 NHL commissioner Gary Bettman is showing support for the New York Islanders and their bid to build a new arena at Belmont Park.

In September, the Islanders teamed up with their partners-–Oak View Group and Sterling Project Development—to respond to submit a response to a request for proposal (RFP) to develop a site at Belmont Park. No final decision has been made by Empire State Development, the agency overseeing the process, but the Islanders are hoping that the effort can lead to a new arena that would allow them to leave Brooklyn's Barclays Center.
When discussing the team's ongoing pursuit earlier this week, Bettman gave the effort his endorsement. He not only credited the Islanders ownership for carrying out the effort, but expressed his support for the Belmont Park location. More from Newsday:
Speaking before an event Tuesday night at the Paley Center in Manhattan celebrating the NHL's 100th anniversary, Bettman said co-owners "Scott Malkin and Jonathan Ledecky are doing everything they can to get the Islanders the new arena that they need so badly, and I remain the optimist that this can come to fruition on a timely basis."
The Islanders are seeking approval to develop a site at Belmont Park, but in the meantime have committed to play at Barclays Center through next season.
"I think it would be great," Bettman said of the Belmont site. "I think it would be great for the Islanders. I think it would be great for the people of greater New York. I think it would be great for Long Island."
Though many details about the exact plan remain unknown, the Belmont Park site has been noted for having some advantages, including a closer proximity to the team's fan base on Long Island than Brooklyn . The Islanders began playing in Barclays Center–a venue originally constructed for basketball–in 2015, a few years after it opened for the NBA's Brooklyn Nets in 2012.
RELATED STORIES: New York Islanders Debut Pracitice Facility; Still Arena New Arena; Details Revealed on New York Islanders Arena Proposal; Ledecky: Islanders Focused on Belmont Park Arena; New York Islanders Bid for Belmont Park Arena; New York Islanders Prepping for RFP on Belmont Park Site