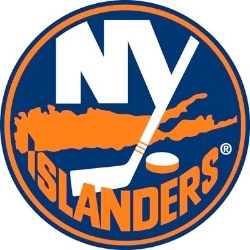 On Tuesday, NHL commissioner Gary Bettman visited Nassau Coliseum, which is being pitched as a temporary home for the New York Islanders while the team awaits a new arena. 
The Islanders are moving forward with plans to construct a new arena at Belmont Park, as their bid for the site was recently approved. At this point, the new venue is not expected to open until at least 2020. While they are expected to remain at Brooklyn's Barclays Center for the 2018-19 season, the Islanders could need a temporary home as a stopgap until the Belmont Park arena is complete.
One idea that has been floated is for the Islanders to return to the recently renovated Nassau Veterans Memorial Coliseum–their home from 1972-2015–while awaiting the completion of the new Belmont Park arena. Though Bettman had previously expressed doubts about its viability, the NHL recently indicated that it would not rule out a scenario in which the Islanders use the Coliseum on a temporary basis. Bettman is reported to have toured Nassau Coliseum on Tuesday, a step in determining what improvements would have to be completed at the venue before it could welcome the Islanders on a short-term basis. More from Newsday:
In a statement last month, Brooklyn Sports & Entertainment — which operates both Barclays Center and Nassau Coliseum — said the company is "prepared to facilitate any necessary enhancements" to the arena. At issue is what specifically needs to be done and which entity will pay for it.
The Coliseum, now named NYCB Live's Nassau Veterans Memorial Coliseum, reopened last March after an 18-month, $165-million renovation.
Last week, NHL deputy commissioner Bill Daly told Newsday the league is open to the Islanders playing games at Nassau Coliseum while the team's arena at Belmont Park is being built. "I wouldn't rule it out as a possibility," he said.
Bettman had long maintained the Coliseum was not a suitable place for the team to play, even on a temporary basis. The commissioner softened his stance at the December announcement that the Islanders had won the bid to redevelop the state-owned land around Belmont Park.
Since reopening, Nassau Coliseum has been used for a variety of events, including home games for the NBA Gatorade League's Long Island Nets. Its seating capacity comes out to 13,900 for hockey, and its team facilities are reportedly smaller than those seen in typical NHL arenas. The Islanders have played at the Barclays Center since ending their run at Nassau Coliseum.
RELATED STORIES: NHL Won't Rule Out Islanders Games at Nassau Coliseum; Best of 2017, #5: New York Islanders Win Belmont Park Bid; New York Islanders to Land Belmont Park Site for Arena; Report: Decision on Belmont Park Site Expected Wednesday; New York Islanders Arena Plan to be Presented Sunday; Islanders: Webster Bank Arena Upgrades Linked to Arena Pursuit; Bettman Backs New York Islanders Belmont Arena Bid; New York Islanders Debut Pracitice Facility; Still Arena New Arena; Details Revealed on New York Islanders Arena Proposal; Ledecky: Islanders Focused on Belmont Park Arena; New York Islanders Bid for Belmont Park Arena; New York Islanders Prepping for RFP on Belmont Park Site