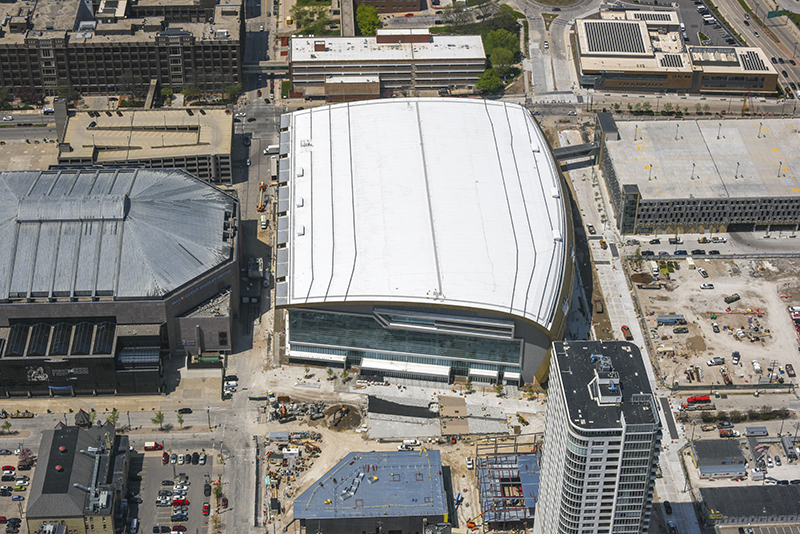 New Milwaukee Bucks arena video displays are a major component in the venue's technology, and they are taking shape as the facility prepares for its opening. 
The Bucks are planning to move into the new downtown Milwaukee venue in time for the 2018-19 NBA season. Several amenities within the arena should draw anticipation as the venue comes closer to its opening, including the video technology.
Like many similar venues, the new Bucks arena will feature monitors throughout the concourse that allow fans to catch a glimpse of the action when they are away from their seats. The highlight of the interior displays will be the new centerhung videoboard, which the Bucks showed off during a media tour of the arena on Wednesday. More from the Milwaukee Journal-Sentinel:
While the sheer number of panels is striking, they pale in comparison to the new scoreboard, which also was fired up for a media tour.
The Daktronics display includes four huge side displays, and an equal number of smaller panels tilted at an angle underneath, for the benefit of those in the most expensive seats. Those folks will no longer be straining their necks to see a replay, said Bucks President Peter Feigin.
The scoreboard surface area is 50 percent larger than the one in the BMO Harris Bradley Center, the Bucks' previous home.
Video displays are often a focal point in new arena projects or renovations, and it seems that the Bucks are looking to make the videoboard at their new arena a key part of the fan experience. The arena is replacing the BMO Harris Bradley Center as the home of the Bucks. It is also part of a larger development project that will include an entertainment district opening in 2019, which should provide some new offerings to the area surrounding the arena.
RELATED STORIES: Final Suite at New Bucks Arena Leased; New Milwaukee Bucks Arena Sustainability Program Unveiled; Good City Brewing To Open at New Milwaukee Bucks Arena Entertainment District; Jack Daniel's Bar to be Featured at New Bucks Arena; Milwaukee Bucks Pitch Last Available Suite at New Arena; Naming Rights for New Milwaukee Bucks Arena Will be Unveiled Soon; Miller Named Founding Partner of New Milwaukee Bucks Arena; Videoboard Raised at New Milwaukee Bucks Arena; New Milwaukee Bucks Arena Making Progress; Milwaukee Bucks to Debut New Parking Ramp; Milwaukee Bucks Search for Arena Naming Rights Partner; Construction of New Milwaukee Bucks Arena on Schedule; Milwaukee Bucks Look to Draw Major Acts to New Arena; Zinc Panels Being Installed at New Milwaukee Bucks Arena; Three NBA Arenas, All in a Row; Trusses to be Lifted for New Milwaukee Bucks Arena; Milwaukee Bucks Unveil Videoboard for New Arena