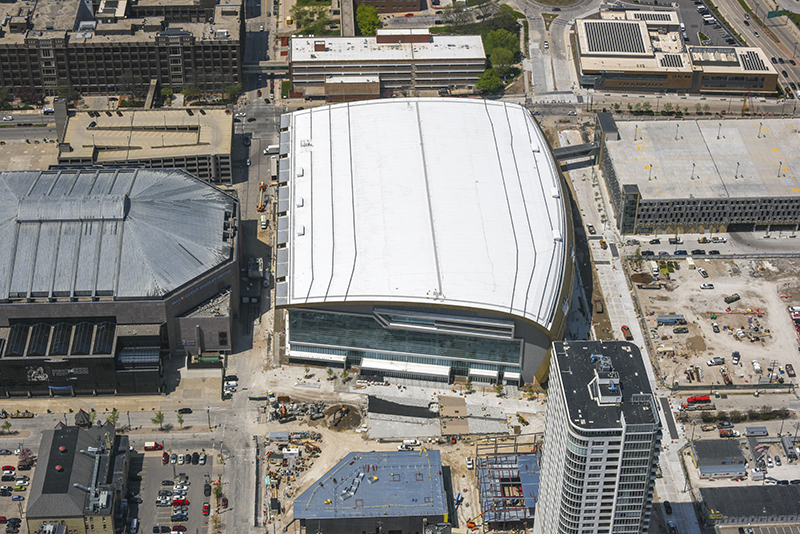 A new outpost of local brewery Good City Brewing will be part of the mix at the new Milwaukee Bucks arena entertainment district, set to open next spring.
The arena will open for the 2018-2019 NBA season, followed by the entertainment district in 2019. Work on the entertainment district has been taking place for the past several months, but this is the first announcement of a tenant in the space. In the above aerial photo, taken yesterday, the entertainment district snd Good City Brewing is to the east of the new arena; this photo faces west. The BMO Harris Bradley Center is to the left (south) of the new arena, while the venerable Turner Hall is at the bottom left of the above photo. (For those who like a little history with their brewery information, the old Schlitz Brewery is several blocks from the right side of this photo.) Here's a rendering of what the new brewery will look like, courtesy of the Bucks:
Good City Brewing is a relative newcomer on the burgeoning Milwaukee micro brewing scene, opening in 2016 and quickly gaining traction against competitors like Lakefront Brewing, Milwaukee Brewing and Mobcraft Beer. It has very modest roots, opening in an old bike shop and quickly expanding to meet demand. Owned by Milwaukee residents, the new taproom is seen by co-owner Dan Katt as another piece in the puzzle of a Milwaukee renaissance. From the Milwaukee Journal-Sentinel:
"We look at it as continuing to build the brand — what we're trying to accomplish here in Milwaukee and as people," he said. "We've put down roots here, and we are living our lives as though we've been given a key to the city.
"It's only about two miles from us (on the east side) but it's a totally different world."
Katt said the lease "is huge for us," in the very competitive local craft brewing business.
"It's not like we won the lottery. We still have to pay rent," he said with a laugh.
The new facility will both be a taproom for Good City Brewing/Wisconsin craft breweries and a working brewery, focusing on sour beers and small-batch experimental brews. The 1,000-square-foot taproom is envisioned as a year-round destination by both the Bucks and Good City Brewing, with music and other events planned for the new Milwaukee Bucks arena entertainment district.
RELATED STORIES: Jack Daniel's Bar to be Featured at New Bucks Arena; Milwaukee Bucks Pitch Last Available Suite at New Arena; Naming Rights for New Milwaukee Bucks Arena Will be Unveiled Soon; Miller Named Founding Partner of New Milwaukee Bucks Arena; Videoboard Raised at New Milwaukee Bucks Arena; New Milwaukee Bucks Arena Making Progress; Milwaukee Bucks to Debut New Parking Ramp; Milwaukee Bucks Search for Arena Naming Rights Partner; Construction of New Milwaukee Bucks Arena on Schedule; Milwaukee Bucks Look to Draw Major Acts to New Arena; Zinc Panels Being Installed at New Milwaukee Bucks Arena; Three NBA Arenas, All in a Row; Trusses to be Lifted for New Milwaukee Bucks Arena; Milwaukee Bucks Unveil Videoboard for New Arena