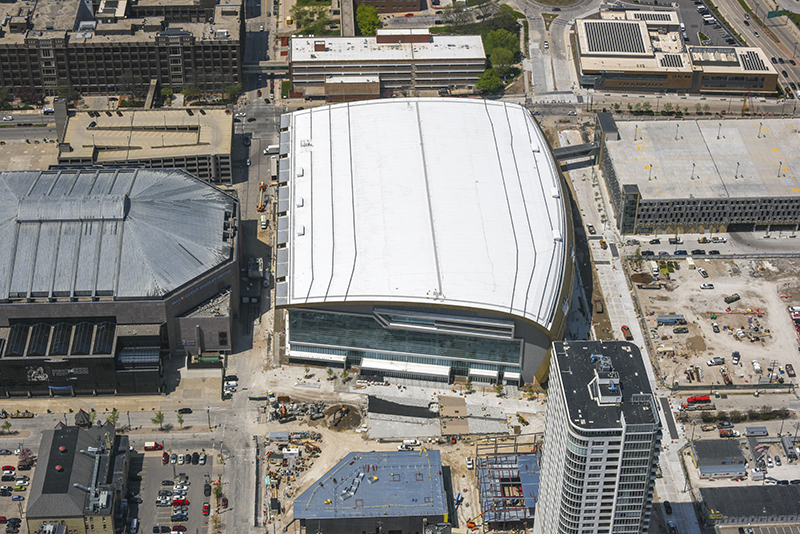 The last available luxury suite at the new Milwaukee Bucks arena has been leased, another milestone as the venue approaches its opening. 
Currently under construction in downtown Milwaukee, the new Bucks arena–which is known for now as the Wisconsin Entertainment and Sports Center (WESC)–is set to open in time for the 2018-19 NBA season. Ticket sales for the upcoming season have been strong in anticipation of the venue's opening, and the Bucks recently announced that they had leased the last available suite at the facility.
In all, there are 34 luxury suites at the new Bucks arena and they come with several perks in addition to access on game days. More from the Milwaukee Journal-Sentinel:
The Bucks announced Tuesday that they had leased the final luxury suite for the new $524 million arena. The suite, the last of 34 available, went to a local company that originally was considering tickets in another location, said Jamie Morningstar, senior vice president of ticket sales and service.
Representatives of the company saw the suite and decided very quickly that "it was exactly what they wanted," she said.
The Bucks said the company that bought the suite did not wish to be identified.
The suite includes seating for up to 18 and gives the owner access to all events in the new arena — not just Bucks games. Suite holders are also encouraged to use the space for company meetings and private gatherings on nonevent days at the arena.
The arena is replacing the BMO Harris Bradley Center as the home of the Bucks. It is also part of a larger development project that will include an entertainment district opening in 2019, which should provide some new offerings to the area surrounding the arena.
RELATED STORIES: New Milwaukee Bucks Arena Sustainability Program Unveiled; Good City Brewing To Open at New Milwaukee Bucks Arena Entertainment District; Jack Daniel's Bar to be Featured at New Bucks Arena; Milwaukee Bucks Pitch Last Available Suite at New Arena; Naming Rights for New Milwaukee Bucks Arena Will be Unveiled Soon; Miller Named Founding Partner of New Milwaukee Bucks Arena; Videoboard Raised at New Milwaukee Bucks Arena; New Milwaukee Bucks Arena Making Progress; Milwaukee Bucks to Debut New Parking Ramp; Milwaukee Bucks Search for Arena Naming Rights Partner; Construction of New Milwaukee Bucks Arena on Schedule; Milwaukee Bucks Look to Draw Major Acts to New Arena; Zinc Panels Being Installed at New Milwaukee Bucks Arena; Three NBA Arenas, All in a Row; Trusses to be Lifted for New Milwaukee Bucks Arena; Milwaukee Bucks Unveil Videoboard for New Arena