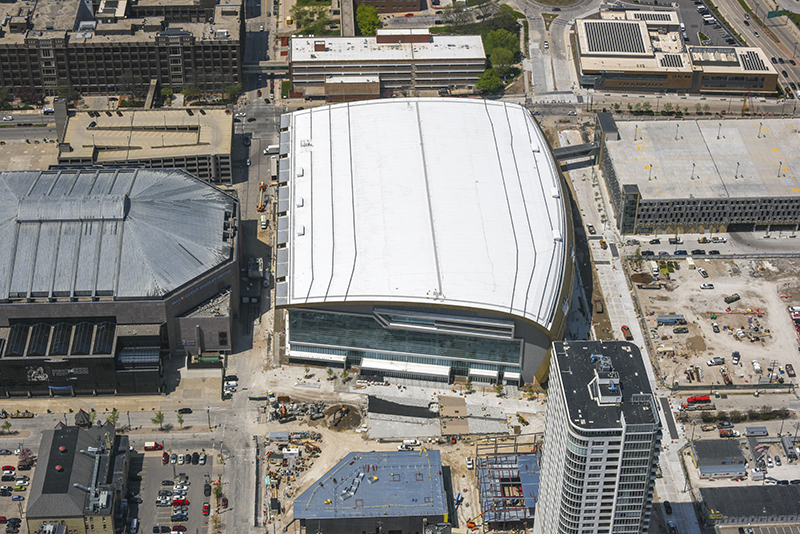 Concession options at the upcoming Milwaukee Bucks arena are taking shape, and the venue will be putting a significant emphasis on local fare. 
With the beginning of the 2018-19 NBA season drawing closer, the Bucks are making plans for the offerings at their new downtown Milwaukee arena. That includes its food and beverages options, as the new Bucks arena concessions will serve a broad menu that places a heavy emphasis on local offerings.
Aside from MillerCoors products and beers from Wisconsin-based craft breweries, the arena will also feature a number of local eateries, providing companies the opportunity to showcase their products at the new venue. More from the Milwaukee Journal-Sentinel:
The plan is to feature large and small local food companies ranging from made-to-order pizzas developed by Palermo's to Laughing Tacos. The building also will include a unique variety of Klement's sausage crafted especially for the Bucks, and an array of MillerCoors products and local craft beers. (There also will be big national brands such as Coca-Cola products and Absolut vodka.)…
The Bucks didn't seek a financial commitment from any of the local companies, said Justin Green, vice president for hospitality.
"In many arenas, it's pay to play. That's not the case here," Green said. "We're excited to give them a platform to build their businesses upon and grow."
Bucks Executive Chef Kenneth Hardiman and his staff visited the local restaurants to understand their cultures and adapt their products to the challenges of quickly serving large numbers of people. Both Hardiman and Green work for Levy, the Bucks food service contractor.
The new Bucks arena will make its NBA debut this fall, and will be the only new venue to open in the league for the 2018-19 season. It is being constructed as part of a larger downtown development project, which will eventually include an entertainment district opening in 2019.
RELATED STORIES: New Bucks Arena Video Displays Taking Shape; Final Suite at New Bucks Arena Leased; New Milwaukee Bucks Arena Sustainability Program Unveiled; Good City Brewing To Open at New Milwaukee Bucks Arena Entertainment District; Jack Daniel's Bar to be Featured at New Bucks Arena; Milwaukee Bucks Pitch Last Available Suite at New Arena; Naming Rights for New Milwaukee Bucks Arena Will be Unveiled Soon; Miller Named Founding Partner of New Milwaukee Bucks Arena; Videoboard Raised at New Milwaukee Bucks Arena; New Milwaukee Bucks Arena Making Progress; Milwaukee Bucks to Debut New Parking Ramp; Milwaukee Bucks Search for Arena Naming Rights Partner; Construction of New Milwaukee Bucks Arena on Schedule; Milwaukee Bucks Look to Draw Major Acts to New Arena; Zinc Panels Being Installed at New Milwaukee Bucks Arena; Three NBA Arenas, All in a Row; Trusses to be Lifted for New Milwaukee Bucks Arena; Milwaukee Bucks Unveil Videoboard for New Arena