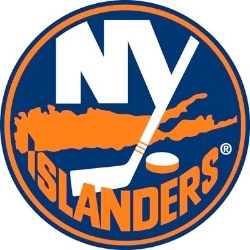 As their search for a new arena continues, some fans of the New York Islanders are hoping that the team returns to Long Island. 
The Islanders played at Nassau Veterans Memorial Coliseum from 1972-2015, before completing a move to Brooklyn's Barclays Center in time for the 2015-16 season. Since their arrival, the Barclays Center has been criticized as being a poor venue for hockey, and the team has been searching for a new arena that could serve as their permanent home.
That process took a turn recently, when it was confirmed that the Islanders and their partners–Oak View Group and Sterling Project Development—responded to a request for proposal (RFP) for a site at Belmont Park. It remains to be seen where that proposal will lead, but some Islanders fans are hopeful that the team will secure a venue more conducive to hockey, and perhaps return to Long Island in the process. More from Newsday:
"It needs to come back to Long Island where it belongs," said Michael Zatwarnicki, 39, Levittown, of the Islanders before their home opener against the Buffalo Sabres. "The seats are terrible. Our best player got hurt last year because the ice is terrible. Bring it back home."
The sightlines were a common complaint from fans. "The lower level isn't too bad, but the upper level? You might as well not be at the game. It's too steep," Ryan Wheatley, 33, of Bellmore said.
"It wasn't designed for hockey," said Sean Hood, 53, of Island Park, a seven-year season ticket holder. "It was designed for basketball. They need to go to Belmont, something specifically built for the Islanders."
Earlier this year, the Coliseum reopened after an extensive renovation project that lowered the hockey capacity to over 13,000. The Islanders played a preseason game there this year, but the renovated Coliseum does not look like a viable option for the team.
RELATED STORIES: New York Islanders Bid for Belmont Park Arena; New York Islanders Prepping for RFP on Belmont Park Site; Potential New York Islanders Arena Debated by Public; Barclays Center's Design Not Expected to Change for Islanders; New York Islanders to Propose Belmont Park Arena; New York Islanders, Partners Pushing for Belmont Arena