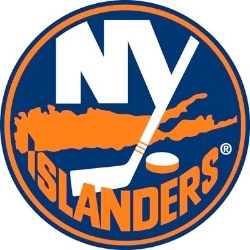 The Barclays Center is not expected to receive design changes to accommodate the New York Islanders, its NHL tenant that is contemplating a new arena.
The Islanders have played at Brooklyn's Barclays Center–which was conceived to host the NBA's Brooklyn Nets–since the beginning of the 2015-16 season. In that time frame, the venue has been criticized by fans and players alike as a facility that is not designed to handle NHL action, prompting some discussion that the Islanders could pursue a new arena.
Both parties can opt out of their arrangement as early as next January. Though it remains to be seen if or when either side officially opts out, Brett Yormark, the CEO of Brooklyn Sports & Entertainment, has stated that they do not anticipate any major design changes taking place at the Barclays Center. More from Newsday:
Yormark's comment was in response to a suggestion by NHL commissioner Gary Bettman that the Brooklyn arena could "change the configuration and rebuild Barclays" to make it more conducive to hockey.
Bettman, speaking on the Bloomberg Business of Sports podcast posted online yesterday, quickly acknowledged that a redesigned Barclays Center isn't likely. "I don't think that's the case," the commissioner said.
Yormark confirmed as much in a statement to Newsday.
"We always welcome constructive dialogue regarding optimizing the player and fan experience at Barclays Center," Yormark said. "However, we have no appetite to make any significant design changes to Barclays Center."
The Islanders departed the Nassau Coliseum for the Barclays Center after the 2014-15 NHL season. Reports have linked the team's arena to multiple locations in the New York area, including land near Belmont Park that is slated to be the subject of an upcoming request for proposal (RFP). In remarks earlier this year, Bettman indicated that the Islanders are planning to participate in the RFP process.
RELATED STORIES: New York Islanders to Propose Belmont Park Arena; New York Islanders, Partners Pushing for Belmont Arena; New York Islanders Mulling Arena Options; Best of 2016, #6: New York Islanders; Islanders Continuing Arena Talks in Queens; Yorkmark: We're Listening to Islanders Fans; Islanders Can Opt Out of Barclays Center; Nassau County Pitching New York Islanders Return; Belmont Park in Play for Islanders; New York Islanders Eyeing Queens Move;Ledecky Discusses New York Islanders, Nassau County Coliseum, Sound Tigers