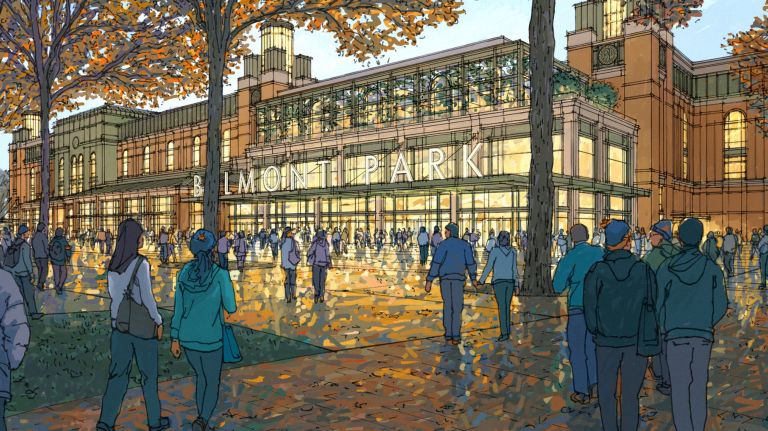 A lawsuit seeking to stop the New York Islanders Belmont Park arena project has been filed by the Village of Floral Park, which is expressing several concerns about the plan.
Under a plan that has been in the works for a few years, an estimated $1.26-billion development on state land at Belmont Park will be anchored by the new arena. The project is led by New York Arena Partners, which includes Islanders ownership, Sterling Project Development (controlled by New York Mets owners), and arena developer Oak View Group. The project's current scope calls for a 19,000-capacity arena to be the centerpiece of surrounding development that includes a 250-room hotel, 350,000 square feet of retail space, and more.
Final approvals for the project were granted last month, but Floral Park–a village adjacent to Belmont Park–is raising various allegations through a lawsuit. The lawsuit alleges that the bidding process for development rights to the land was flawed, and skewed toward New York Arena Partners because of a "secret plan" formed before state officials launched the request for proposals (RFP) process. In addition, it contends that the environmental impact statement failed to fully analyze the implications of a full-time Long Island Rail Road Station that will be built to support the development.
Through the lawsuit–which is against multiple entities, including New York Arena Partners, state economic development agency Empire State Development, and the New York State Franchise Oversight Board–Floral Park is seeking to overturn all approvals granted to the project, halt work at the site, and ensure that the environmental review process is relaunched. More from Newsday:
"It is truly unfortunate that this is how this process is unfolding. The Village of Floral Park has never opposed the reasonable redevelopment of the underutilized parcels at Belmont Park," Mayor Dominick Longobardi said in an emailed statement to residents and business owners on Tuesday.
Floral Park officials had to sue because Empire State Development, the state agency responsible for granting the project's approval last month, "failed to mitigate the very real negative consequences to our Village that will result from the massive size and scope of the Project," Longobardi said….
"Empire State Development does not comment on litigation," said spokesman Jack Sterne. "This project has gone through a transparent, public process over multiple years, and has adhered to all requirements under state law. We will vigorously defend our actions so we can move forward with this project, which will deliver thousands of jobs and billions in economic activity to Nassau County."
It has been anticipated that a groundbreaking ceremony for the project could be held this month, with the Islanders aiming to complete the new arena in time for the 2021-22 NHL season.
Rendering courtesy New York Arena Partners LLC.
RELATED STORIES: New York Islanders Arena Project Earns Final State Approvals; State Board Approves Belmont Park Arena Project; Islanders Belmont Park Arena Proposal Up for Approval Thursday; Islanders Arena Plan Moves Forward; Ledecky: Belmont Park Arena Groundbreaking Expected This Summer; Bettman Anticipates Islanders' Arena Groundbreaking in Coming Months; Islanders Ask Fans to Sign Pro-Belmont Park Arena Petition; Proposed Islanders Arena Construction Will Not Begin in May; Islanders Arena Public Comment Period Extended; Islanders Arena Public Hearings Start Tuesday; Study: Islanders Belmont Park Arena Project to Increase Traffic Congestion; Islanders New Arena Plan Finds Support Among Alumni; Ledecky: Islanders Belmont Park Arena Construction Expected to Start in May; Travis Williams Departing Penguins for Islanders; Islanders Add More Nassau Coliseum to 2018-19 Slate; With New Islanders Arena Coming, Belmont Park Renovations are Being Discussed; New York Islanders Arena Project on Schedule; New York Islanders Facing Short-Term Arena Decisions; NHL Won't Rule Out Islanders Games at Nassau Coliseum; Best of 2017, #5: New York Islanders Win Belmont Park Bid; New York Islanders to Land Belmont Park Site for Arena