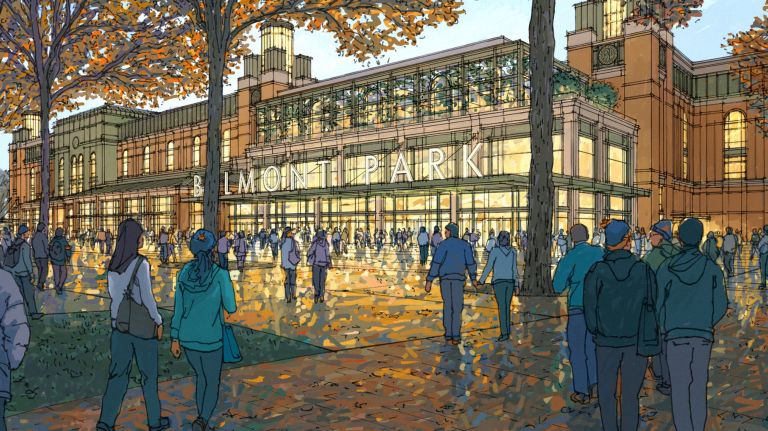 A proposed New York Islanders Belmont Park arena could move forward Thursday afternoon, when it goes before Empire State Development's board for final approval.
An estimated $1.26-billion plan is taking shape on state land at Belmont Park, to be anchored by the new arena. The project is led by New York Arena Partners, which includes Islanders ownership, Sterling Project Development (controlled by New York Mets owners), and arena developer Oak View Group. Under the current scope, the 19,000-capacity arena would be the centerpiece of surrounding development that includes a 250-room hotel, 350,000 square feet of retail space, parking, and more.
To ease traffic congestion in the area, New York governor Andrew Cuomo unveiled plans last month for a new $105-million Long Island Rail Road (LIRR) station as part of the development. Arena developers will eventually pay $97 million of the $105-million price tag.
The proposal has been studied and debated considerably, and it is set to go before state economic development agency Empire State Development's (ESD) six-member board for final approval on Thursday afternoon. More from Newsday:
Last week, the state Public Authorities Control Board approved ESD's acquisition of the 43-acre Belmont property from the state Franchise Oversight Board, the agency that oversees the New York Racing Association. The Franchise Oversight Board still would need to approve the state's environmental review.
The approvals would pave the way for the return of the National Hockey League Islanders to Long Island. Backers also say the project would generate an estimated $858 million in economic impact, and that a new, full-service Long Island Rail Road stop, infrastructure repairs and thousands of jobs also would be created.
"This is about our pride as Long Islanders. The Islanders belong here — let's get Belmont done," Nassau County Executive Laura Curran, a Democrat, said Wednesday….
Some civic groups representing residents in the surrounding communities of Floral Park, Elmont and Bellerose have taken issue with the size and scope of the arena project since Gov. Andrew M. Cuomo announced the plan in December 2017.
Should the plans move forward, it would bring some clarity to the long-term facility plans for the Islanders. The franchise left Nassau Coliseum following the 2014-15 NHL season for Brooklyn's Barclays Center, only to split home games between the two venues last season. (The Coliseum underwent a renovation after the Islanders' initial departure, but is not seen as a suitable full-time home for an NHL franchise). That scheduling arrangement will carry over to the 2019-20 season, with the Islanders set to play 21 games at the Coliseum and 20 at Barclays Center.
Rendering courtesy New York Arena Partners LLC.
RELATED STORIES: Islanders Arena Plan Moves Forward; Ledecky: Belmont Park Arena Groundbreaking Expected This Summer; Bettman Anticipates Islanders' Arena Groundbreaking in Coming Months; Islanders Ask Fans to Sign Pro-Belmont Park Arena Petition; Proposed Islanders Arena Construction Will Not Begin in May; Islanders Arena Public Comment Period Extended; Islanders Arena Public Hearings Start Tuesday; Study: Islanders Belmont Park Arena Project to Increase Traffic Congestion; Islanders New Arena Plan Finds Support Among Alumni; Ledecky: Islanders Belmont Park Arena Construction Expected to Start in May; Travis Williams Departing Penguins for Islanders; Islanders Add More Nassau Coliseum to 2018-19 Slate; With New Islanders Arena Coming, Belmont Park Renovations are Being Discussed; New York Islanders Arena Project on Schedule; New York Islanders Facing Short-Term Arena Decisions; NHL Won't Rule Out Islanders Games at Nassau Coliseum; Best of 2017, #5: New York Islanders Win Belmont Park Bid; New York Islanders to Land Belmont Park Site for Arena