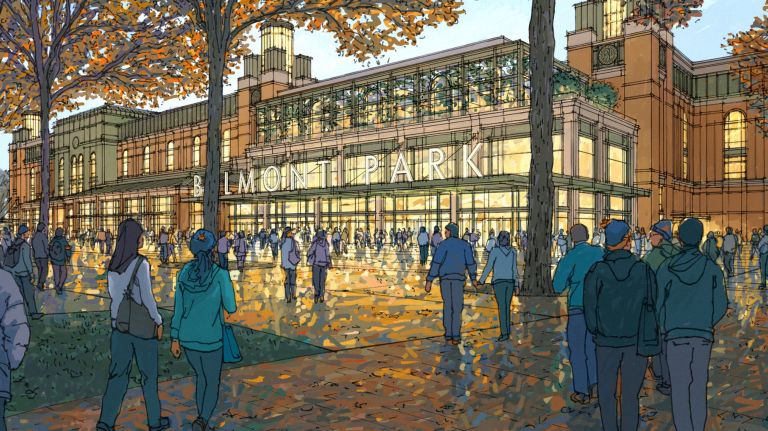 A state board has signed off on the New York Islanders Belmont Park arena project, a major step that could allow construction to begin soon.
Under a plan that has been in the works for a few years, an estimated $1.26-billion development on state land at Belmont Park will be anchored by the new arena. The project is led by New York Arena Partners, which includes Islanders ownership, Sterling Project Development (controlled by New York Mets owners), and arena developer Oak View Group. The project's current scope calls for a 19,000-capacity arena to be the centerpiece of surrounding development that includes a 250-room hotel, 350,000 square feet of retail space, and more.
State economic development agency Empire State Development (ESD) signed off on the plans last week, and now the proposal has cleared the Franchise Oversight Board–a state agency that oversees activity at Belmont Park. Approvals from this agency were not unexpected, but the action taken Tuesday represents the final approval from a state board that is needed before ground can be broken on the project. The groundbreaking ceremony could occur next month, with the arena slated to open in time for the 2021-22 NHL season. More from Newsday:
The Franchise Oversight Board, a state agency that oversees the New York Racing Association and all activity at Belmont, issued a series of approvals on the project at a meeting in Albany on Tuesday afternoon.
While the approvals were largely expected to pass without issue, it is important because it represents the final state board that needed to officially sign off on the project before the developers can move forward toward a groundbreaking ceremony….
Empire State Development, the state agency for economic growth that is orchestrating the project, voted in favor of the project last week. Before that, the Public Authorities Control Board last month issued its approval of ESD's acquisition of the land from the Franchise Oversight Board, which technically owns the land at Belmont.
Next, the developer New York Arena Partners must sign a lease with ESD and receive all the necessary work permits from the state before officially beginning construction on the site. An ESD spokesman said last week that the developers already have received the necessary approval to begin preparation work at Belmont, such as setting up fencing around the perimeter of the site, temporary trailers on the lots and locating utility lines.
To ease traffic congestion in the area where the project will take shape, New York governor Andrew Cuomo unveiled plans last month for a new $105-million Long Island Rail Road (LIRR) station as part of the development. Arena developers will eventually pay $97 million of the $105-million price tag.
Rendering courtesy New York Arena Partners LLC.
RELATED STORIES: State Board Approves Belmont Park Arena Project; Islanders Belmont Park Arena Proposal Up for Approval Thursday; Islanders Arena Plan Moves Forward; Ledecky: Belmont Park Arena Groundbreaking Expected This Summer; Bettman Anticipates Islanders' Arena Groundbreaking in Coming Months; Islanders Ask Fans to Sign Pro-Belmont Park Arena Petition; Proposed Islanders Arena Construction Will Not Begin in May; Islanders Arena Public Comment Period Extended; Islanders Arena Public Hearings Start Tuesday; Study: Islanders Belmont Park Arena Project to Increase Traffic Congestion; Islanders New Arena Plan Finds Support Among Alumni; Ledecky: Islanders Belmont Park Arena Construction Expected to Start in May; Travis Williams Departing Penguins for Islanders; Islanders Add More Nassau Coliseum to 2018-19 Slate; With New Islanders Arena Coming, Belmont Park Renovations are Being Discussed; New York Islanders Arena Project on Schedule; New York Islanders Facing Short-Term Arena Decisions; NHL Won't Rule Out Islanders Games at Nassau Coliseum; Best of 2017, #5: New York Islanders Win Belmont Park Bid; New York Islanders to Land Belmont Park Site for Arena