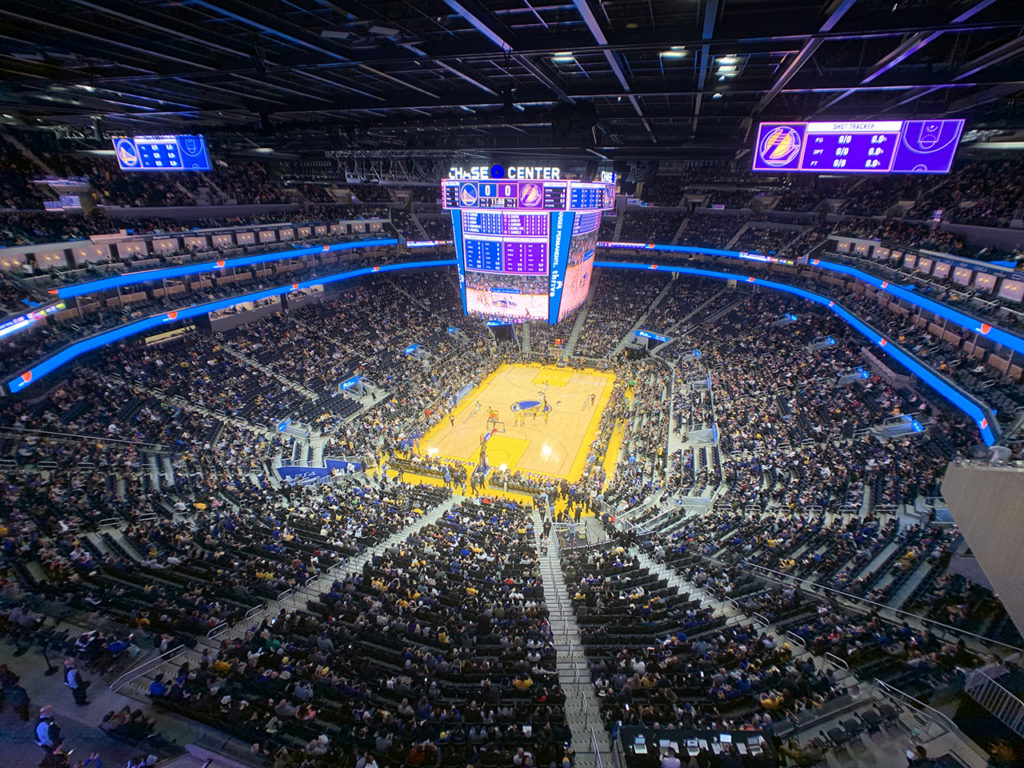 Two Chase Center environmental honors confirmed the validity of the arena's design team and owner: the new home of the Golden State Warriors (NBA) is an environmentally advanced venue.
The first isn't a surprise: Chase Center was awarded a Leadership in Energy and Environmental Design (LEED) Gold Certification for Building Design and Construction: New Construction from the United States Green Building Council's (USGBC). The LEED Gold rating is–pun intended–the gold standard when it comes to environmentally aware design, built around a points-based system that evaluates healthy, highly efficient and cost-saving green buildings. 
Chase Center is just one of 10 NBA arenas achieving a LEED certification with only six having reached a Gold or higher level. Across the four major U.S. sports, just 31 venues have achieved a LEED certification.
We won't cover all the criteria Chase Center met to achieve the Gold rating, but here are some of the highlights:
Sustainable Sites: Emphasizes the vital relationships between buildings and ecosystems
Reduction in pollution and environmental impact by construction activities
Utilization of existing infrastructure
Availability and promotion of alternative transportation methods
Stormwater management plan to reduce pollution of natural water flow
Water Efficiency: Addresses environmental concerns related to building water use and disposal
Efficient water fixtures resulting in a reduction of more than 30% in water consumption
Combined with on-site non-potable water use, Chase Center was able to reduce water consumption by over 84%
An efficient irrigation system that resulted in 63% savings in water consumption
Reduction in potable water use for building sewage conveyance by over 100%
Energy and Atmosphere: Addresses improving building energy performance, reducing environmental impact of refrigerants and supporting renewable energy
A 37.3% energy cost reduction over the baseline
Materials and Resources: Addresses environmental concerns related to materials selection, waste disposal and waste reduction
Reduction of waste generated by the arena through a focus on recycling and composting
A construction waste management plan that resulted in 87% of construction and demolition waste being diverted from landfills
Use of building materials manufactured using recycled materials
Indoor Environmental Quality: Addresses environmental concerns related to indoor environmental quality; occupant health, safety, and comfort; air change effectiveness and air contaminant management.
Indoor air quality performance rating
A ventilation system that promotes occupant comfort and well-being
A construction indoor air quality management plan to promote the well-being of construction workers
Innovation in Design: Recognizes projects that go over and above standards included in the LEED rating system
A transportation management plan that resulted in a significant reduction in personal automobile use
The second award has a lower profile in the venues world, but in this COVID-19 age, it is just as important, as the Warriors home received the Global Biorisk Advisory Council's (GBAC) STAR facility accreditation. GBAC is a division of ISSA, the worldwide cleaning industry association, and the accreditation means Chase Center implements the most stringent protocols for cleaning, disinfection and infectious disease prevention. To date, just 27 facilities across the country have achieved the accreditation and Chase Center is just the third major sports venue, joining Staples Center and Hard Rock Stadium.
"Achieving the GBAC STAR facility accreditation was important for us as it shows our commitment to maintaining the highest industry standards and providing the safest environment possible for our guests and staff," said Chase Center General Manager Kim Stone in a press statement. "We want everyone to know that we are making cleanliness and sanitization our top priorities for when Chase Center is allowed to hold live events."
After the NBA shut down because of COVID-19 concerns, Chase Center has dedicated extra time and resources to maintaining a safe environment, including the formation of a new facility health and hygiene group focused on public health, environmental and disinfection issues. During shelter in place, Chase Center has also enhanced the building's air filtration capabilities to ensure maximum air quality within the arena. 
To achieve GBAC STAR accreditation, Chase Center demonstrated compliance with the program's 20 core elements, which ranging from standard operating procedures and risk assessment strategies to personal protective equipment and emergency preparedness and response measures. And while the accreditation is not specifically tied to COVID-19 mitigation measures, it does carry some extra weight in these transitional times.
RELATED STORIES: Touring Chase Center, New Golden State Warriors Home