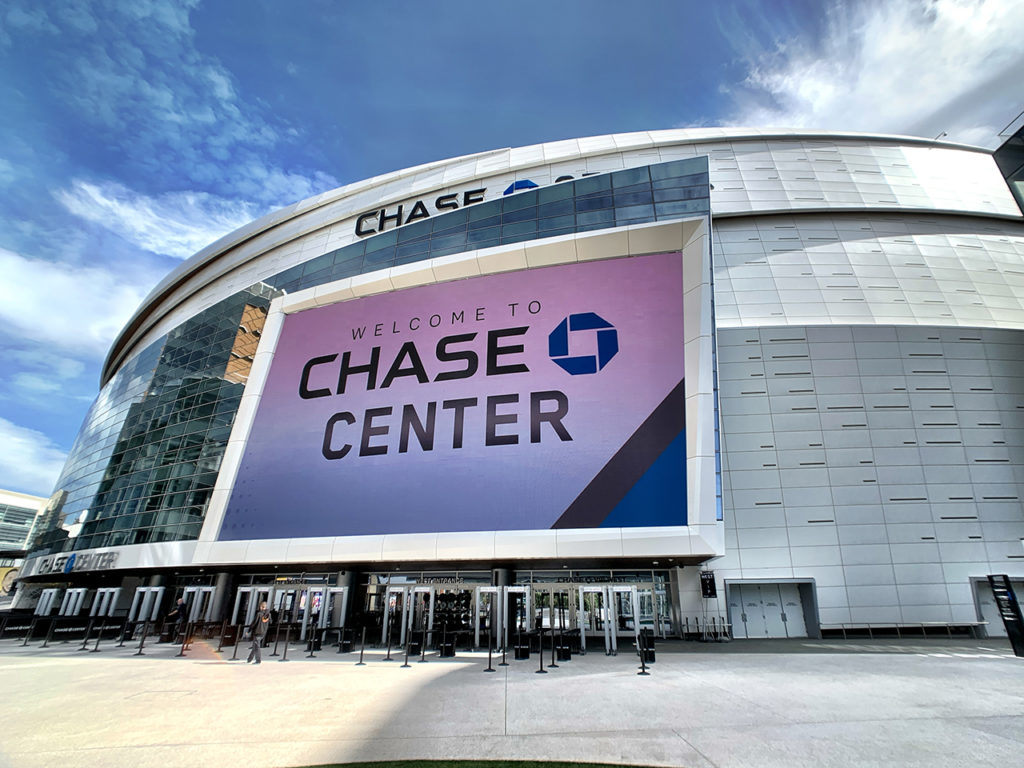 With a clean, modern design and enough technology goodies to impress the tech-savvy Bay Area crowd, Chase Center opens as the new home of the Golden State Warriors (NBA) with something for everyone.
Located in San Francisco's suddenly trendy Mission Bay neighborhood and nestled amongst plenty of new and planned development, Chase Center is part of a neighborhood makeover that began with the opening of Oracle Park by the San Francisco Giants in 2000 and will continue in coming years with new projects on the drawing board. Chase Center is the centerpiece of an 11-acre Warriors-led development that includes two 14-story office buildings, plenty of restaurants/retail and, down the road, a 133-room hotel. It's designed as an inside-out facility, with a large public plaza leading to an aluminum-clad circular arena—a journey that's united by technology every step of the way.
A tour of the facility, followed by a Warriors game, shows what's considered state of the art in arena design—or, rather, what's state of the art in venue design, with plenty of lessons for not just arena operators but any sort of venue designer or manager. (The arena design was overseen by MANICA; Kendall Heaton was architect of record and Gensler the interior architect.) Yes, there's plenty of flash in a Chase Center event, and a Chase Center experience can be a surprisingly sophisticated one.
The Chase Center experience begins at one of two main entrances. A smaller entrance faces the bay, featuring a fun art installation sporting five shiny orbs billed as Seeing spheres, created by Danish-Icelandic artist Olafur Eliasson. As with so many design features in Chase Center, the orbs serve two purposes: yes, they are commissioned art, which includes nine wall graphics, 87 commissioned pieces and 250 archival photographs, but they're also conspicuously framed as selfie spots in the Age of Instagram. Now, there's nothing particularly noteworthy in venue design when it comes to including selfie spots, but the Warriors design team literally raised the selfie spot to an art form at Chase Center. A new 5.5-acre public park sits opposite this entrance across Terry Francois Boulevard, with a new ferry dock planned bayside at Pier 16 and convenient drop-off/pickup areas for ridesharing services.
The other, larger entrance faces the Thrive City public plaza on Third Street. The most noticeable aspect to this public plaza is the first full outdoor LED display in San Francisco, a 10mm, 74-foot-tall slightly curved LED display providing a preview of the technology that can be experienced inside as well. Designed and installed by Samsung (disclosure: the visit was part of a tour arranged by Samsung to show off arena technology), the display can be used for a variety of purposes, with the plaza supporting a capacity of around 1,000. The plaza is flanked by two 14-story office buildings slated to house over 4,000 Uber employees, with the two ground levels sporting 27 retail locations and 20 or so restaurants, according to Rick Welts, Warriors President and Chief Operating Officer. Among the options already confirmed for Thrive City include a Concept by Chef Michael Mina, b8ta, Belly & Sweet Belly, Dumpling Time, Gott's Roadside, Nachoria, Mission Bay Wine Bar and Chase Bank. Opposite the arena is the team's Gatehouse, featuring a large glass-enclosed space housing pre- and post-game TV broadcasts, more retail space and spiraling bleacher seating Welts called the arena's version of the Spanish Steps. Of course, the Spanish Steps serve a purpose in Rome; these steps lead to nowhere and are meant for lounging.
Along with a temporary 14,000-square-foot Instagram attraction, a new team store, tributes to retired Warriors greats both in California and Philadelphia, and another bay-facing plaza sitting eight feet above street level (which will someday be the location of the new 133-room hotel), the Chase Center exterior is designed to provide a notable fan experience even before entering the doors of the arena. And, even though this journey features some impressive technology in the form of the outdoor videoboard, it's not defined by technology: you are just as likely to take note of the public art and the arena exterior.
Still, it's highly unlikely that that fan experience didn't begin with technology, as the team and arena management consciously mapped out a path heavy on tech, according to Mike Kitts, senior vice president of partnerships for the Warriors.
"If you think about arenas or stadiums of the past, if you walked in, the monetization was very apparent, meaning you saw static, static, static ads—there's the billboard," Kitts said. "What technology allows you to do is to be more nimble, and you can be more creative. You can deliver messaging that's more personal and be more flexible as you move from Warriors games to other events."
The goal, he added, was to create an immersive experience. That means utilizing technology of today and planning for tomorrow's tech, including the inevitable 5G coverage that will transform communications. That means a journey that begins with game planning on an app and ends with real-time engagement in the arena bowl. The exact form of that engagement is still under development not only in Chase Center but in venues across the board. In some arenas, it could mean some variation of gambling; in others, it could mean individualized games and entertainment.
"Our goal is to be as frictionless as possible," Kitts said. "I don't know that we're certainly there today, and we're certainly working towards that, but we spent more on our app than any other team in the NBA. It's not perfect yet, but the hope is that the app really does become your remote control for your entire journey, and for any property, any venue to get as close to a one-to-one relationship with that end user, that's the goal.
"The only way to provide that is through an app, and through WiFi, and through 5G," he added. "You're going to come and say, I want to make a reservation in the plaza [restaurant] before, I want to buy a jersey and come pick it up, I want to order ahead, I want mobile ticketing, I want to transfer a ticket, I want to be able to in-app upgrade my seat. With all of those things you're not thinking through the technology piece, you're thinking through the experience piece."
Traversing the Arena
Going from the plaza to your seat in the bowl, of course, is a big part of that journey.
Entering at the main plaza entrance separates security (located outside) and ticketing desks (located inside), flipping the usual arena model: no clunky glass walls between ticket buyer and ticket seller. Once inside, fans are exposed to more public art, including an Alexander Calder mobile on loan from SF Museum of Modern Art. Alas, the large space overwhelms the modest 27-foot-wide mobile, and most fans will miss it.
A trio of escalators bring fans to their seating sections in the bowl. Overall, there are 19 escalators installed in Chase Center, with Welts joking that it's a world record (it's not: Shea Stadium featured 21 escalators when it opened in 1964, and Madison Square Garden featured 44 escalators when it opened in 1968). There are two main concourses as well as VIP space below. The top floor of Chase Center features some great views of the bay, as well as a dazzling selection of concessions featuring local fare overseen by Bon Appétit Management Company and Levy, with a beverage program overseen by Bon Vivants Hospitality. The offerings range from a return of Big Nate's BBQ, originally launched by the late Nate Thurmond, to a Hot Dog Bill's Burger Dog, a burger shaped like a hot dog. Overall there are 40 food and beverage points throughout the arena.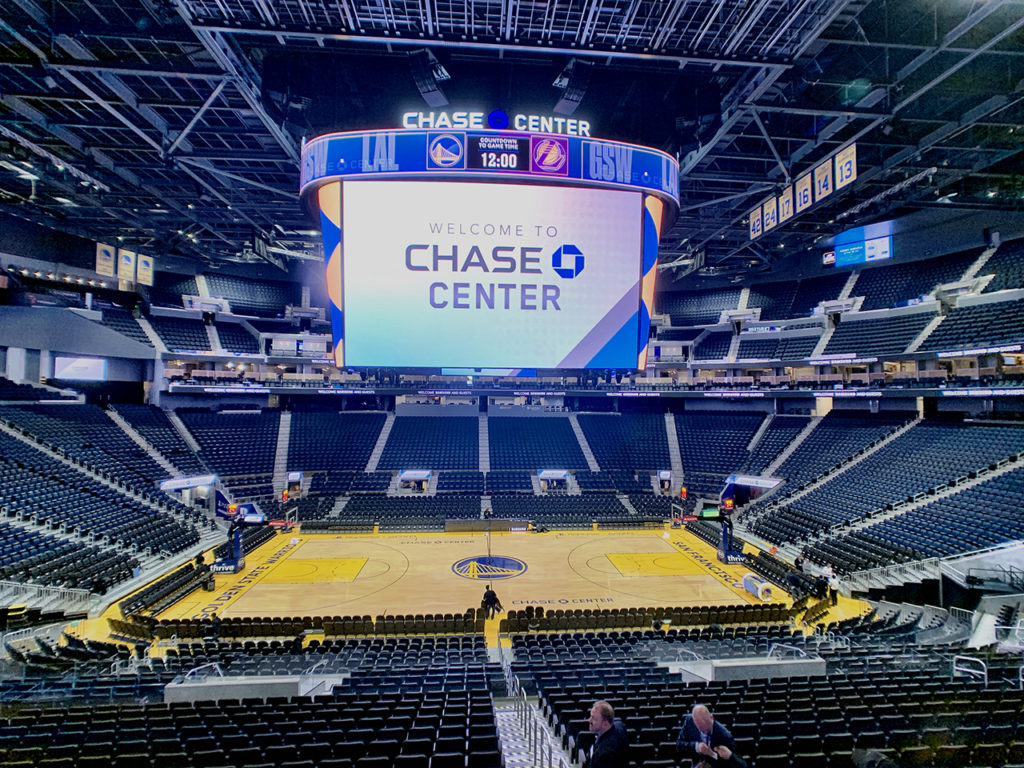 Once in their seats, fans are exposed to the most square feet of videoboards and displays in any indoor venue, according to Welts—some 53.6 million individual LED pixels, according to Samsung officials. The star of this show is the massive center-hung scoreboard. With a crystal-clear display and an abundance of data displayed (ranging from a simple box score to advanced NBA stats), the center-hung board is actually a combination of 15 displays, varying from 6.7mm pixel pitch on the main displays and the upper halo ring, to 4mm pixel pitch on the underbelly displays, amassing a total of more than 26.3 million individual LEDs. Add in a few ribbon boards ringing the bowl with some real-time NBA score updates and you've got plenty of display power for every seat in the arena—even for the cheap seats at the far reaches the seating bowl.
"The amount of game information we can share is just extraordinary here," Welts said. "Real fans are going to have access to all kinds of data they could get by looking at their phones in the past."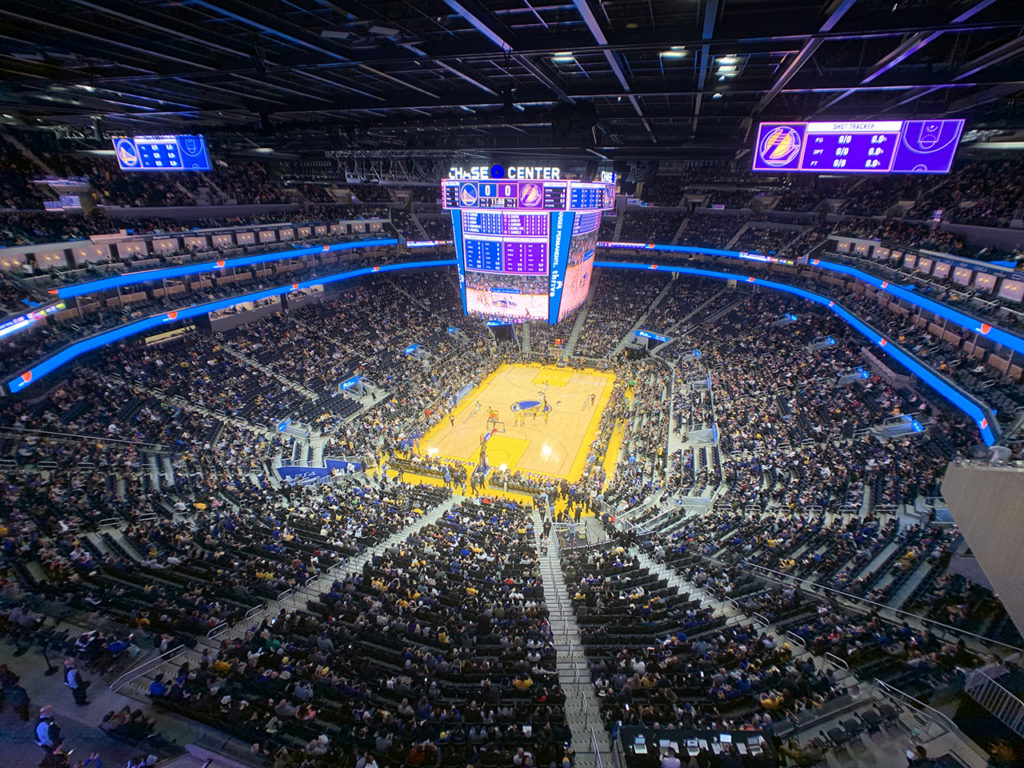 The large center-hung board is augmented by additional boards serving the upper bowl and displays on the underside of the center-hung serving courtside and premium seating. The whole thing can be lowered to floor level or raised to a storage area past the suspended ceiling, with the gantries closing underneath. It's a tight fit, with only 1.5 inches of clearance on two sides of the scoreboard. The hoist assembly and center-hung scoreboard weigh 165,000 pounds.
"Imagine when people have seen [the center-hung board] and they come here for a concert, and that roof is closed and there's no scoreboard," Welts said.
The center-hung board is billed as the largest in an indoor arena. But largest isn't always best: as we've seen in other arenas (i.e., Target Center), a new center-hung installation can be out of proportion to the space available. But there's really no formula to choosing the best design on a project of this scale, and in the case of Chase Center, Welts said they reviewed three alternatives and ended up choosing the biggest one. Is it too big? "We have not had that reaction at all," Welts said with a laugh.
"It is a point of pride for us, because it ties back to the engaging experience," Kitts said. "To the extent we use the word immersive, when you're in our bowl and the center-hung is lit up as well as the LEDs, it does provide a pretty amazing light show, if you will."
Two other spots where signage plays a significant role in the fan experience: suites and the media room. Most fans never visit a media room, but they play an increasingly large role on game telecasts. We all know how most media rooms work: coaches and players are positioned in front of a curtain emblazoned with a team logo and a sponsor logo. This dynamic changes when the curtain is replaced by a digital display: in this case, the 7×22 LED backdrop with 1.5 mm pixel pitch and 4 million pixels means the room can be used for a variety of events, not just basketball.
A Variety of Experiences
Of course, a modern arena features plenty of suites and hospitality spaces: in Chase Center there are 136 theater boxes, courtside lounges and club suites for groups large and small. In the highest-end courtside lounges tucked under the stands, a digital LED screen gives fans options both before the game and during. The lounge itself is decorated as a wine cellar, no surprise considering San Francisco is wine county: the suite comes with a communal Wine Bar area, all-including food service and a private wine locker for each suite. Suiteholders have dedicated seating in the first 10 rows from the floor. They're not cheap: between $1.2 million and $2 million a year, but they're basically sold out, according to Welts.
Which is a good thing, because the economics of Chase Center rely on suite sales and an abundance of events. Chase Center and Thrive City were 100 percent privately funded.
With 18,064 seats, Chase Center sports a smaller capacity than the former Warriors home, Oracle Arena, but occupies a much larger footprint, thanks to larger suites, wide concourses and more social spaces. The bowl itself feels very intimate: because the decision was made early in the design process to not support an ice sheet, seating sits closer to the court. Creating a more intimate space also sits within the multipurpose aspect of Chase Center: almost 200 events are planned for Chase Center, with the 44 or so NBA games (both preseason and regular season) representing a minority of those dates. Chase Center has already become a major concert venue, hosting the likes of Elton John, Chance the Rapper and Marc Anthony before the NBA season launched. Further work in the arena will allow for a 2,000-5,000-capacity venue created in the existing seating bowl, complete with its own walls, ceiling, stage, set lights and sound system. Most arenas feature a setup where part of the bowl is curtained off for smaller events; it's fitting that Chase Center will go the extra mile to create a venue within a venue.
"As you see in almost all new stadium and arena developments, the additional development really feeds the cost of building the arena—all the office and retail development really filled the gap of public money most arenas still are lucky enough to get," Welts said. "That's a nonstarter for the Bay Area, so that's not a consideration…. I would not recommend this formula in another market. It would come up short."
This article originally appeared in the weekly Arena Digest newsletter. Are you a subscriber? Click here to sign up for the free weekly newsletter