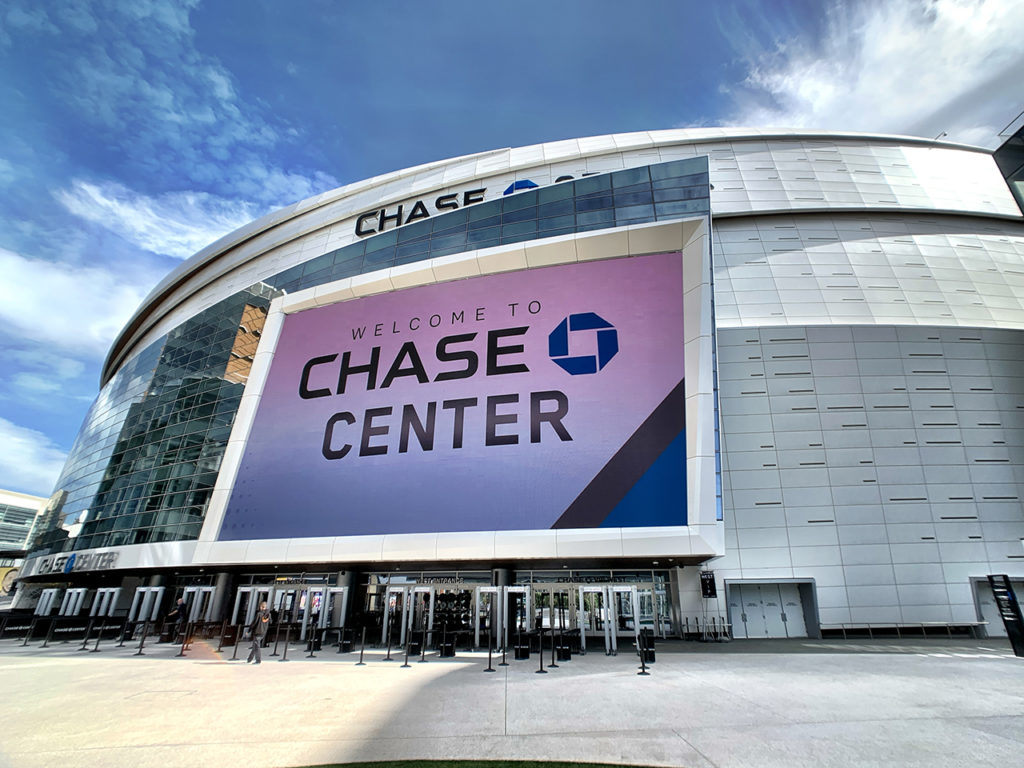 With the Golden State Warriors opening Chase Center this season, the NBA's lineup of arenas is set for the next several years. For an overview of the league's current venues, we present NBA arenas oldest to newest.
Back in 2017, we published our first list of NBA arenas by age. Over the relatively short period since, there have been several changes to the league's lineup. The Milwaukee Bucks opened a new arena in 2018, followed by the 2019 debut of Chase Center. Additionally, several existing arenas have either launched or completed renovation projects, effectively bringing clarity to their futures for the next few decades.
The Warriors' move to Chase Center also marked the end of NBA action for what had been the league's oldest venue, the former Oracle Arena. Now known as Oakland Arena, it remains active for other events, but the Warriors' departure means that Madison Square Garden is the NBA's oldest arena. Following it are numerous arenas that have been or will be renovated, along with some of the league's newest venues.
Madison Square Garden (1968)—Madison Square Garden
Madison Square Garden is currently the oldest arena in both the NBA and NHL, but a $1-billion renovation completed in 2013 has kept it competitive with newer facilities. Its future has been the subject of a controversial debate over the years, as some have called for Madison Square Garden to be demolished to make way an above-ground Penn Station. However, with a lack of action on that project and any replacement expected to come with a high price tag, the future of Madison Square Garden should be stable for now.
Target Center (1990)—Minnesota Timberwolves
A multiphase renovation project completed by the 2017-18 NBA season enhanced Target Center, modernizing its amenities and adding new finishes that boosted the venue's architectural appeal. It also included the addition of a new three-story glass atrium that gives passersby a view of the arena's interior, while providing event attendees a view of the Minneapolis skyline.
Vivint Smart Home Arena (1991)—Utah Jazz
Originally known as the Delta Center, the downtown Salt Lake City arena has been renovated over the years under the leadership of Jazz ownership. That includes major renovations to Vivint Smart Home Arena completed ahead of the 2017-18 season, featuring an overhaul to concessions and technology improvements.
Talking Stick Resort Arena (1992)—Phoenix Suns
After playing their first 24 seasons at Arizona Veterans Memorial Coliseum, the Suns opened a new arena in 1992, ultimately setting the tone for a decade that later saw downtown Phoenix's sports scene bolstered by the addition of a new ballpark for the Arizona Diamondbacks in 1998. The Suns and City of Phoenix will renovate Talking Stick Resort Arena in the coming years, partnering on a $230-million renovation that will be completed in 2021.
Rocket Mortgage FieldHouse (1994)—Cleveland Cavaliers
Conceived as part of the Gateway Sports and Entertainment Complex that includes Progressive Field for MLB's Indians, Rocket Mortgage FieldHouse has proven to be a steady home for the Cavaliers while drawing multiple types of events to downtown Cleveland. A $185-million renovation project completed in 2019 focused on improving concourses, concessions and other fan and team amenities, with the Cavaliers extending their commitment to the arena until at least 2034.
United Center (1994)—Chicago Bulls
The replacement for the venerable Chicago Stadium, United Center saw the final years of the Michael Jordan-led Bulls dynasty of the 1990s and—more recently—a string of success for the NHL's Blackhawks that included Stanley Cup victories in 2010, 2013, and 2015. Various renovations have kept United Center competitive with newer arenas.
TD Garden (1995)—Boston Celtics
Built after years of discussion about replacing the venerable Boston Garden, TD Garden has now served as home to the Celtics and NHL's Bruins for more than 25 seasons. Bruins and arena owner Delaware North recently completed renovations, including new seating, the addition of public and social spaces, expanded concourses, and more.
Moda Center (1995)—Portland Trail Blazers
Moda Center has served as a reliable home for the NBA and other uses, giving Portland an option for events that is complimentary to adjacent Veterans Memorial Arena, the Trail Blazers' former home. It has also been hailed for its environmental sustainability, becoming the first arena to earn LEED O+M (v4.1) Platinum Certification.
Wells Fargo Center (1996)—Philadelphia 76ers
Part of a sports complex that includes Citizens Bank Park for MLB's Phillies and Lincoln Financial Field for the NFL's Eagles, Wells Fargo Center has been successful in drawing major events beyond NBA and NHL, including major party presidential conventions in 2000 and 2016. It is currently receiving a major, multi-phase renovation led by arena and Flyers owner Comcast Spectacor.
Capital One Arena (1997)—Washington Wizards
Privately financed by then Wizards and Capitals owner Abe Pollin, the arena has been cited as a catalyst for redevelopment in the District's Chinatown neighborhood. Current owner Monumental Sports & Entertainment—led by Ted Leonsis—has made numerous Capital One Arena renovations in recent years, with a particular focus on improving technology and food and beverage options.
AmericanAirlines Arena (1999)—Miami Heat
Since its opening, AmericanAirlines Arena has proven to be a venue far more worthy of the NBA than its predecessor—the short-lived Miami Arena—and helped draw other events to Miami. Miami-Dade County is currently searching for a naming-rights partner for the arena, as the original agreement with American Airlines expired at the end of 2019.
Bankers Life Fieldhouse (1999)—Indiana Pacers
Bankers Life Fieldhouse has held up nicely since opening as Conseco Fieldhouse in 1999, and an upcoming renovation should leave it well positioned going forward. The $360-million project, to be financed as part of a public-private partnership, will enhance several areas of the arena while resulting in the Pacers extending their lease through at least the 2043-44 season.
Scotiabank Arena (1999)—Toronto Raptors
Scotiabank Arena (formerly Air Canada Centre) was initially envisioned as an NBA-specific venue, but those plans changed when Maple Leaf Sports and Entertainment (MLSE) purchased the Raptors and the arena during its construction process, opening the door for modifications to accommodate the NHL's Maple Leafs. Scotiabank began its naming-rights partnership in 2018, and MLSE continues to fine-tune the fan experience with upgrades.
Smoothie King Center (1999)—New Orleans Pelicans
Originally known as New Orleans Arena, the current Smoothie King Center opened in the fall of 1999, but did not land a full-time NBA franchise until the Charlotte Hornets relocated there prior to the 2002-03 season. Both the team and the venue have evolved since, as a multiphase renovation was completed in 2014, one year after the Hornets rebranded as the Pelicans.
Staples Center (1999)—Los Angeles Clippers and Los Angeles Lakers
Since its opening, Staples Center has stayed an active venue, as it currently hosts franchises in the NHL and WNBA, along with the Lakers and Clippers and a host of non-sporting events that includes concerts. The Clippers are currently pursuing a new arena in Inglewood that would open in 2024, though its other uses should keep Staples Center active for years to come regardless of whether that plan comes to fruition.
State Farm Arena (1999)—Atlanta Hawks
When it opened as Philips Arena, the venue was positioned as a modern downtown facility that could accommodate the Hawks and NHL expansion Thrashers for years to come. Although the Thrashers ultimately proved to be short-lived—relocating to Winnipeg in 2011—State Farm Arena remains viable for NBA and other events, thanks to a recent $192.5-million renovation.
American Airlines Center (2001)—Dallas Mavericks
American Airlines Center was conceived as a dual-purpose venue, giving both the Mavericks and NHL's Stars replacement for the aging Reunion Arena. Current Mavericks owner Mark Cuban has not ruled out the idea of eventually building his team its own arena, but with more than a decade remaining on their American Airlines Center lease, any replacement plans could be years away.
AT&T Center (2002)—San Antonio Spurs
Following their stint at the Alamodome, a large multipurpose venue that proved ill-fit for most NBA games, the Spurs built their new home. The franchise's success since AT&T Center's opening has been notable, as the Spurs have won four of their five NBA titles while playing at the venue.
Chesapeake Energy Arena (2002)—Oklahoma City Thunder
First built as the Ford Center, the current Chesapeake Energy Arena was pressed into action as a temporary home for the New Orleans/Oklahoma City Hornets in 2005 and 2006 following Hurricane Katrina. It was upgraded when the Seattle Sonics relocated there in 2008 and became the Thunder, making it a permanent NBA venue.
Toyota Center (2003)—Houston Rockets
Built following a period of contentious political debate that ended with voter approval of funding for the facility in 2000, Toyota Center gave the Rockets a modern replacement for the aging Compaq Center. It debuted amidst a decade-plus boom of sports facility openings in Houston that included Minute Maid Park (2000), NRG Stadium (2002) and BBVA Stadium (2012).
FedEx Forum (2004)—Memphis Grizzlies
Located in downtown Memphis, the venue's planning helped facilitate the move to the Grizzlies after their initial launch in Vancouver was met with an underwhelming response. The team played at the Memphis Pyramid for a three-season stint before arriving at the venue.
Spectrum Center (2005)—Charlotte Hornets
The downtown arena helped bring the NBA back to Charlotte, as the Bobcats—who have since taken the Hornets name—began play in 2005. A number of renovations were completed prior to the 2016-17 season, including the installation of a new videoboard.
Amway Center (2010)—Orlando Magic
The replacement for the similarly named Amway Arena, Amway Center gave the Magic a modern home upon its opening. It also proved to be the beginning of a sports facilities boom in Orlando during the decade, which included major renovations to Camping World Stadium for college football and other events, and the opening of Exploria Stadium for MLS and NWSL action.
Barclays Center (2012)—Brooklyn Nets
After years of delays, Barclays Center opened in 2012 to facilitate the move of the Nets to Brooklyn, marking the first time a major sports franchise had played in the borough since MLB's Brooklyn Dodgers in 1957. It has since served as a draw for large non-NBA events such as concerts and will begin serving as full-time home of the WNBA's New York Liberty in 2020.
Golden 1 Center (2016)—Sacramento Kings
The Kings spent considerable time searching for a new arena—and at one point even appeared as though they could leave Sacramento—before settling on plans for a new downtown venue that would become Golden 1 Center. While billed as the anchor of a larger downtown redevelopment initiative, Golden 1 Center has also been noted for its environmental sustainability and technology features, which the Kings have been diligent about updating since the arena opened.
Little Caesars Arena (2017)—Detroit Pistons
Originally planned for the NHL's Red Wings, the specifications for Little Caesars Arena were modified during the construction process in order to accommodate the Pistons, who announced in 2016 that they would leave The Palace of Auburn Hills to move into the new arena. The Pistons have since expanded their presence in downtown Detroit since by building a new practice facility, and moving forward with plans to put an NBA G League team at an upcoming Wayne State University arena.
Fiserv Forum (2018)—Milwaukee Bucks, NBA
The Bucks spent years lobbying for the new arena, which was also planned as the anchor of a larger downtown redevelopment initiative. Thus far, the new development has included an adjacent entertainment block and could expand over the coming years. In addition to hosting NBA action, Fiserv Forum has been successful in drawing major events to downtown Milwaukee, with the 2020 Democratic National Convention on tap for this summer.
Chase Center (2019)—Golden State Warriors, NBA
Built as part of a large-scale private development in San Francisco's Mission Bay neighborhood, Chase Center gives the Warriors a new home while providing the city with the major indoor sports and entertainment venue it had long lacked. Since its debut, the arena has been hailed in areas such as design, technology and environmental sustainability, while surrounding development could make the area a year-round destination once it is fully realized.
This article originally appeared in the weekly Arena Digest newsletter. Are you a subscriber? Click here to sign up for the free weekly newsletter