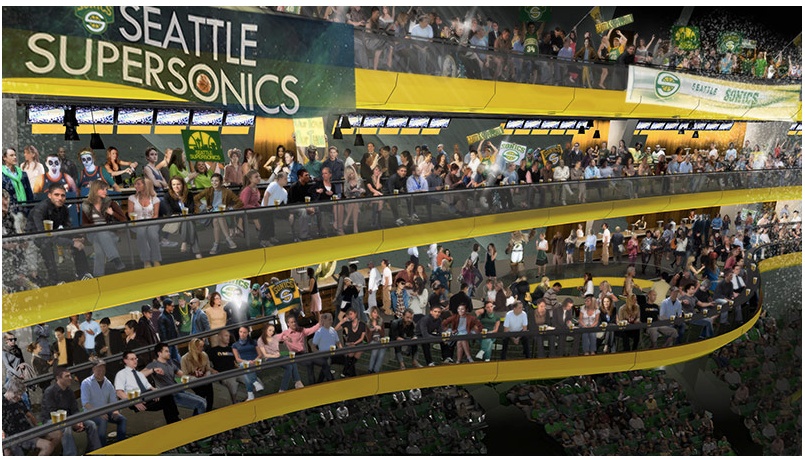 Developer Chris Hansen continues to purchase lots in Seattle's Sodo section, prompting further arena discussions in the city.
In order to bring the NBA back to Seattle, Hansen has previously proposed building a new arena in Sodo, south of CenturyLink Field and Safeco Field. That proposal was considered in May of this year, but rejected on a narrow 5-4 margin by the Seattle City Council.
The primary issue with the proposal was that it called for vacating Occidential Avenue South. That proved to be a contentious issue, with some concerned over how the closing of that road would affect traffic congestion, a concern expressed by both the Seattle Mariners and Seattle Seahawks. Furthermore, many believed that vacating the road would hamper operations at the Port of Seattle.
Despite that setback, Hansen continues to invest in Sodo. Under his holding WSA Properties, Hansen recently spent $25 million on a lot south of Safeco Field that was assessed for $8.8 million, bringing his total investment in the area above $120 million. Given that push, plus a potential solution for the loss of Occidential Avenue South, some are wondering if this is a sign that Sodo could still be the home of a new arena. More from the Seattle Post-Intelligencer:
Federal funding for the Lander Street bridge could shake that up, however, as the overpass would loosen up freight traffic in the area, a major reason the street vacation was voted down. The city won $45 million in grant funding last month for the project.
Hansen also closed last month on a $32 million transaction in Sodo, so his efforts in the area have continued in the months since the council's vote. The issue, however, will be timing. His memorandum of understanding, which calls for $200 million in funding from the City of Seattle and King County. requires that he secure a franchise by November 2017. That, on top of the question of whether Seattle officials will indeed have a change of heart about their previous decision, complicates the picture.
RELATED STORIES: Despite Setbacks, Hansen Moves Forward on Seattle Sonics Arena; Is NHL Only Path to Seattle NBA Team? It Appears So; Ballmer: Seattle NBA Team Not Likely in Near Future; Is Quebec City Snub Open Invite for New Seattle NHL Team?;Seattle Rejects Street Closure–and New Arena in Process;