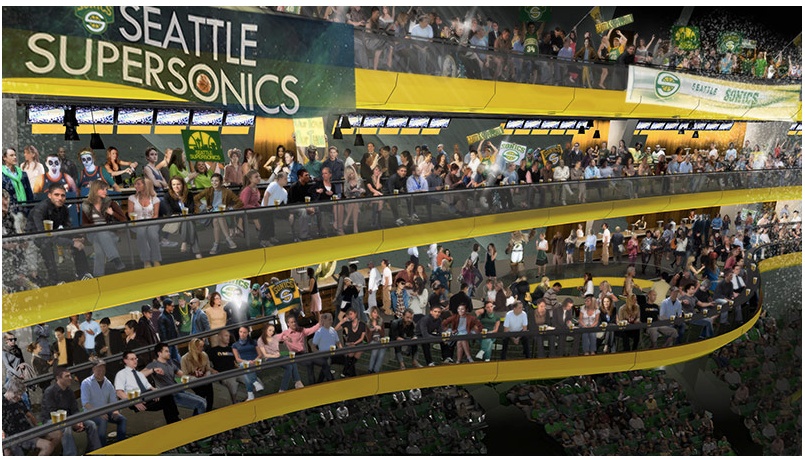 Los Angeles Clippers owner Steve Ballmer — once a partner with entrepreneur Chris Hansen on a proposed Sodo District arena — says a Seattle NBA team is not likely in the near future, and that NHL hockey is more likely to arrive in the city before pro basketball.
"It's just not likely to happen," Ballmer said at a Seattle sports-tech conference. "There has been no discussion about expansion since I have been involved with the league. So, I don't think that will happen. The league has really moved to favor teams staying in their current markets. You'd have to find a team that's at the end of their (arena) lease, where it looks hard to build an arena and where they've tried really hard to build an arena.
"And you'd have to show that an arena can get built in Seattle," he added. "Because unlike most other cities that build an arena before they have a team, I don't think an arena is going to get built here before a team comes here unless it gets done in the context of hockey."
As noted, Ballmer is the owner of the Clippers, but his money came from Microsoft, and his involvement in the Hansen arena project gave early legitimacy to the project. The City of Seattle and King County have committed $200 million in bonding toward a new arena, with one big condition in the Memorandum of Understanding (MOU): that Hansen land an NBA team by November 2017. With expansion off the table and the league discouraging relocations, Ballmer says there's little chance an existing NBA team would be moving to Seattle (Milwaukee and Sacramento, both seen as possible relocation candidates, each scored a new arena in their existing market), and that the best path for a new arena would be landing an NHL team.
Which may not be as difficult as one would think. When the NHL expanded to Las Vegas for the 2017-2018, the league pointedly did not add a 32nd team to the mix, and many within the industry assumed this was a way to leave an expansion path open for Seattle. Now, Hansen would need to convince City of Seattle and King County to change the terms of the MOU to allow an NHL team as a substitute. But even if the public bonding goes away, Hansen could privately finance the arena. Not insurmountable, but Ballmer's comments do show how hard it would be for a Seattle NBA team happen any time soon.
RELATED STORIES: Is Quebec City Snub Open Invite for New Seattle NHL Team?; It's Official: Las Vegas NHL Team to Launch in 2017-2018; Location for Las Vegas Practice Facility is Undecided; More on Las Vegas NHL Expansion Team; Report: NHL Selecting Las Vegas for Expansion; Seattle Rejects Street Closure — And New Arena in Process