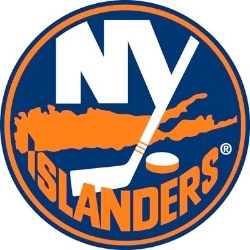 Now that Jon Ledecky and Scott Malkin have control of the New York Islanders, the pair reiterated their commitment to Barclays Center, their disinterest in playing any games at the renovated Nassau Coliseum, and the unlikely prospect of moving the Bridgeport Sound Tigers (AHL) to Long Island.
The reason for these statements: a press conference at 21 (how traditional!) to mark the occasion of Ledecky and Malkin taking control of the New York Islanders in July 1 after a two-year period as minority owners. They covered a wide range of topics, mostly relating to how they will manage the Islanders on the venue front. While the Islanders' initial season at Barclays Center had its ups and downs, Ledecky says the Brooklyn arena will remain the team's home:
"There were challenges last year," Ledecky said, as quoted by Newsday. "I would be lying to you if I said there wasn't. Does that mean you blow up Barclays Center and leave? No. You try to improve the home you have."
One potential thorny issue: Islanders games at the renovated Coliseum. The contract between Nassau County and Nassau Events Center (the firm leasing the Coliseum) calls for six Islanders games — four in the regular season, two preseason — at the Coliseum. Given the current state of renovations, this wouldn't happen until the 2017-2018 season at the earliest. But there's no contract between the Islanders and NEC to make this happen, though the former owners of both NEC and the Islanders (Bruce Ratner, Charles Wang) reportedly agreed to a deal. But Mikhail Prokhorov, owner of the Brooklyn Nets (NBA), purchased an 85 percent stake in NEC, and Wang sold the Isles. New owners, new situation, according to Ledecky; and that means no Islanders games on Long Island. NEC officials say they will pursue talks with Ledecky and Malkin.
Another issue facing NEC: the team's Nassau Coliseum deal calls for an AHL team to play there. The assumption has been that the Bridgeport Sound Tigers, owned by Ledecky and Malkin, would move there for the 2017-2018 season, when arena renovations are complete. Not so fast, Ledecky says: "We are happy in Bridgeport and we have a deal that goes another five or six years," again quoted by Newsday. Besides owning the Sound Tigers, the pair also runs Webster Bank Arena via Harbor Yard Sports & Entertainment, LLC, a joint partnership with Centerplate. That contract runs through 2021.