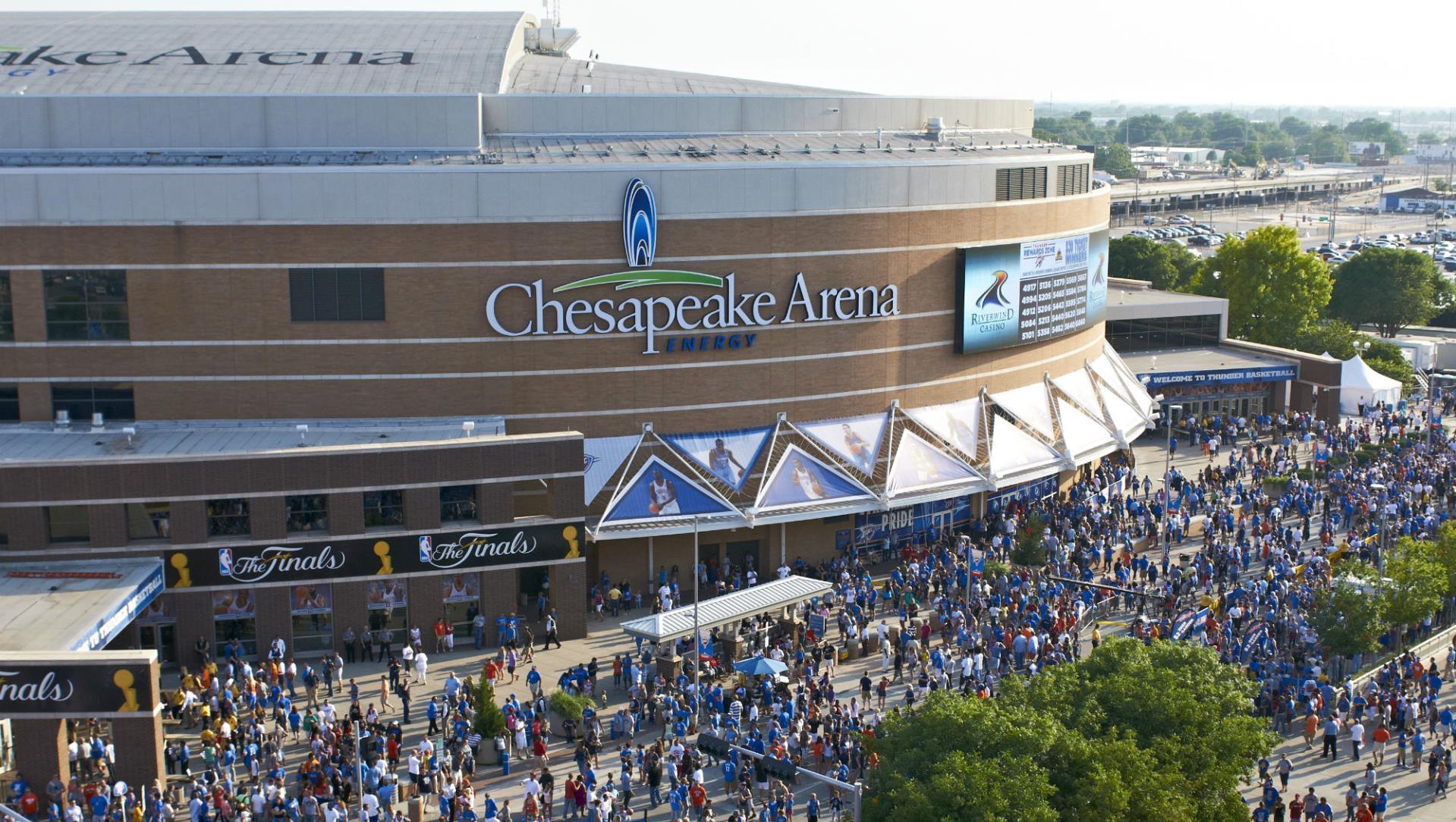 Chesapeake Energy Arena could be in line for substantial upgrades, as Oklahoma City officials are debating whether to include renovation funds in a MAPS 4 proposal.
Along with serving as home to the NBA's Oklahoma City Thunder, Chesapeake Energy Arena acts as a venue for major events in downtown Oklahoma City, including concerts. With city officials exploring projects that could be included in an upcoming MAPS (Metropolitan Area Projects) 4 proposal, a presentation delivered on Wednesday outlined $120-$135 million that could go towards the arena as well as the Thunder's practice facility in northeast Oklahoma City. Of that sum, it is estimated that a substantial amount–$55-$60 million–would go toward fan amenities at Chesapeake Energy Arena, with an expansion of the building, a food court, and concourse improvements among the potential renovations.
Whether potential Chesapeake Energy Arena renovations are included in MAPS 4 remains to be seen, as the city still has to finalize the proposal. From there, it would be left in the hands of voters to decide whether to extend the 1-cent MAPS sales tax for the initiative. More from The Oklahoman:
The council will then settle on a budget and slate of projects to promise to residents. Voters ultimately decide whether to extend the 1-cent MAPS sales tax for MAPS 4.
Tom Anderson, special projects manager in the city manager's office, told the council the arena is the engine behind $90 million in direct spending annually in the local economy. It is the home of the NBA's Thunder and, he said, an increasingly busy concert venue.
The arena was an original MAPS project and opened in 2002.
Many of the ideas for MAPS 4 investments are geared toward enhancing amenities for basketball fans, such as wider concourses and new eating and drinking options, expanding the building's footprint by 70,000 square feet.
Chesapeake Energy Arena first opened in 2002 as Ford Center, and received renovations upon the arrival of the Thunder from Seattle in 2008. The Thunder are currently in the final years of their original 15-year lease for the facility, though the agreement also includes five three-year options.
Image courtesy Chesapeake Energy Arena.