This weekend will bring the NBA All-Star Game to Charlotte's Spectrum Center, the first time the event has been staged in the arena. With that contest, the home of the Charlotte Hornets will be removed from the list of venues that have not hosted an NBA All-Star Game.
While Spectrum Center comes off the list and will be followed by a pair of arenas over the next two years, the list of venues that have not hosted an NBA All-Star Game is still notable. It includes several newer venues, but also some of the league's more established facilities.
For a closer look, here is a rundown of arenas that have not hosted an NBA All-Star Game, as listed in age from oldest to newest. What is worth noting that this rundown only includes those that are not scheduled to do so in the future, meaning that Spectrum Center, Chicago's United Center, and Indiana's Bankers Life Fieldhouse are not on the list. Those facilities were covered in last week's story on future NBA All-Star Game sites.
TD Garden, Boston Celtics (1995)
It has been many years since the NBA All-Star Game passed through Boston, as the city's last turn at the event was in 1964 at Boston Garden. TD Garden had been reported as a possible contender for the 2022 All-Star Game, but the Celtics passed on submitting a bid because of concerns over timing and the game was awarded to Cleveland's Quicken Loans Arena.
Moda Center, Portland Trail Blazers (1995)
Portland is one of four active markets in the league that not hosted an All-Star Game and, with the Trail Blazers having been a member of the NBA since 1970, is by far the longest-tenured city on that list. Past efforts by the Trail Blazers to host the game came up short because of a shortage of large hotels in the area, but there is hope that future development will address that deficiency.
AmericanAirlines Arena, Miami Heat (1999)
Scheduling is traditionally a challenge for Miami, as the NBA All-Star Game's weekend-long event schedule has typically coincided with the Miami International Boat Show. Perhaps a plan to bring the game to Miami eventually surfaces, though for now the city's streak of having not hosted an NBA All-Star Game since 1990 will continue for the foreseeable future.
American Airlines Center, Dallas Mavericks (2001)
The Dallas Metroplex did host an NBA All-Star Game as recently as 2010. However, the game itself was played at AT&T Stadium in Arlington—home to the NFL's Dallas Cowboys—while American Airlines Center was used for various All-Star Weekend events. Moving the game to a larger capacity venue helped the NBA draw a record-breaking crowd of 108,713.
AT&T Center, San Antonio Spurs (2002)
San Antonio's only turn at the All-Star Game came in 1996, when it was hosted at the Alamodome. While the AT&T Center is designed more specifically for basketball than the Alamodome, the latter could reemerge on the league's All-Star Game radar because of its closer proximity to downtown hotels and surrounding amenities than AT&T Center.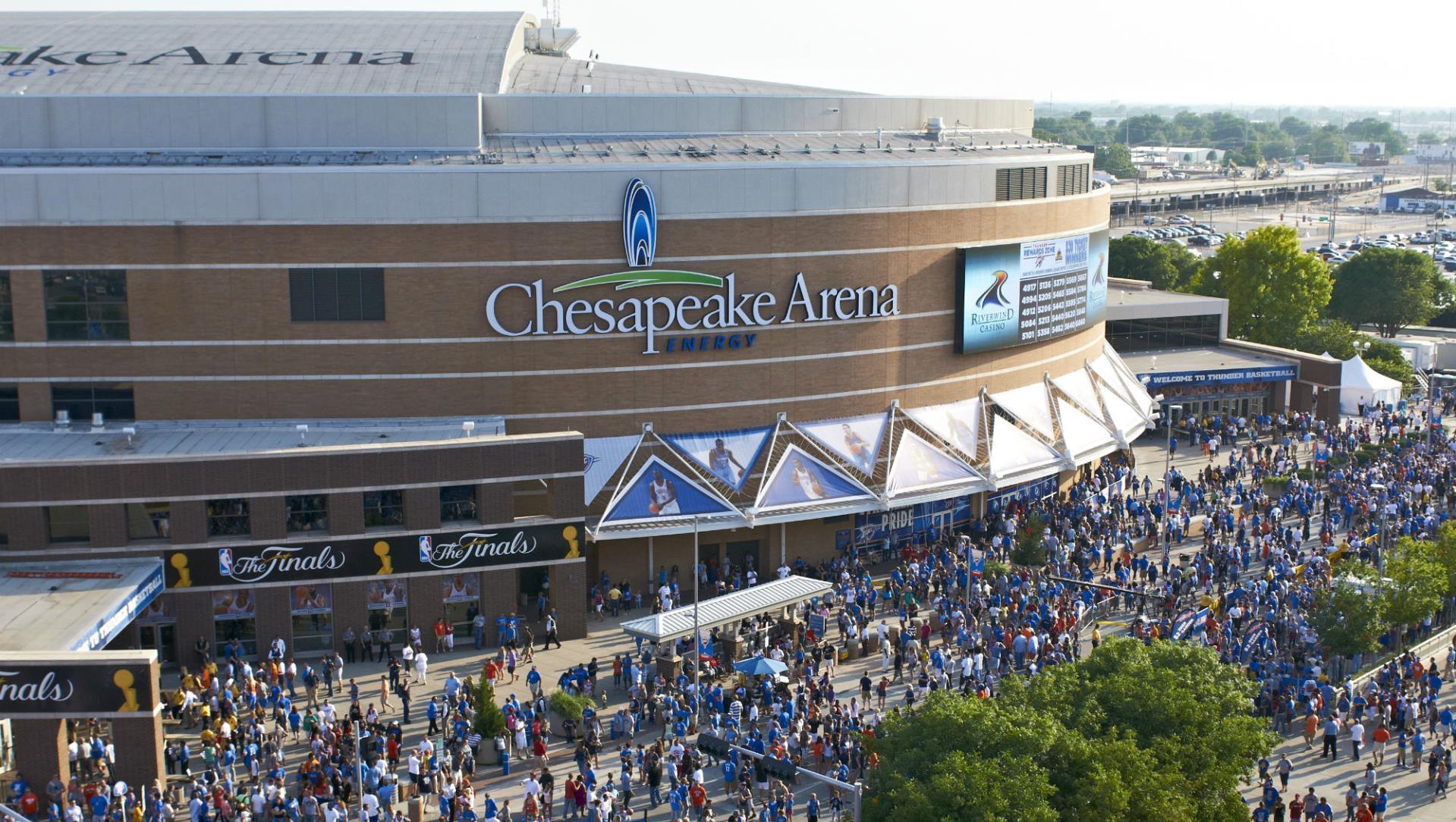 Chesapeake Energy Arena, Oklahoma City Thunder (2002)
Though the arena opened in 2002, it did not welcome its first permanent NBA franchise until the Seattle SuperSonics moved to Oklahoma City and rebranded as the Thunder in 2008. Oklahoma City has been a fine NBA home since the franchise arrived, but it is still one of the league's smaller markets and might lack some of the amenities of competing cities.
FedEx Forum, Memphis Grizzlies (2004)
Memphis is one of the four active markets that has not hosted an NBA All-Star Game, joining Portland, Sacramento, and Oklahoma City. It remains to be seen whether Memphis could land the game down the road, though it is more limited than some competing cities in terms of amenities such as hotels.
Golden 1 Center, Sacramento Kings (2016)
A bid from the Kings for the 2022 All-Star Game was passed over in favor of Cleveland, due in part to an inadequate hotel room inventory. However, with Golden 1 Center positioned as the anchor of a larger development initiative in downtown Sacramento, it stands reason that future development could boost the city's chances of landing its first All-Star Game.
Little Caesars Arena, Detroit Pistons (2017)
The Pistons have made their interest in hosting a future All-Star Game known. In fact, the club submitted bids for games in 2020 or 2021, but those events were awarded to Chicago and Indianapolis respectively. Much like Sacramento, Detroit will hope that nearby hotels can be developed in the future in order to boost its chances.
Fiserv Forum, Milwaukee Bucks (2018)
As the newest arena in the NBA, Fiserv Forum seems like a solid bet to bring Milwaukee its first NBA All-Star Game since 1977. There will be a few questions surrounding its effort, however, including whether the surrounding area offers enough hotels and if more established venues have a stronger case for the game in the more immediate future.
Image courtesy Chesapeake Energy Arena.
This article originally appeared in the weekly Arena Digest newsletter. Are you a subscriber? Click here to sign up for the free weekly newsletter