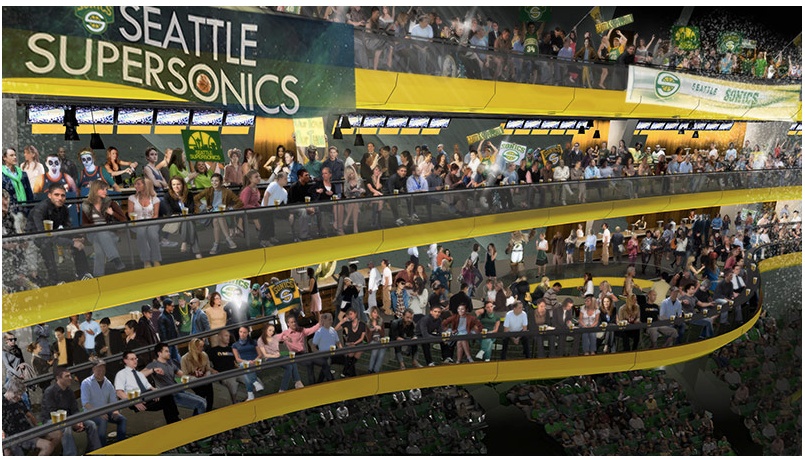 The effort to renovate KeyArena continues to move along, but a proposal from Chris Hansen for a new Seattle arena has seemingly stalled. 
In December, the Seattle City Council approved a memorandum of understanding with Oak View Group for a $600-million renovation KeyArena. That vote has been followed by considerable momentum for the plan in recent months, including an ongoing effort to bring an NHL expansion franchise to the renovated arena.
While the stakes are clear for a renovation to KeyArena that will bring the venue to modern NBA and NHL standards, Hansen's proposal for a new arena in Sodo is in something of a gray area. After the Seattle City Council voted in May 2016 to reject his request to vacate a section of South Occidential Avenue for the arena's construction, Hansen revived the plan to include all private financing.
Part of that effort included submitting a new request to close the street. Hansen submitted a request to Seattle Department of Transportation (SDOT), but it remains to be seen whether it will be sent to the city council. More from MyNorthwest.com:
And now Hansen, sources said, wants to see the requested vacation back in front of the city council for another try.
But still no word from SDOT.
Asked what the Hansen group still needed to provide, SDOT's communication supervisor Norm Mah said in an email, "…the additional documentation relates to the potential scheduling of events. SDOT will be working with the applicants and other parties on this issue as part of the review process."
Asked specifically what additional documentation Hansen's group needed to provide, Mah replied in a second email, "I do not have anything additional to share with you other than what I previously provided."
Technically, the KeyArena renovation's progress has not completely shut the door on Hansen's proposal, but the plan has not gained much traction to this point. Hansen his been clear in his desire to bring an NBA team to Seattle, a move that would give the city its first franchise in the league since the Seattle SuperSonics relocated to Oklahoma City in 2008. There has also been talk of eventually adding an NBA team to the renovated KeyArena, but the NHL looks to be the more imminent possibility.