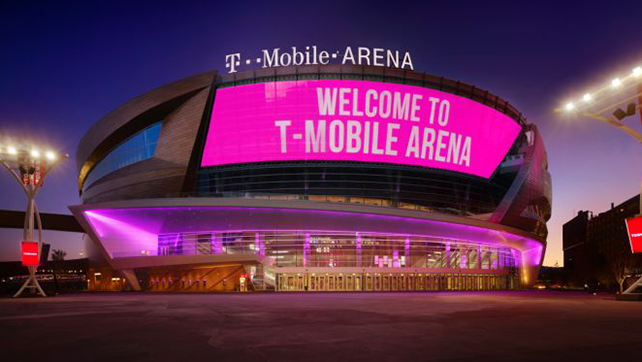 In what's billed as a first, Las Vegas's T-Mobile Arena and UFC have signed an extended multi-year agreement for the mixed martial arts (MMA) organization to be an anchor tenant — traditionally the role of professional sports teams in the arena world.
The arena has already hosted three major UFC events, and the agreement between UFC owners WME | IMG and Zuffa and the T-Mobile Arena owners AEG and MGM Resorts International expands that relationship. The comprehensive agreement calls for UFC to host a minimum of four events annually. UFC will have priority scheduling for designated major events windows, such as International Fight Week, and will have a presence at T-Mobile Arena – headlining the welcome sign in the lobby alongside the Vegas Golden Knights, as well as concourse activations, signage and retail space. WME | IMG also owns the Professional Bull Riders (PBR), which has a long-term agreement for its World Finals at T-Mobile Arena.
"Las Vegas has always been the home of UFC, and after more than a decade it is awesome to now have a historic venue deal in the Fight Capital of the World to make it official," UFC President Dana White said.
UFC Senior Vice President of Event Development and Operations Peter Dropick agreed: "In less than one year, we have set multiple records in the T-Mobile Arena and we look forward to continuing to work with our long-standing partners, both world leaders in the arena and entertainment sectors, to elevate and showcase the best of our brand."
Todd Goldstein, Chief Revenue Officer, AEG, said, "From day one, AEG and MGM Resorts have been committed to developing a showplace for the very best in concerts, championship sporting events, awards shows and special events that would be unrivaled not only in Las Vegas but in our industries. There is no doubt that UFC is synonymous with the biggest and best events today that attract unprecedented international audiences on platforms of all kinds. T-Mobile Arena is truly a one-of-a-kind, world class arena that will create the most outstanding stage and atmosphere worthy of the incredible events of all kinds UFC and  WME | IMG will bring to our venue and most importantly, our fans."
Bill Hornbuckle, President of MGM Resorts International, said, "We have enjoyed a tremendous partnership with UFC for many years and are excited to enter into this exclusive agreement at T-Mobile Arena, a first for the industry. While UFC calls Las Vegas home, there are few brands as powerful globally. We look forward to welcoming visitors from around the world for years to come for the kind of spectacular events and entertainment that can only be found in this city."
UFC joins the new Vegas Golden Knights NHL expansion team, set to begin play this fall, as the arena's two Anchor Tenants.