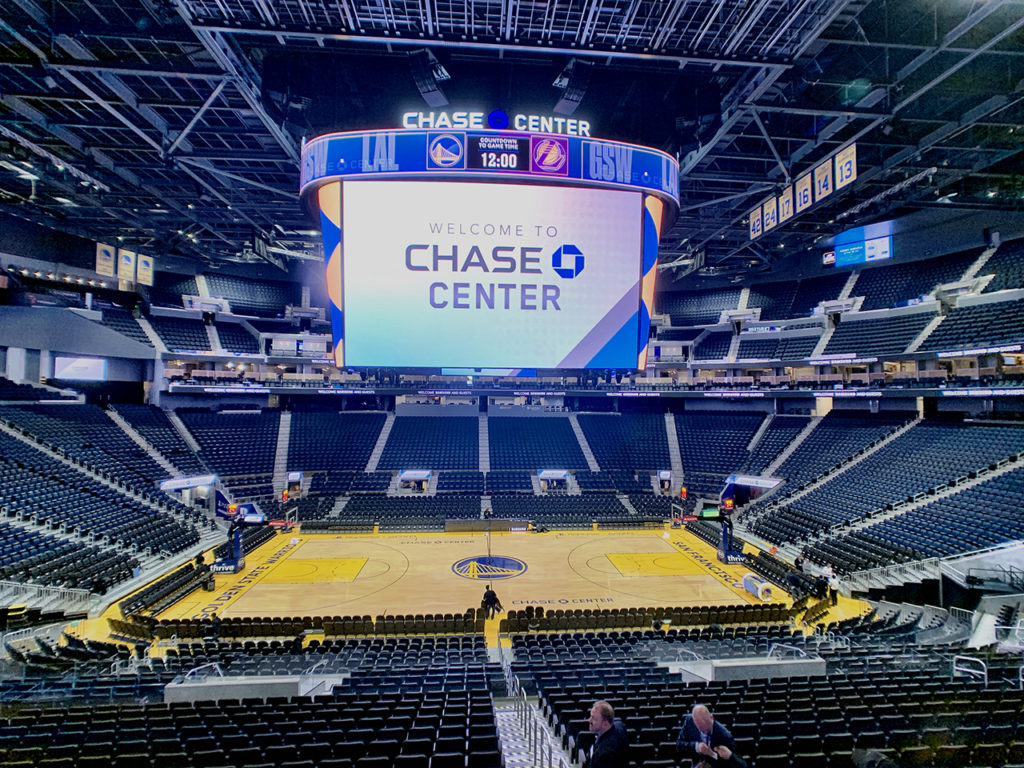 As the NBA suspends its season indefinitely amidst the coronavirus crisis, teams are looking to help arena employees affected by the shutdown.
On Wednesday, the NBA announced that it is suspending its season until further notice. This came as the league announced that a player on the Utah Jazz–identified in other press reports as Rudy Gobert–preliminarily tested positive for COVID-19. The test result was reported shortly before tip-off of Wednesday's scheduled game between the Jazz and Oklahoma City Thunder at OKC's Chesapeake Energy Arena, which was ultimately postponed.
With the NBA facing uncertainty about how long it will be on hiatus, teams are trying to figure out how to aid part-time arena employees that will be losing paychecks during the shutdown. Publicly, representatives from both the Golden State Warriors and Dallas Mavericks have been among those stating their desire to come up with a solution that helps these employees. Specifics of what that could entail remain unknown, but given the number of part-time employees affected by the shutdown–estimated to be 1,500 at the Warriors' Chase Center alone–teams will be working to address an issue that is affecting a fairly high number of workers. More from USA Today:
"We feel for the workers mostly, the low-income wage earners that count on working our games," Warriors general manager Bob Myers told reporters. "If you're going to have empathy, have it for them, not for us. We play basketball. It's a big business, but we're just playing basketball."
Because the NBA is a big business, it appears likely that its teams will try to find ways to help the arena's security guards, concession workers and janitors with their money. Dallas Mavericks owner Mark Cuban became the first NBA owner to share publicly his intentions.
"I reached out to the folks at the arena and our folks at the Mavs to find out what it would cost to support, financially support, people who aren't going to be able to come to work," Cuban told reporters on Wednesday night. "They get paid by the hour, and this was their source of income. So, we'll do some things there. We may ask them to go do some volunteer work in exchange, but we've already started the process of having a program in place. I don't have any details to give, but it's certainly something that's important to me."…
"We're going to be supportive in any way we can," [Warriors president Rick] Welts said. "We have a business model that depends on hosting live events. We're in a tough spot there. We're all in this government. Our government has an obligation here — county government, city government and state to understand the impact not just on 1,500 workers but on thousand of other workers that fall into exactly the same category. I hope we're sympathetic to that and hope we're doing things to help."
Of course, the ongoing coronavirus crisis is affecting more than just the NBA, with some arena operators also looking at a loss of other event dates. For instance, Chase Center announced before the NBA's decision to suspend the season that a number of non-basketball events this month would be postponed or canceled, including previously scheduled shows on Friday, March 13 for Tame Impala (postponed), Thursday, March 19 for Post Malone (cancelled or postponed — TBD), and Saturday, March 21 for Bell Biv Devoe & Friends (postponed). That decision came as the City and County of San Francisco announced a two-week prohibition on large gatherings.
RELATED STORIES: NBA Suspends Season After Player Tests Positive for Coronavirus; NCAA Winter Championship Games Set for Empty Arenas; Warriors to Play Upcoming Game in Empty Arena