Oak View Group is proposing a new Manchester arena that would be the largest of its kind in the U.K., adding a venue to what project backers view as a burgeoning market.
Under the vision from OVG, a new £350-million arena (over $448 million in American dollars) with a capacity of up to 23,500 would be built on Manchester's Etihad Campus, which currently includes Etihad Stadium—the home of Premier League's Manchester City F.C. The arena would target large concerts that OVG officials believe are currently passing over Manchester, though it would also be positioned to draw a wide range of sporting events that could include basketball, hockey, MMA, and more.
OVG's goal is to build the arena in a three-year window, with an opening as early as 2023. However, the proposal has not been finalized yet and is still subject to city planning approval.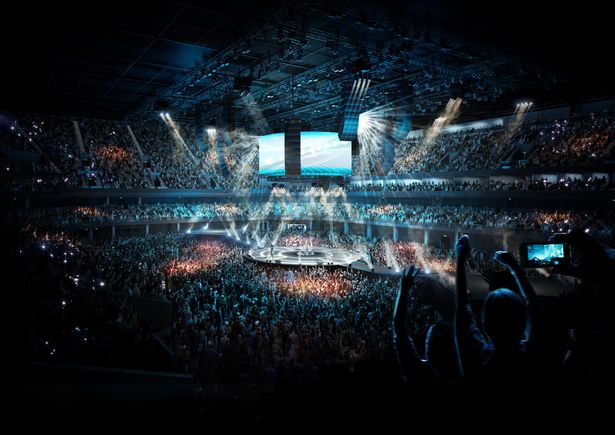 When discussing the project, OVG co-founder and Chief Executive Tim Leiweke noted the firm's confidence in the Manchester area—over 2.8 million people reside in Greater Manchester—while stating a belief that the proposed venue would allow it to draw large touring shows currently passing over the market. The proposed facility is being pitched as a compliment to Manchester Arena, a city-center venue that opened in 1995 and offers a capacity of up to 21,000 people. More from the Manchester Evening News:
The plans have already sparked a political row in the city with those behind the existing Manchester Arena, attached to Victoria Station in the city centre warning it could push them out of the business.
And if the new facility is built Manchester would host the two biggest arenas in the country, with the existing Manchester Arena being able to house up to 21,000 people and the 02 in London 20,000.
However Mr Leiweke said: "Building the best and most expensive arena to date in the UK or Europe is a fantastic testament to Manchester and the vibrancy of Manchester.
"I believe the marketplace deserves it, I believe the marketplace has earned it."
At its current cost estimate, the proposed Manchester arena would be the most expensive of its kind ever built in Europe. It is expected to host around 120 events annually.
Currently, OVG is playing a role in several major arena projects in the United States, including those taking place in Seattle, at Belmont Park (in partnership with the New York Islanders and Sterling Project Development), and Austin, where the firm is building a venue as part of a partnership that includes the University of Texas for college basketball and other events. Last March, the firm announced the launch of London-based OVG International, an entity designed to explore opportunities in U.K., Europe, Asia and Middle East markets.
Renderings courtesy Oak View Group.
This article originally appeared in the weekly Arena Digest newsletter. Are you a subscriber? Click here to sign up for the free weekly newsletter