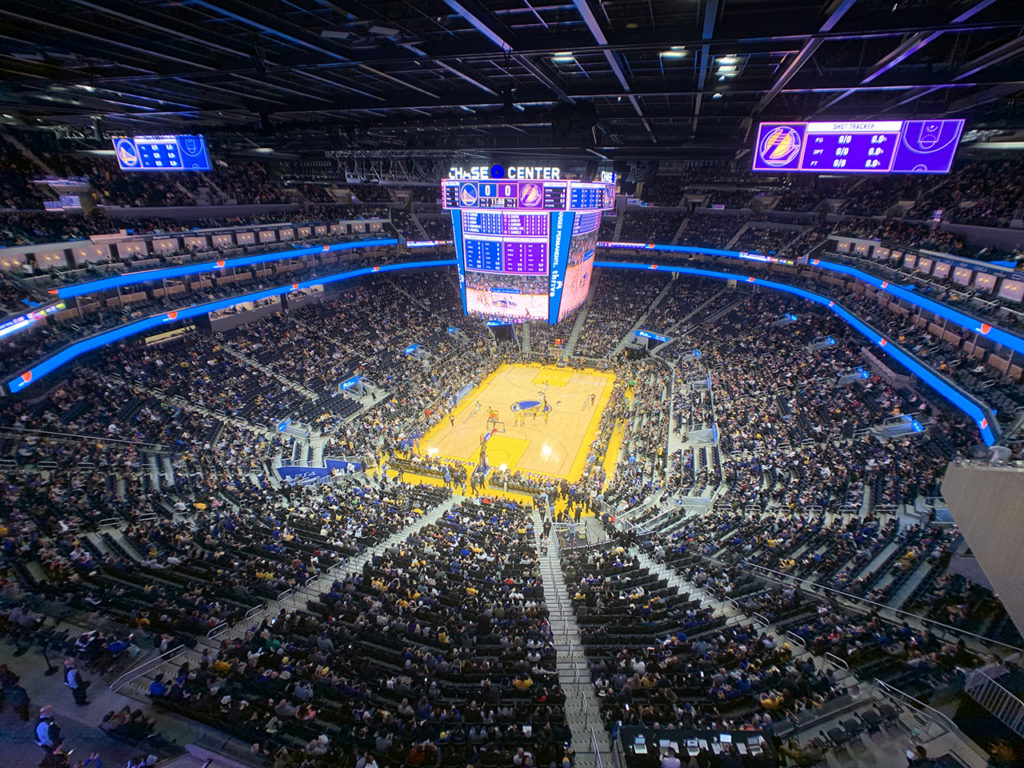 With vendors promising that 5G is just around the corner, we're seeing some real-world experiments designed to display its potential impact. One such potential impact will be showcased at Chase Center, when 5G will be the core of an augmented reality experience at a concert.
The Chainsmokers are slated to be the core of a 5G-powered concert experience at Chase Center in San Francisco on Friday, November 29. For Chase Center, it's a way to show off the arena's much-touted technological capabilities—which we detailed here—and for Verizon, it's the latest salvo in a marketing effort stressing 5G capabilities in arenas and stadiums. That's a pretty ambitious effort, at least on the technical side: providing broadband to tens of thousands of users in a relatively small space is still a challenge in many venues, especially so with 5G (which we'll cover later).
For The Chainsmokers playing at Chase Center, a group of select fans with a 5G smartphone will be able to hold the phone up to the stage and see the band through an augmented reality (AR) lens, complete with high-fidelity graphics and imagery timed with music and controlled by the show producers. According to Verizon, the interactive multi-user experience also allows these fans to play with the objects and also see what others with 5G smartphones are doing.
Within Chase Center, Verizon has implemented one of the first 5G deployments on the West Coast. Areas in Chase Center's seating bowl are 5G accessible.
Outside the 5G experience, fans attending The Chainsmokers World War Joy performance can download The Chainsmokers x Verizon AR Experience app, available now. Through the app, AR experiences pre-show, in-show and following the performance include:
Photo Opportunity: Fans who have downloaded The Chainsmokers x Verizon AR Experience app can visit the AR Photo Op, and take photos positioned in front of physical art, activating an emergent, animated 3D AR experience within their photos.
AR Portal: The AR Portal will transport viewers inside the world of The Chainsmokers. Users will have the ability to step through an interactive portal and into a 360-degree environment displaying video footage from the tour.
Live Filter: Once the performance begins, AR elements tied to the World War Joy aesthetic appear around the user for an "always on" experience that will enhance the concert performance. The immersive experience will include AR experiences such as gusts of sand blowing across the viewer's augmented reality screen, weaving between multiple layers and will apply both color and vibrancy effects on the screen.
Will 5G change the arena experience? Absolutely. It will take some technical refinements, as the arena coverage touted by Verizon applies only to specific seating areas, not an entire seating bowl and perhaps not even at full speeds. And it will take some more robust installations: currently Verizon has installed 5G technology in portions of Phoenix's Talking Stick Resort Arena and Denver's Pepsi Center, and coming soon to Madison Square Garden. We'll be eager to see how lucky fans in the 5G seating area with 5G-capable phones experience The Chainsmokers via augmented reality. Just don't expect the same experience in an arena any time soon.
This article originally appeared in the weekly Arena Digest newsletter. Are you a subscriber? Click here to sign up for the free weekly newsletter