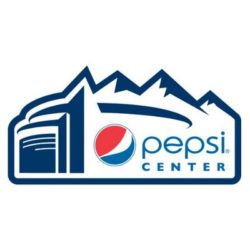 Denver's Pepsi Center will retain its name for at least another year, the result of a one-year naming-rights agreement extension.
A naming-rights agreement for Pepsi Center, home to the NBA's Denver Nuggets and NHL's Colorado Avalanche, expired this summer. It has been followed by a one-year extension between PepsiCo and arena owner and operator Kroenke Sports & Entertainment (KSE), ensuring that the name will remain in tact through at least the 2019-20 seasons.
Financial terms have not been revealed. News of the extension was recently confirmed by an official from Pepsi. More from 9News.com:
The current contract expired this summer. The new contract will extend the naming rights through this season….
A Pepsi executive announced the contract extension at an event marking two decades since the building opened.
Details of the deal have not yet been disclosed.
The arena has had the Pepsi Center name since its 1999 opening, the result of an initial naming-rights deal worth $68 million over 20 years. Pepsi Center opened 20 years ago today on October 1, 1999 with a Celine Dion concert.