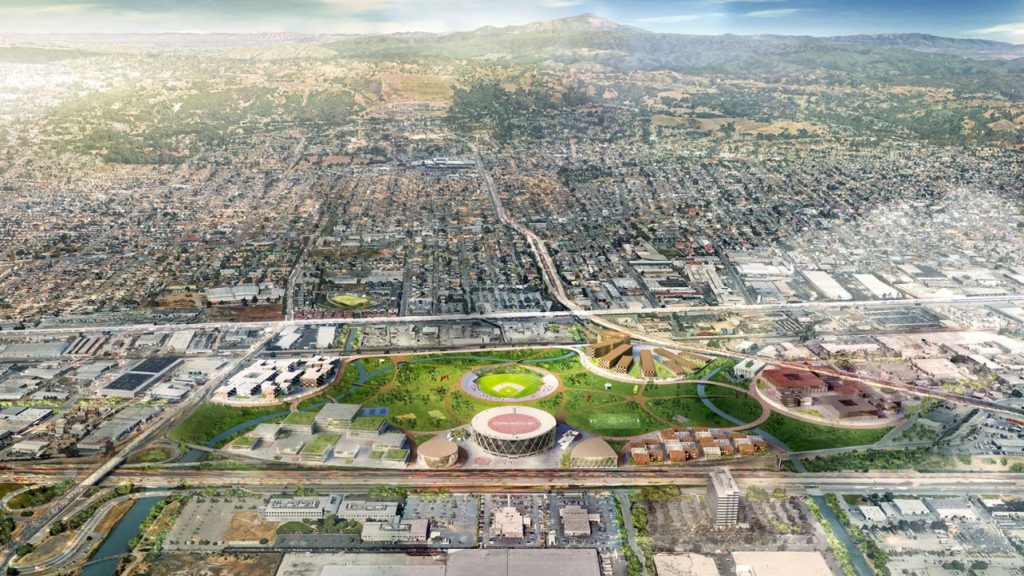 As the Golden State Warriors end their run at Oracle Arena, all eyes will be on the Oakland A's ballpark proposal and its implication on the venue's future.
The Warriors are closing out their final regular season at Oakland's Oracle Arena, with their last home game set for Sunday. The NBA Postseason will follow and keep the action going at the arena for a little bit longer, but this week certainly brings a sign of the facility's impending end as an NBA arena.
Come the 2019-20 season, the Warriors will go from calling the NBA's oldest arena their home to playing at its newest by opening San Francisco's Chase Center. Oracle Arena will remain open for events after the Warriors' departure, with MLB's A'spotentially having a major role in determining its long-term future.
Oracle Arena originally opened as Oakland–Alameda County Coliseum Arena in 1966, part of a larger complex that includes the adjacent Oakland-Alameda County Coliseum. The Coliseum has been a multipurpose home to the A's and the NFL's Raiders for much of its history, but the Raiders are moving to Las Vegas next year and the A's hope to make their own departure in the near future.
Under a plan unveiled in November, the A's are proposing to construct a new ballpark at the Port of Oakland's Howard Terminal. The new ballpark is one component of a larger development concept for the A's, who are also hoping to gain control of the sprawling 111-acre Coliseum complex and redevelop the property. Oracle Arena would remain standing and be repurposed as a concert and events center, with surrounding amenities to include housing, office and retail, dining space, new greenspace at the Coliseum site, and more.
The vision, which would see the A's open a new Howard Terminal ballpark in 2023, is an intriguing one, but there are plenty of questions remaining about whether it will move forward. For starters, Howard Terminal is the subject of an ongoing environmental review process and questions are already being raised about whether the site's extensive history of heavy industrial uses will impose major hurdles to redevelopment. In addition, there are also questions about whether the A's proposal for the site—which also includes adjacent development featuring housing and other amenities—would create traffic that overwhelms resources in the area.
As it relates more directly to Oracle Arena's future and the surrounding Coliseum complex, the A's still do not have control over that site. Any redevelopment of the site, which is currently under a joint ownership arrangement of Oakland and Alameda County, would require an agreement of some sort. Furthermore, there has yet to be much discussion on the numbers involved in infrastructure projects at both sites, and whether the A's will seek public money to pay for any infrastructure upgrades (the team has maintained that a new ballpark and development will be privately financed).
Should the A's move forward with their proposals for both sites, Oracle Arena would become an anchor that brings events to a redeveloped Coliseum property. If those plans do not come to fruition, however, the question could become more complicated long term. In theory, the Coliseum complex could be a fallback option for the A's to remain in Oakland if the Howard Terminal effort falls through, but it would remain to be seen if leaving Oracle Arena operational is conducive to a plan that would likely involve a new ballpark and surrounding development.
In the absence of the A's doing redeveloping the Coliseum complex—with or without a new ballpark—then then local officials would have to decide how to handle the property's future. At that point, it might become a matter of determining whether Oracle Arena can find a niche in the Bay Area by drawing events that are not conducive to the Chase Center or San Jose's SAP Center.
Those are all questions that will have to be answered over time. For now, the Warriors will look to close out Oracle Arena's NBA run with their fourth championship in five seasons, providing the facility with one last moment in the league's brightest spotlight.
Rendering courtesy Oakland A's.
This article originally appeared in the weekly Arena Digest newsletter. Are you a subscriber? Click here to sign up for the free weekly newsletter