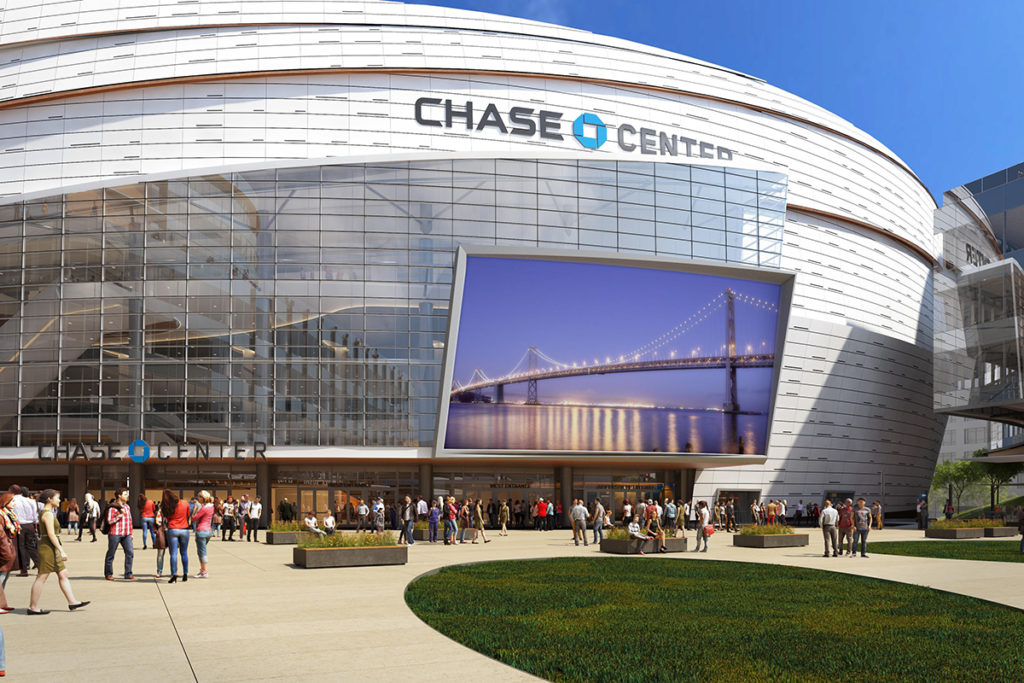 Between the NBA and NHL, there will be just one new arena opening in 2019. However, ongoing renovation projects and movement toward new arenas elsewhere should make the new year an intriguing one on the arena front.
The highlight of 2019 in NBA and NHL arenas will come from San Francisco, where the NBA's Golden State Warriors will open the new Chase Center this fall. Anticipated for its design and technology features, the privately financed arena is under construction in the city's Mission Bay neighborhood. Inside the arena, a unique concessions lineup will highlight the city's culinary offerings, while surrounding development outside the venue will include public space, retail, and more.
While the Chase Center's impending opening will be one of the most closely followed storylines of 2019, the year might also bring some resolution to the status of the Warriors' soon-to-be-former home: Oakland's Oracle Arena. As part of a broader plan that includes a new Howard Terminal ballpark, MLB's Oakland A's are proposing a redevelopment of the Oakland-Alameda County Coliseum property that calls for leaving Oracle Arena open for non-NBA events. It remains to be seen whether that plan will become a reality, but the A's figure to spend much of 2019 on their effort to move the project forward.
Elsewhere, 2019 in NBA and NHL arenas will be marked by several intriguing developments. In the NHL, the St. Louis Blues are slated to undertake a third phase of renovations to Enterprise Center. More details could emerge in the coming months, but the renovations should build off of the work that was completed in an ambitious second phase. It will also come before the Enterprise Center hosts the 2020 NHL All-Star Game next January.
Another arena to keep an eye on will be Philadelphia's Wells Fargo Center, home to the NBA's 76ers and NHL's Flyers. In March of last year, it was announced that the venue would undergo a multi-phase renovation that would see work take place for three straight summers starting in 2018. Upgrades completed prior to the 2018-19 campaigns for both sports included a completely overhauled mezzanine level, featuring two open-air lounges, improved concessions, and new seating. A new sound system was also installed.
The NBA's Cleveland Cavaliers are set to launch the final phase of an ambitious Quicken Loans Arena renovation this summer. Just as it did last year, the venue will close during the summer months to accommodate major construction work before reopening in the fall. Once completed, the renovation will result in new social spaces, a glass front entrance, new and renovated premium areas, and more.
The year could also see some major steps forward for proposed/under-construction arenas. The NHL's New York Islanders are working to launch construction on a new Belmont Park arena this spring, with plans to open the venue in 2021. Seattle's KeyArena will be undergoing construction as it aims to reopen in 2021 after an ambitious renovation, with the WNBA's Storm an NHL expansion franchise slated to play at the venue. Meanwhile, the year could also see a few NBA teams—including the Phoenix Suns and Indiana Pacers—make progress toward potential arena upgrades. There could also be a few NHL squads that try to move closer toward settling their long-term arena situations, including the Arizona Coyotes, Calgary Flames, and Ottawa Senators.
This article originally appeared in the weekly Arena Digest newsletter. Are you a subscriber? Click here to sign up for the free weekly newsletter