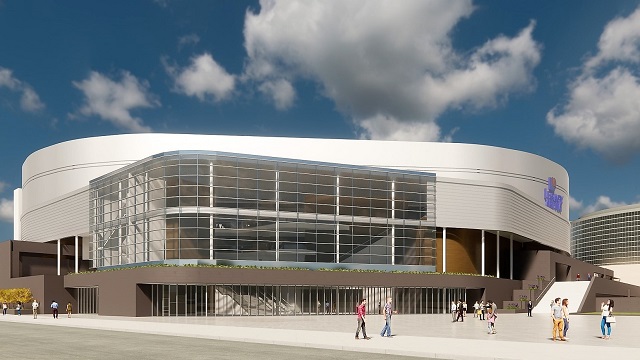 The design team for a renovation to Birmingham, AL's Legacy Arena has been announced, with Populous tabbed as the lead architect. 
Legacy Arena is set to undergo a $125 million renovation in the coming years, part of a larger $300 million Birmingham-Jefferson Convention Complex improvement plan that includes a new outdoor stadium for college football and other events. The Birmingham-Jefferson Civic Center Authority took a key step in the planning process on Wednesday, when it finalized the Legacy Arena renovation design team.
Kansas City, MO-based Populous will serve as the lead architect, while a number of local minority and women-owned firms will also participate in the design process. The renovation is scheduled to be complete in 2022, but a date has not been set for the beginning of construction. More from AL.com:
Tad Snider, executive director and chief executive officer of the BJCC, said the schematic design phase of the project will take time but is continuing to advance as anticipated.
"Because of the scope and the magnitude of this renovation, it will be mid-2019 before the design team's work is finished and we can begin sequencing and packaging bids for the construction phase," Snider said. "But this puts us one step closer to where we want to be."
An August bond sale generated $313 million in proceeds for the building of a $175 million stadium and $125 million renovation of Legacy Arena. The stadium is expected to be completed in 2021, and the arena upgrades are expected to be finished in 2022.
The team of architects and engineers for the Legacy Arena renovations was selected through a competitive process. Populous, a Kansas City firm, is the lead architectural firm on the project.
The renovated arena will be home to a New Orleans Pelicans-backed NBA Gatorade League squad starting in 2022. Legacy Arena originally opened in 1976 and has been used for a variety of purposes over the years, including concerts, minor league hockey, college basketball, and more.
RELATED STORIES: Plans for Legacy Arena Renovation Take Shape; Pelicans to Launch Birmingham G League Team