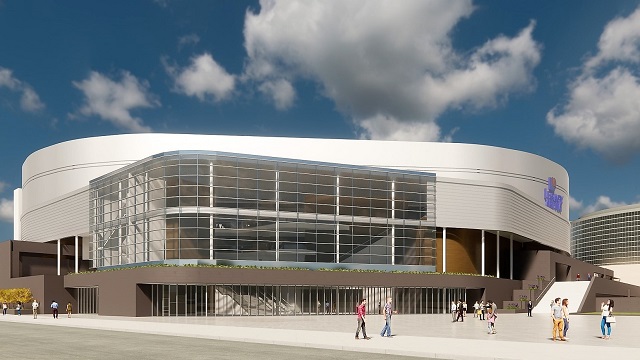 An upcoming Legacy Arena renovation is taking shape, with the Birmingham, AL venue slated to be modernized for sports and other events. 
Originally opening in 1976, Legacy Arena has been used for a variety of purposes over the years, including concerts, minor league hockey, college basketball, and more. It is set to be modernized in the coming years, as a $123 million renovation is part of a larger $300 million Birmingham-Jefferson Convention Complex improvement plan that includes a new outdoor stadium for college football and other events.
The renovation to Legacy Arena is currently slated to be completed in 2022, with the New Orleans Pelicans planning to place a NBA Gatorade League squad in the venue after construction concludes. The addition of a new professional basketball team will be a major highlight, but the improvements to Legacy Arena should have implications for a wide array of events. More from Alabama NewsCenter:
The primary entrance into the arena will be reoriented to Ninth Avenue and 19th Street North.
Landscaping and contrasting paint colors will make for a more aesthetically pleasing building.
Inside the arena, club-level boxes and VIP suites will be one noticeable difference. Modern seating will be installed, enhancements that build on the use of smartphones and technology will be added. Improved concessions are in the plan as well as an option that could allow for delivery to individual seats.
Other changes are planned for behind the scenes areas that will allow for the larger tour buses, increased number of tractor-trailers and other logistics support that comes with modern concert and entertainment productions. The courtyard that connects the arena to the concert hall and exhibition halls will also get an overhaul and all of the BJCC enhancements will complement the $174 million, 55,000-seat stadium being built nearby.
Under the current project schedule, the Legacy Arena renovations are slated to be completed in the winter of 2022. The Pelicans G League squad would arrive to Birmingham in time for the 2022-23 season.
RELATED STORIES: Pelicans to Launch Birmingham G League Team