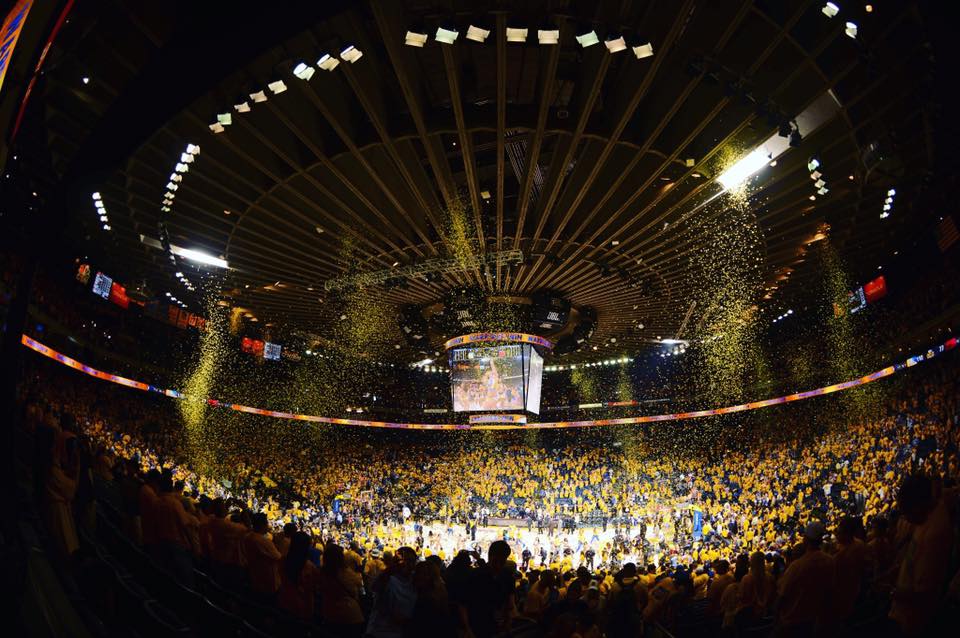 This year's NBA Finals will bring a familiar matchup. The Cleveland Cavaliers and Golden State Warriors are meeting for the fourth consecutive finals, meaning that two venues featured in the seven-game series are experienced in the spotlight.
As they have for the last several years, the NBA Finals will run through Quicken Loans Arena and Oracle Arena. The two venues have vast differences in their overall history, but their respective teams have made them familiar settings for pivotal NBA games in recent years. To profile both venues, we provide a quick glimpse of the arenas featured in this year's NBA Finals.
Quicken Loans Arena, Cleveland Cavaliers
LeBron James and the Cleveland Cavaliers have helped make this downtown Cleveland venue a common site during the NBA Finals. The upcoming finals will mark the fourth straight for the Cavaliers, and the fifth overall. Their first trip came in 2007, when the Cavs lost to the San Antonio Spurs.
Originally opening in 1994 as Gund Arena, Quicken Loans Arena was constructed as part of the Gateway Sports and Entertainment Complex. The Gateway also includes Progressive Field, home to MLB's Indians.
Oracle Arena, Golden State Warriors
Oracle Arena has become a site of memorable NBA moments during its final years hosting the Warriors. The team has made the last three NBA Finals—winning two of them—and is now set for its fourth consecutive appearance.
Known as Oakland-Alameda County Coliseum Arena when it opened in 1966, Oracle Arena did not host its first NBA Finals game until 2015. Though the Warriors made a trip to the finals in 1975, the Ice Follies had already been booked for their home venue—forcing all of their home games during the finals to be played at the Cow Palace in Daly City (despite the inconvenience, the Warriors swept the Washington Bullets). The 2017-18 season is expected to be the penultimate campaign of the NBA at Oracle Arena, as the Warriors are expected to move into San Francisco's Chase Center in 2019.
Image courtesy Oracle Arena.