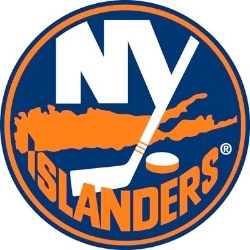 The Barclays Center and the New York Islanders are expected to part ways, according to a report from Bloomberg. 
It has been apparent over the last several months that the Islanders are unhappy with their situation at the Barclays Center, where they began playing for the 2015-16 NHL season. The arena has been cited by fans and players as a poor venue for hockey, and the team has been looking for a better business arrangement.
Various reports have indicated that the Islanders are looking to construct a new arena in New York, with Queens and Belmont Park often mentioned as possible candidates. The team's agreement with the Barclays Center's management allows either side to opt out of the deal within the next few years, and there is evidence to suggest that the arena is not ready including the Islanders in its future plans. More from Bloomberg:
The arena, which is already home to the NBA's Nets and one of the world's top-grossing concert venues, would make more money without the National Hockey League team, according to people familiar with the facility's financials.
Russian billionaire Mikhail Prokhorov, who owns the building and the Nets, has since November been seeking an investor to take a stake in both. As of earlier this month, a financial projection shared with potential investors showed the Islanders won't contribute any revenue after the 2018-19 season — a clear signal that the team won't play there, the people said.
Barclays Center wouldn't speak to the future of the Islanders. Tim Leiweke, co-founder of Oak View Group, which has been advising the hockey team in talks with the arena, declined to comment, as did a spokesman for Islanders owners Jonathan Ledecky and Scott Malkin.
The key point to note about the option is the timing. The team can opt out after its third season at the arena–which will be the 2017-18 slate–while either party can opt out after the 2018-19 campaign. Regardless, the team will have to get its new arena plans in order if the current arrangement does not last beyond the next few seasons.
RELATED STORIES: New York Islanders Mulling Arena Options; Best of 2016, #6: New York Islanders; Islanders Continuing Arena Talks in Queens; Yorkmark: We're Listening to Islanders Fans; Islanders Can Opt Out of Barclays Center; Nassau County Pitching New York Islanders Return; Belmont Park in Play for Islanders; New York Islanders Eyeing Queens Move;Ledecky Discusses New York Islanders, Nassau County Coliseum, Sound Tigers