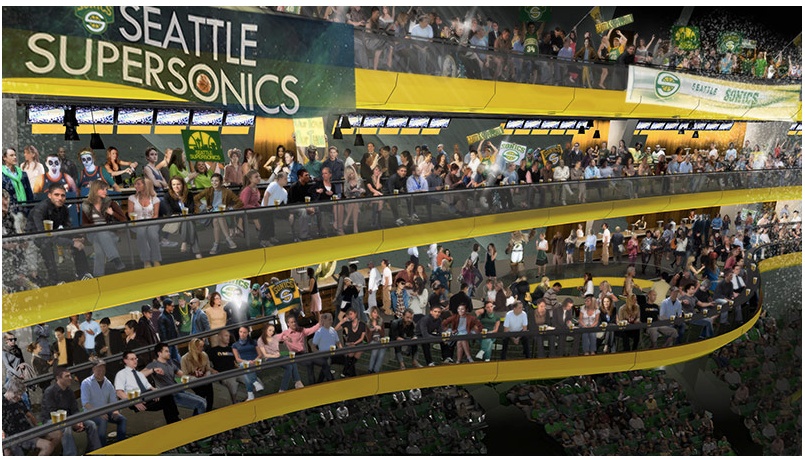 Developer Chris Hansen is expressing belief that a new arena in Seattle could be privately financed, giving all parties more time to reach an agreement.
Hansen has been working under a memorandum of understanding (MOU) that grants $200 million in public funding for an arena from Seattle and King County, provided that he can secure a team by November 2017. That plan received a setback when the Seattle City Council voted against an arena site plan in May, making the timing more difficult.
The offer for private financing is part of a plan for Hansen to build an arena at his preferred site, Sodo. The vote against the arena in May stemmed largely from the fact that the venue would eliminate Occidential Avenue South, something Seattle officials believed would hurt Port of Seattle operations and add congestion to the area.
In a letter to Seattle mayor Ed Murray and King County executive Dow Constantine, Hansen and his partners said the arena would be privately financed. Hansen, meanwhile, would contribute funds for a proposed overpass in the area. It is contingent, however, on the closing of Occidential Avenue South.  More from the Seattle Times:
But now, with the all-private proposal, that money no longer would be in play. In return, Hansen, who also says he'll kick in money for an overpass that would potentially ease Sodo traffic congestion, says he wants the city to give up the portion of Occidental needed for arena construction to begin.
"The goal of this partnership was to build the arena and bring an NBA team to Seattle," states the letter, signed by Hansen and his partners, Wally Walker and Peter and Erik Nordstrom. "Public financing was simply a mechanism that made that possible at the time. We have concluded that a changed economic climate makes possible the private financing of the arena."
On Tuesday, Constantine issued a statement regarding Hansen's proposal. "Chris Hansen today demonstrated his continued commitment to building an arena, and to take advantage of an improving economy. His efforts will strengthen our ability to compete for an NBA team. We won't stop until we bring the Sonics home."
Hansen has continued to purchase properties in Sodo, so it is not surprising to see increase his effort to utilize the area as a potential home for the arena. However, it remains to be seen if enough Seattle officials will be swayed by the plan and if traffic concerns could be adequately addressed. Given that time was starting to work against the original MOU, however, the proposal from Hansen does address at least one concern.
This article originally appeared in the weekly Arena Digest newsletter. Are you a subscriber? Click here to sign up for the free weekly newsletter.