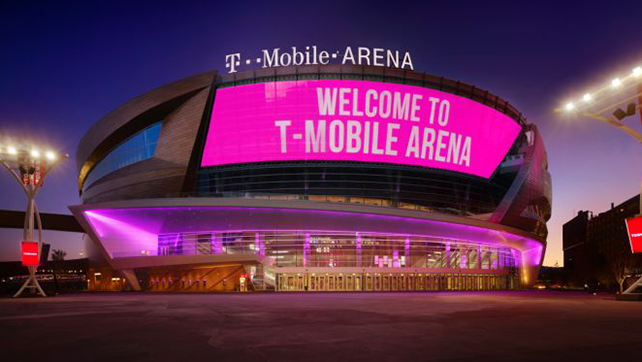 We have more on the Las Vegas NHL expansion team, as the league's Board of Governors is poised to add the 31st team, reportedly the Las Vegas Black Knights, to the circuit.
As noted yesterday, the NHL Board of Governors is expected to approve the expansion request from Bill Foley for a Vegas expansion team at its June 22 meeting. Expansion will require a two-thirds vote from the existing 30 teams, but that's not seen as being a problem at this point. Why? The team already has 14,000 season-ticket deposits, and a new arena, T-Mobile Arena, is up and running.
The new team would begin play in the 2017-18 NHL season.
Las Vegas has been a potential home to a big-four major league team for a decade now; there were once plans to bring MLB's Montreal Expos to a new domed stadium, and the NBA's Sacramento Kings and Milwaukee Bucks were once pitched for a move. Most recently there's been a pitch for a new domed stadium that would host the Oakland Raiders and the UNLV football program.
The talk of an NBA team spurred plans for a new state-of-the-art arena, T-Mobile Arena, being built behind New York New York and Monte Carlo casinos. The availability of that facility, combined with a billionaire owner (Bill Foley) willing to spend $500 million on an expansion franchise, led NHL officials to green-light the team. (It didn't hurt that the ownership group includes the Maloof family, former owners of the NBA's Kings and two Vegas casinos.) To show how the value of NHL franchises have shifted: the last time the NHL expanded, the Columbus Blue Jackets and Minnesota Wild owners paid $80 for their teams.
Why the odd number and the rejection of the expansion bid from Quebec City? There are reportedly concerns about the Canadian dollar — now worth US$.77 — making business in Quebec too difficult.
And, finally, what will be the new team be doing on the minor-league front? According to the Review-Journal, the team is looking at placing a team in Las Vegas, Reno, Fresno, Salt Lake City (where the ECHL's Utah Grizzlies play in suburban West Valley City) or Sacramento. Salt Lake City is the only market where there's a conflict with an existing ECHL or AHL team, and there are some pretty good markets in that mix.
RELATED STORIES: Report: NHL Selecting Las Vegas for Expansion