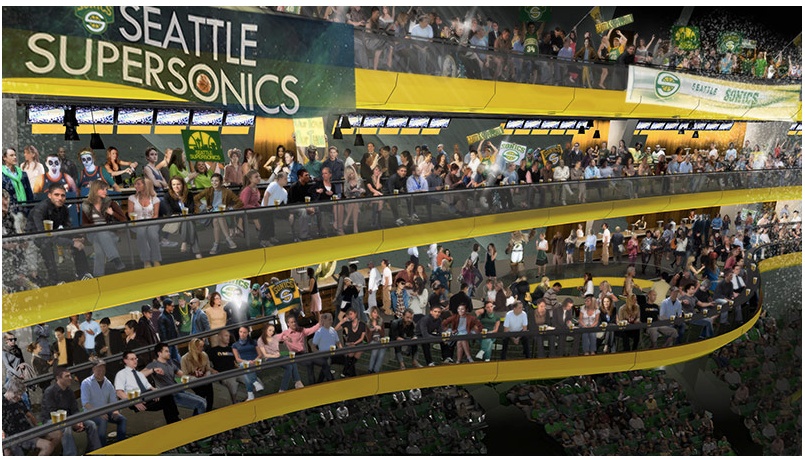 Next week will be a crucial one for Chris Hansen's proposed Seattle NBA arena, as the city will consider a request to close down part of a street to make way for the potential NBA facility — but plenty of hurdles remain.
One big hurdle with the proposed Seattle NBA arena was partially addressed this week when the managers of CenturyLink Field (home of the NFL's Seahawks and MLS's Sounders) and Safeco Field (home of MLB's Mariners) came together and agreed with the arena management on a scheduling protocol that would minimize overlapping events at the three Sodo District facilities. The arena would not schedule events that overlap with big CenturyLink Field or Safeco Field crowds, and no arena events would start between 4 and 7 p.m. on weeknights.
The fear, of course, is that the parking infrastructure and street access can't handle two large events at once — a belief that's not without some basis in fact. But the agreement has a more immediate potential affect: next Monday the Seattle City Council is likely to approve a request to give up part of Occidental Avenue South for the arena. But that's merely a minor step in what's turning out to be a contentious process, according to the Seattle Times:
If it passes, sources confirmed Thursday that the Port of Seattle will hold a news conference Tuesday announcing a lawsuit against the city alleging it improperly handled an environmental-impact study of the Sodo arena project.
A separate lawsuit by the International Longshore and Warehouse Union would also be filed within the next few weeks. It is not known whether the Mariners, who have voiced opposition to the proposed arena in Sodo despite signing off on Thursday's agreement, would join any litigation….
Both the Seahawks and Mariners had lobbied the city hard in recent weeks to bring Hansen's side to the negotiating table on scheduling. New Mariners CEO John Stanton likened the proposed arena to a "big ugly house right at the end of your driveway" at a Wednesday news conference about the agreement.
There are some deadlines at play here. Hansen's financing deal with Seattle and King County expires in November 2017, and he can't start work on the arena until he acquires an NBA franchise. There's no clear path to this acquisition, especially with the Milwaukee Bucks moving forward with a new downtown arena.