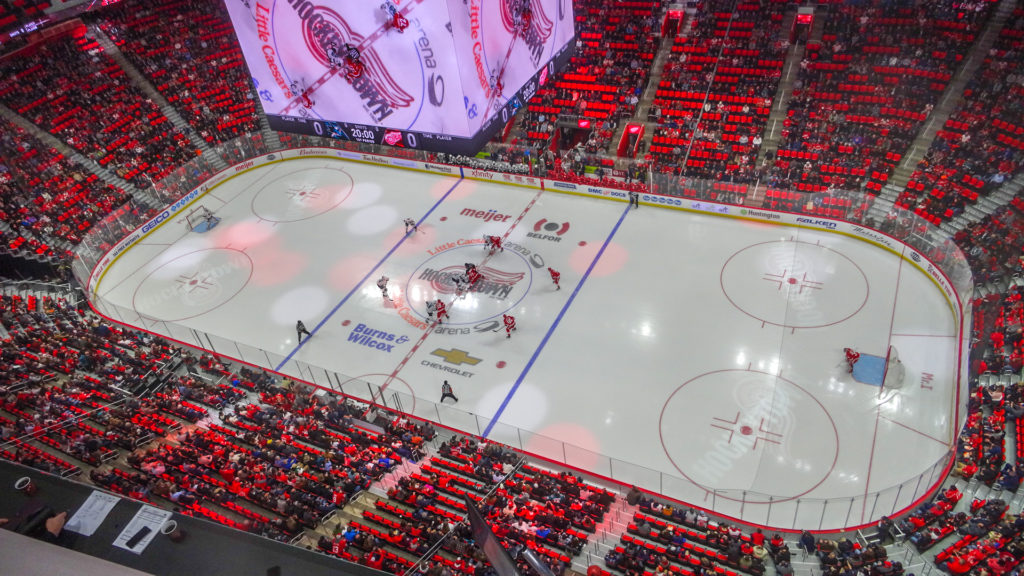 Little Caesars Arena, home of the Detroit Red Wings and Detroit Pistons, has earned LEED Silver certification from the U.S. Green Building Council (USGBC).
LEED, the most widely used green building rating system in the world, provides a framework to create healthy, highly efficient and cost-saving green buildings, and is a globally recognized symbol of sustainability achievement.
"Little Caesars Arena was built with an end-user approach through every decision that was made, including a primary focus on sustainability and being a caretaker of the environment," said Chris Granger, Group President, Sports & Entertainment, Ilitch Holdings, Inc. "We are pleased to announce that Little Caesars Arena has earned LEED Silver certification. As one of the busiest arenas in the world, we will continue to pursue innovative ways to improve the guest experience and operate efficiently through responsible sustainability processes."
Little Caesars Arena is a key anchor of The District Detroit. Along with the Chevrolet Plaza, four new restaurants, the Team Store retail outlet and new office space, Little Caesars Arena is bringing new life to a formerly under-utilized area of the city. Little Caesars Arena has brought more than 3,900 permanent jobs to the area and is home of the Detroit Red Wings, Detroit Pistons and hundreds of other concerts, shows and events that bring people together and provide a wide variety of entertainment.
Little Caesars Arena has welcomed more than 4 million guests to its ticketed events since opening in September 2017. The arena is also committed to improving guest experience through environmental stewardship using LEED and achieved certification by implementing specific initiatives that include:
An erosion and sedimentation control plan approved by the United States Environmental Protection Agency (EPA) has been implemented.
Little Caesars Arena was awarded all five available points under the Development Density and Community Connectivity credit.
The efficient water fixtures in the multi-purpose arena have reduced the use of potable water by more than 40 percent.
The venue has achieved an energy cost savings of more than 17 percent.
More than 20 percent of the building's materials have been manufactured using recycled materials.
The Ethylene tetrafluoroethylene (ETFE) roof reduces the need for daytime lighting while offering the benefits of natural light. Solar heat gain is also controlled.
Construction materials were selected to promote healthy air quality for visitors by reducing exposure to harmful emissions.
The Little Caesars Arena ventilation system meets the standards for indoor environmental quality.
Lighting controls are provided for 100 percent of building occupants and 100 percent of shared multi-occupant spaces.
Little Caesars Arena received an exemplary rating for alternative and public transportation access.
More than 13 percent of the building's materials were locally sourced.
Little Caesars Arena has also achieved several other certifications and accolades indicating a commitment to service and community. In November 2017, just two months after opening to the public, Little Caesars Arena was awarded SAFETY Act Certification, the highest level of protection awarded by the U.S. Department of Homeland Security. In July 2018, Little Caesars Arena partnered with KultureCity to make all events hosted at the multi-purpose arena sensory inclusive. In October 2018, the National Weather Service recognized Little Caesars Arena as "StormReady" and certified to spot, report and prepare for a wide range of weather conditions.