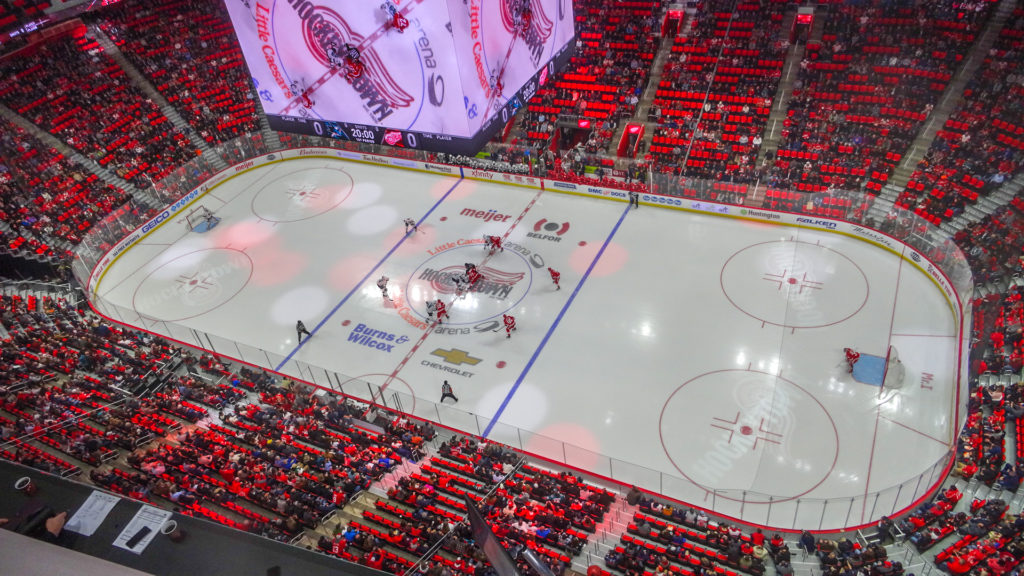 An Ilitch family entity will earn $74 million for hitting a development goal for District Detroit, a redevelopment of the area around Little Caesars Arena.
Little Caesars Arena opened in fall 2017 for the Ilitch-owned Detroit Red Wings, as well as the NBA's Pistons. Financed as a public-private endeavor, the arena was initially planned as the anchor of a larger downtown redevelopment initiative named District Detroit, which is led by the Ilitch's Olympia Development.
Under an agreement with the Detroit Downtown Development Authority (DDA), Olympia was to receive a $74-million bonus–derived from tax increment financing–for hitting a development goal of $200 million in ancillary development within five years of the Red Wings' home game at Little Caesars Arena. Olympia has reached that milestone through a series of projects, including a Little Caesars headquarters that is still under construction, along with an office building anchored by Google, and two parking garages.
The bonus will not be paid out in a lump sum, but instead spread out over a set period of years. More from the Detroit Free Press:
"Olympia has met their commitment on $200M in ancillary development," [development authority spokeswoman Donna] Fontana said in an email. "Once those developments are complete, the $74M reimbursement will begin to be paid out over the term of the bonds."
The $74 million reward for arena district progress stands in contrast to criticism that led to an HBO report last month that chided the Ilitch organization for the pace of development work within the roughly 50-block District Detroit, which was originally envisioned to feature five new neighborhoods, lots of street-level retail and hundreds of new apartments.
The segment, aired as part of "Real Sports with Bryant Gumbel," quoted local critics and elected officials, including U.S. Rep. Rashida Tlaib, D-Detroit, who generally faulted Olympia Development for not completing the extensive retail, residential, hotel and commercial developments that were featured prominently in early renderings for the district….
The Ilitch organization declined participation in the HBO show, but issued statements afterward that blasted it as "a self-interested, sensationalized and inaccurate report designed to attract viewers instead of a balanced report on the rebirth of Detroit and our contributions to city's turnaround."
There are still components of the initial District Detroit plan that have not gotten underway, but projects that have either been completed or are currently under construction allowed Olympia to hit the $200-million development goal. The Little Caesars headquarters is estimated as a $150-million investment, with the office building pegged at $17.8 million, and the two parking garage projects a combined estimate of $54.4 million.