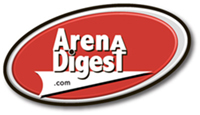 Brown County Veterans Memorial Arena's future is up for discussion, as a recently-unveiled study suggests that the facility could be demolished.

Officials in Brown County, WI and the village of Ashwaubenon previously commissioned a study by AECOM to review options for both the arena and the adjacent Shopko Hall. Brown County Veterans Memorial Arena opened in the late 1950's and served as the area's main indoor venue for decades, though the opening of the Resch Center in 2002 provided a more modern venue.
AECOM outlined the possibilities for the arena's future, and found that renovating it and Shopko Hall was not the best option. According to the report, "efforts to improve the Arena and Shopko Hall would result in costs in the area of $30 million just to bring the facility to ADA compliance and create a generally more operationally-efficient building. This investment would not add any additional event space and the facility would still be divided into two event spaces that are not well-connected."
The study also suggests that the arena–along with a former Packers Hall of Fame–be demolished to make way for a new event space. The report details three possibilities, including a 86,400 square foot structure at $65 million, a 100,800 square foot building costing in the range of $70 million to $75 million, and a 122,400 square foot space at $80 million to $85 million.
Further discussions on the future of Brown County Veterans Memorial Arena and Shopko Hall are expected to take place, but officials could pursue one of the options outlined in the study. More from the Green Bay Press-Gazette:
The study said a 100,000- to 120,000-square-foot exhibition center would be adequate for this community and provide the biggest bang for the buck, with up to $13 million annual economic impact for the largest version. The current economic impact is about $8 million.
Attempting to repair or upgrade either building would not be a long-term solution, said David Stone of AECOM.
"These two facilities are becoming obsolete from a market and physical perspective," Stone said.
The Brown County Board also plans to put out requests for other ideas at its Wednesday meeting, with a limited response time. Barring a better alternative, one of the AECOM proposals could become the focus of what to do next.
"I'm all in. Go bold, go big," said Patrick Moynihan Jr., chairman of the Brown County Board. "This is the epicenter of the Lombardi (Avenue) corridor. I think this is the right project."
Brown County Veterans Memorial Arena hosted the USHL's Green Bay Gamblers from the franchises's inaugural season in 1994, until the opening of the Resch Center.