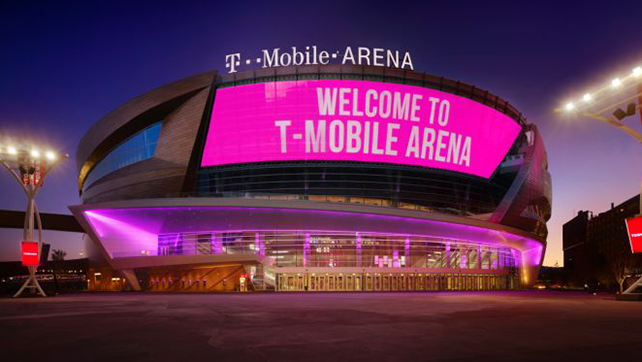 T-Mobile Arena has been awarded LEED Gold certification by the U.S. Green Building Council (USGBC), marking a notable distinction for the venue.

LEED is the preeminent rating system for design, construction & operation of high-performance green buildings.
"From inception through design, development and construction, MGM Resorts and AEG prioritized environmental sustainability at the T-Mobile Arena," said Cindy Ortega, MGM Resorts International's senior vice president and chief sustainability officer. "Achieving another LEED Gold certification shows our commitment to environmentally responsible construction and our desire to have a positive impact on our community and the planet."
MGM Resorts and AEG partnered to implement a comprehensive environmental sustainability program at the arena, taking into account all major aspects of the building's construction and operations. The arena was also planned with industry-leading acoustical design using a range of technical innovations that help deliver top-notch acoustics for event-goers. Since its opening in April 2016, T-Mobile Arena has hosted more than 40 world-class entertainers including The Rolling Stones, U2, Coldplay and George Strait.
"We are pleased and proud of our latest LEED-certified sports and entertainment venue," said Dan Beckerman, president & CEO of AEG. "Our experience shows that green building practices and sustainable operations are not only the right thing to do, but also make business sense. T-Mobile Arena will be an industry leader in delivering top-quality entertainment while minimizing the venue's impact on the local and global environment."
President and CEO of USGBC Mahesh Ramanujam said, "T-Mobile Arena's LEED Gold certification demonstrates tremendous green building leadership. The urgency of USGBC's mission has challenged the industry to move faster and reach further than ever before, and T-Mobile Arena serves as a prime example with just how much we can accomplish."
Examples of environmental attributes of T-Mobile Arena that supported the LEED Gold rating include:
Energy Efficiency: To reduce energy consumption, high-efficiency LED (light emitting diode) lighting is used throughout the Arena, and high efficiency heating, ventilating and air conditioning systems are used in the restaurants. LEDs not only allow for less lighting-related energy to be used, but also result in a reduction of cooling energy required for the building.
Water Conservation: An on-site well provides all of T-Mobile Arena's irrigation water, reducing the amount of water taken from the city's water supply. In addition, low flow fixtures have been installed throughout the facility, bringing the estimated water consumption to 40 percent below what is required by code.
Waste and Recycling: 80 percent of construction waste was recycled and much of the facility was made with pre- and post-consumer-recycled material, including 7,000 lbs. of recycled steel.