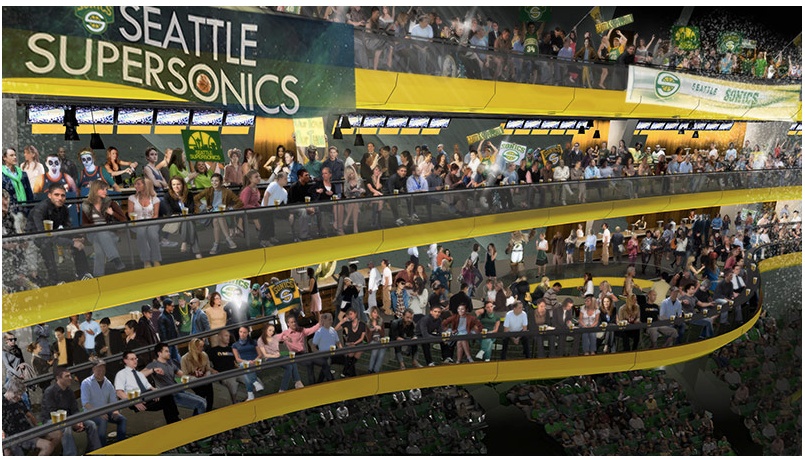 We end 2016 with a countdown of the 10 biggest stories of the year on Arena Digest, as chosen by editors and partially based on page views. Today, #5: Seattle debates its arena options.  

For Seattle, the year 2016 is ending without a firm plan for a new or renovated arena in place. Therefore, both the return of the NBA and the potential arrival of the NHL remain question. However, the effort has plenty of intriguing story lines going into the year.
Early in 2016, much of the focus in Seattle was on developer Chris Hansen and his pursuit of a new arena. Hansen pushed for a new venue in Sodo which, if approved, could allow him to obtain a franchise and possibly meet the criteria for a memorandum of understanding (MOU) with the City of Seattle and King County.
Despite its hype, the Sodo plan was met with heavy skepticism, in part because it called for the closure of a stretch of Occidential Avenue South. This prompted some concern from Seattle officials, who feared that the loss of a section of the street could worsen traffic conditions and have a negative effect on Port of Seattle operations.
In a close ruling, the Seattle City Council voted by a 5-4 margin in May to pass on selling the parcel to Hansen, seemingly stalling his arena plan. However, Hansen reemerged in October with commitment to privately finance the arena, provided that the city reconsider its previous decision on Occidential Avenue South and void the MOU, which calls for him to land a franchise by next fall. As Hansen would later note, voiding the MOU would negate the use of $200 million in public funds from Seattle and King County.
That plan was not the only arena option to emerge in 2016. Seattle mayor Ed Murray and other officials have discussed the possibility of renovating Key Arena, the former home of the NBA's Seattle Supersonics.
Firms such as AEG and Oak View stepped forward with interest in exploring a renovation plan, and Oak View beefed up its efforts before the end of the year with a series of personnel decisions. The request for proposal on the project will likely not be issued until early next year, but Oak View CEO Tim Leiweke recently emphasized that he does not view his firm's pursuit as a competition with Hansen and his Sodo proposal.
What all parties involved will hope for in 2017 is a clearer path to obtaining an NBA or NHL franchise. Neither is a certainty at this point, but Seattle has kept its hopes alive and will have plenty to discuss in the coming year.
Previously in our Top Ten Stories of 2016 List:
#8: Arizona Coyotes Pitch New Arena
#9: Quebec City Left out By NHL