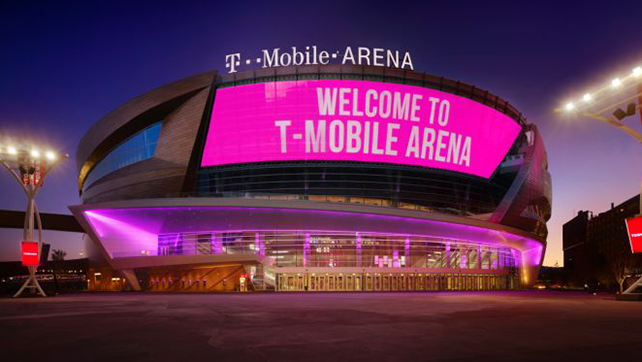 With T-Mobile Arena to start hosting a Las Vegas NHL expansion team in 2017, questions are arising as to whether the arena will help lure top-tier players.
T-Mobile Arena will be well positioned to become one of the league's finer venues. Some of its amenities for non-hockey events are already being touted, and it will undoubtedly offer state-of-the-art player facilities.
As owner Bill Foley and general manager George McPhee begin laying the groundwork for the team's first roster, the expectations are high. In fact, they believe that the arena is major incentive for players to come to Las Vegas, which McPhee explained during a recent interview with NHL.com:
This is a market and set up of a franchise that is really going to appeal to players. There are 40 million people that visit Vegas every year. We've got 700-plus players in the NHL, of which 80 to 100 are elite players, and maybe less than that, maybe 50 to 60. We only need five or six that want to come to Las Vegas. We only need five or six. We have a fabulous rink. We have a fabulous practice facility coming on line in a great neighborhood. It's easy to get around. It's beautiful weather. There's no state tax. The travel is going to be much easier than it's ever been in the West because we've added another team. And the building is going to be sold out. So why not try to put a team together that can try to make the playoffs in the first year?
McPhee went on to explain that while the team does not want to bog itself down with bad contracts, he plans to take an aggressive approach to building the organization.
In some respects, McPhee does have an advantage with Las Vegas and T-Mobile Arena. The practice facility he mentioned is expected to have the latest and greatest player amenities, and there is a built-in lure to playing in Las Vegas. That might only be amplified by the fact the NHL be the first major sports league to play in the city and, depending on how the Oakland Raiders' effort to relocate to Las Vegas progresses, it might have some time as the only game in town. Not to mention that the team has already sparked considerable fan engagement, as Foley and his group led a season ticket drive that saw over 14,000 deposits committed before the expansion bid was accepted by the league.
Those aspects make Las Vegas unique among past NHL expansion markets. Still, it is no small feat to make an instant winner of any major sports expansion franchise, and that certainly holds true in the NHL. More from NBC Sports:
Since 1990 the NHL has added nine teams. Not only did none of them make the playoffs in their first year, the earliest any of them made it was in their third year, something that the San Jose Sharks, Florida Panthers, Anaheim Ducks, and Minnesota Wild all did.
The Panthers and Wild had the most success in those seasons with the Panthers riding some great goaltending to the Stanley Cup Final in 1996, while Jacques Lemaire and the Wild trapped their way to the Western Conference Final in 2003.
The Sharks, who had won just 28 games in their first two years of existence, pulled off one of the biggest postseason upsets in NHL history in their first appearance when they beat Scotty Bowman's heavily favored Detroit Red Wings in the first round.
For what it is worth, McPhee's track record is pretty strong for an expansion general manager, as he oversaw seven division titles for Washington Capitals from 1997-2014. Perhaps that, combined with the allure of Las Vegas and T-Mobile Arena, will allow the team to compete, but history suggests that it will take a great deal of ingenuity to build an instant winner.